Good Food in Schools and Nurseries

Good Food in Schools and Nurseries
What your child eats has an effect on both their health now and later in life. By supporting our work in nurseries and schools, you'll not only help us make a difference to childrens' wellbeing, but also their opportunities to learn.
Good food in schools
The lessons your children learn about food stay with them for life. Schools are in a unique position to equip young people to explore the ways in which food influences every aspect of our lives, including health and wellbeing, the economy and the environment.
We believe that every child deserves good food – no matter who they are or where they come from. Our Food For Life Scotland team aim to provide a bridge between education and catering, giving practical support to help schools build a 'good food for all' culture.
We don't want to reinvent the wheel or add to the busy workloads of education and catering professionals. Instead, we've designed a framework that helps schools and local communities to:
Reconnect with food and where it comes from.
Improve the school meal experience.
Make sustainable, healthy food choices.
Learn to grow, prepare, cook and share good food.
Raise awareness of the life-long possibilities that food-related activity can offer.
Connect with individuals, organisations and businesses in the wider community.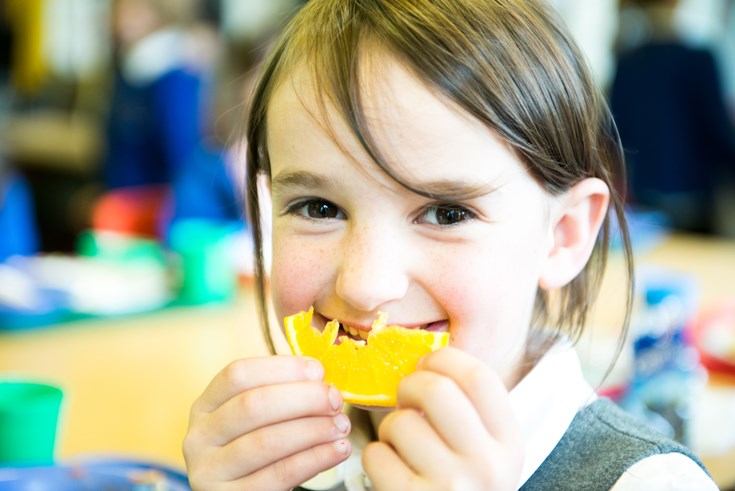 Good Food in Nurseries
The first years of life are critical in a child's growth and development. Good food not only supports their physical needs but the eating habits they set now will stay with them for life.
Nurseries and children's centres have a vital opportunity to provide good, nutritious food and both the experience and understanding of how to eat well.
The Catering Mark ensures that children are getting fresh, traceable and trustworthy food when they're at nursery.
Both offer reassuring endorsements for parents as well as supporting children to get the best start in life. 
Our impact
More than 130 schools are actively working with Food for Life Scotland.
More than 3,500 children and young people have engaged with Food for Life Scotland.
871 local authority schools in Scotland are now serving healthy meals that meet Food for Life Catering Mark standards, an independent guarantee that food on the plate is fresh, traceable and free from undesirable additives.
23 nurseries serve meals to Food for Life Catering Mark standards, transforming meals for hundreds of nursery children in Scotland.
Find out more...
"Food for Life has improved what we can offer our students in regard to healthy and ethical food choices in a positive and interesting way, plus the Food for Life Scotland staff are very supportive, positive and imaginative in their approaches to supporting the school."

Depute Head Teacher, Edinburgh
Get ideas, resources and more
Take a look at our dedicated site for Food For Life Schools in Scotland, full of ideas, resources and info.
Visit the website