Luke Hassell On His Organic Festival
In the run-up to this weekend's Valley Fest set in the picturesque Chew Valley (4-6 August), we spoke with the man behind the music festival which puts organic food at its heart. We're excited to get down to the Community Farm to celebrate sustainable produce with excellent live music, and we hope you'll come and say hello to us if you are too.
Here's what organic farmer and Soil Association member, Luke Hassell had to say about his brainchild.
What is Valley Fest?
Valley Fest is a festival bringing organic food and music together. It was always intended that organic would be at the heart of the festival, which is held on my community farm; it seems the most apt location to bring these two passions together.
Why did you start Valley Fest?
Initially Valley Fest began as a one off event in 2007 to raise money to fight cancer, which my mother was sadly suffering from at the time. We both shared a love of music, and whilst my mother died shortly afterwards we shared this special event. I revived the festival 7 years later, and it's been building ever since to something special- this year is set to be the best one yet. 
Why all organic?
Because my life is committed to organic food and sustainable farming. This is a great opportunity to gather people in one place through a love of music and communicate this message to the masses. 
We've given organic food providers a free pitch which is obviously very unusual, and worked with the Soil Association to help caterers and suppliers realise how easy it can be to solely use organic products.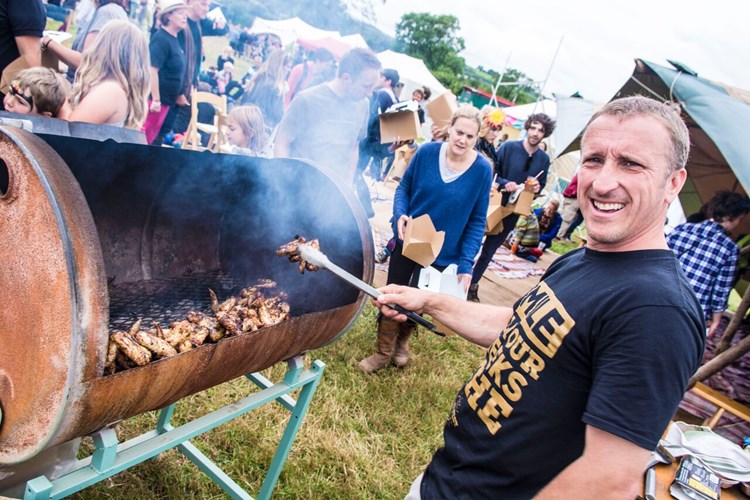 Why now?
This year we're bringing our fully organic festival to 5,000 people, testing the water for our long term goal to roll this out in other places across the UK; I have aspirations to bring Valley Fest to the centre of London to spread our ethos in the capital, which is quite a challenge but one I am passionate about. 
Why is organic important to you?
Because I've got 3 children and I want them to understand that organic food is better for the environment and farming- I want the future of farming to be more sustainable for my children. There are myths around the world of organic that I think Valley Fest can help to dispel, and hopefully promote an appreciation for what organic really means.
What do you think this means for the future of festivals?
Hopefully Valley Fest's commitment to organic food and sustainability message will inspire other festival organisations- we see festivals as another route to bring organic food to people, and we hope to inspire others to help us with this goal. The aim is to bring as many like-minded individuals and organisations together to duplicate and grow our organic food festival model.
Festival waste and its environmental impact has been a hot topic recently - how are you dealing with this inevitability?
We are working with MJ Church to provide onsite recycling centres, with a team of volunteers working to reduce waste as much as we can. Going forward, we hope we can use even more recyclable materials, especially with regards to food and drink. We would love to enhance our use of power and its supply becoming more green in future years.  
What is your message with Valley Fest going forward?
I want to get rid of the "get off my land" stigma, and encourage younger people to see the future of food and farming as a welcoming, exciting and accessible place.  I would love to inspire more younger people to get into farming.
Join us at Valley Fest this weekend, where we will be supporting Luke's organic vision and helping spread the word!