Shillingford Organics Farm School
Bringing farming to the local community
Two years ago, Fatma started a farm school at Shillingford Organics to educate children about where their food comes from, and in doing so, opened the farm up to the local community. The original idea came from a chat with Martyn, (owner of Shillingford) about sharing the gratitude they've gained for nature since they began farming. This discussion inspired Fatma to go-ahead and turn her ambitious plan into reality. As the local farm school goes from strength to strength, we took a few moments to chat to Fatma…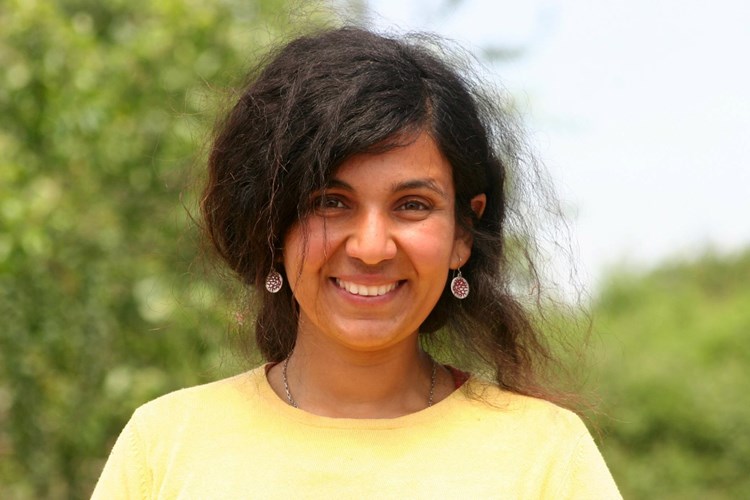 Hi Fatma, can you tell us more about how you came to start Farm School?
I've been a teacher all of my life. I am from Egypt and I used to teach at a university in Cairo. Before moving to England, I started my own business in France teaching children English through fun activities. One of these activities was gardening. Up until this point, I had lived most of my life in Cairo and in Cairo most people don't have gardens. So, when I went to France, I discovered my passion for the natural world.  
I now have two children. As a mother, I think that it is vital to connect my children with nature and for them to learn in the outdoors, about wildlife and plants. Therefore, I started taking my youngest child with me to volunteer at Shillingford Organics.
After I chatted with Martyn we decided that I could help in opening the farm up to the community. If we hosted a day each month, the local community could become involved with whatever seasonal tasks were being done on the farm. They could learn about the seasonal produce at this time of year and understand the effort and energy expended for this food to be available to them.
I also wanted to make it possible for us to pass this appreciation of our beautiful environment, down to our children. They would be able to learn about the seasons and how everything grows. Two years on we now have children on the farm most days to sow, grow and harvest their own crops.
So it's two years since this idea came to be, what does Farm School look like now?
We have a plot of land situated in one of the active fields of the farm. We have beds to grow our crops, a polytunnel, a chicken enclosure and trees. In the field, there are also some wildflower meadows, an agroforestry orchard and a stream at the bottom of it. The idea of our farm school set-up is to mirror whatever is being done at Shillingford Organics.
What do you do at Farm School?
We do everything that is being done at Shillingford Organics but on a smaller scale. We sow, plant, harvest and eat this food. We learn how to create healthy meals from the crops we are producing. We have chickens that we care for. I take the children on walks of the farm, to learn about the wildlife situated here. At this time of year, we collect leaves to compost and we learn how to preserve crops we have harvested throughout the winter. As a small farm we have the luxury of being able to experiment with the crops we grow.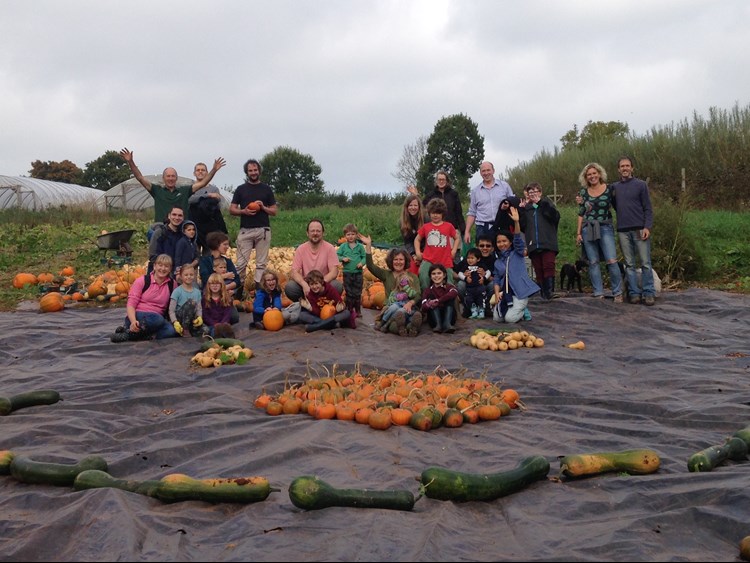 You are teaching children about organic farming, why do you feel that this is so important?
Growing food organically is growing food the way nature wants us to grow it. I believe in respecting nature and the soil in particular. The soil is very important because it is the mother from which plants grow. We need to let it be and watch how it thrives without chemicals such as pesticides. Therefore, it is fundamental to teach farming in an organic way. I am teaching my children how to grow in tune with nature. For example, we have just been composting leaves in Farm School. We learn that by putting this compost into the soil, our soil is healthier and stronger. By explaining the practices of organic farming, I am teaching children not just to take from nature but also how to give back.
How do the sessions run?
The Farm School revolves around a set of stones and every stone has a job under it. When the children arrive, we all sit in a circle and turn these stones over one at a time. These jobs are varied, ranging from sowing seeds, feeding the chickens to learning about trees. The reason we do this is because the children like the element of surprise. We will then go about these activities.
What do the children learn?
They are learning about all aspects of organic growing. For example, they are taught about rotation systems, the conditions for seeds to germinate and seasonality. Apart from learning how to sow and care for the crops, we are growing their interest. The children are constantly asking questions. Being in this environment energises their inquisitiveness, they are surrounded by endless amounts of learning opportunities.  
They understand that growing food is not complicated and it is something that we do not need chemicals for. They are learning about the whole natural system and its generosity. All we need to do is look after it. They are truly learning how to produce food in harmony with nature.
The advantage of being here at Shillingford Organics, is we have the opportunity to pop out to the field to see what we are doing at Farm School, but on a large commercial scale. For example, a couple of weeks ago, when the pre-schoolers were just arriving, I saw Mike (Head of Machinery at Shillingford Organics) with a tractor and a group of field workers harvesting the potatoes. I felt like this was a great opportunity to let the children and their parents observe how harvesting is completed on a large scale.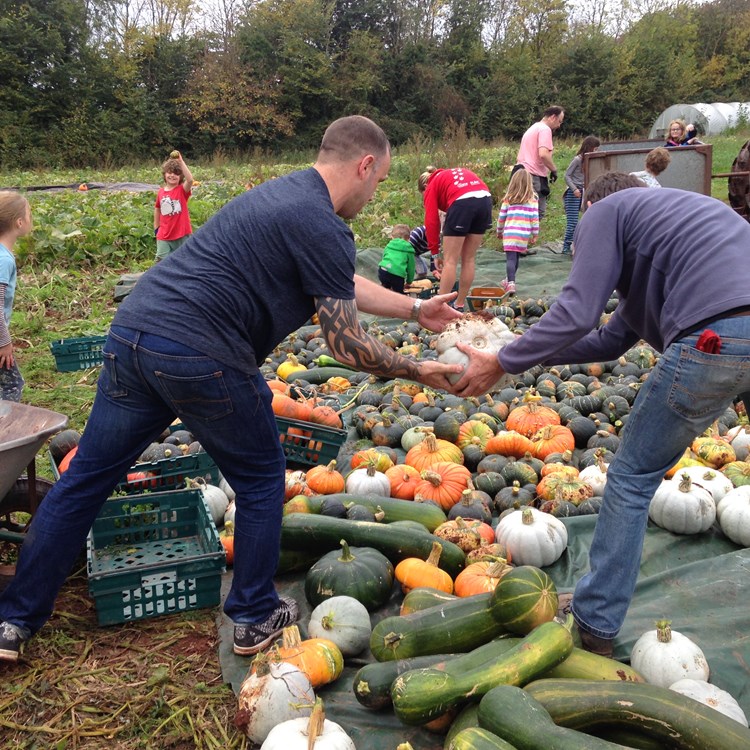 Do the children like coming to Farm School?
The children love to learn this way and when they arrive they cannot wait to get involved. They love to take ownership of the activities. At least five of these children have told me that they want to become farmers when they are older. This is magical because it tells me that not only have I been able to teach these children about where our food comes from and the importance of nature, I've made them passionate about our way of farming.
Do the parents get involved?
Initially when we started Farm School it was aimed at teaching children, however we found that the parents tend to stay because they love coming to learn for themselves too. They love to be there with their children and have told me that they really bond with their children through Farm School. I have also found that Farm School attracts like-minded people and the parents form new relationships with other parents.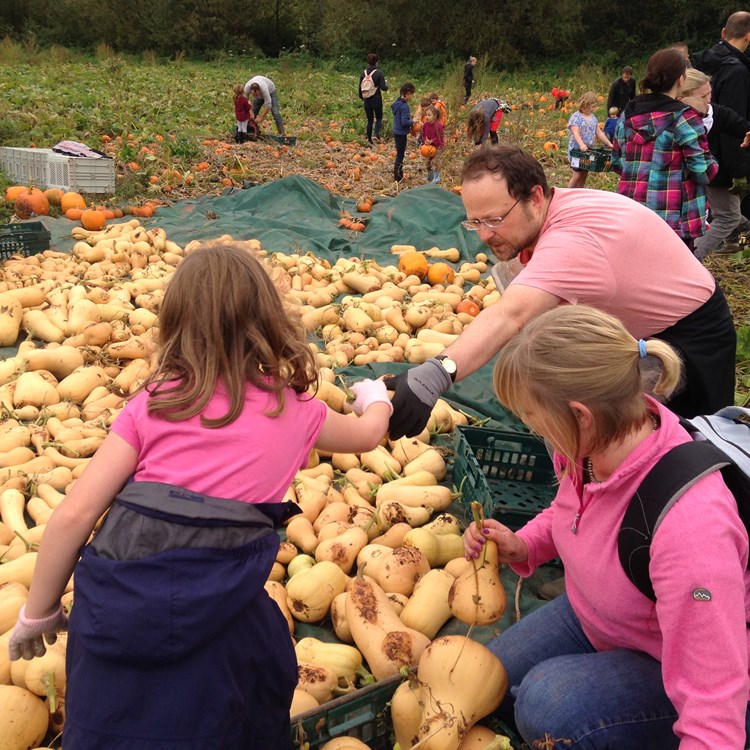 Can you tell us more about the community events you run?
People in the community don't always realise that they have this beautiful farm near by which provides healthy, nutritious, local food for them. Also, people in the community may not know what to do with seasonal food, such as: Khol Rabi, Squash and Broad Beans. Therefore, we invite the community once a month to learn about the current bounty of seasonal food and how to cook it. Back in September we hosted an apple harvesting day. We learnt about seven varieties of English apple, we pressed them and we discovered how to make raw apple cider vinegar. So not only do these events promote the sharing of knowledge they are also teaching seasonal cooking skills.
What ambitions do you have for Farm School?
I want to reach more families in Exeter and I want to work with more home-schooled children. I feel that teaching your child yourself is such a brave decision and these families need a lot of support, therefore, I want to receive a lot more of these families. I would also like to accommodate school groups. However, my work is mainly with families and the community directly, meaning I can have the same children here more regularly than school groups. I want to have children here every morning, afternoon and every single weekend! Constantly having people here is vital because nature is so incredible and there are endless amounts of learning opportunities to it.  
I also think it would be incredible if the concept we have here at Shillingford Organics Farm School and Community Project is spread to every single interested farm in the UK. If every community did the same, this connection would gather more customers for the farm, whilst providing a wonderful learning opportunity for the local community. It's a win-win situation really.
From community days to after school clubs, check out the huge range of activities offered by Shillingford Organics Farm School.