Rosehip The Beauty Skin Saviour
The team at Saaf Skincare share with us a brief history of the brand and their love of Rosehip oil, an oil that not only beautifies but is beneficial for protecting us against free radicals, treating scars and boosting collagen!...
All the team here at Saaf, are committed to promoting an organic lifestyle – from the food we eat to the clothes we wear and, naturally, the beauty products we create. Our pure organic skincare uses rare, organic, cold-pressed botanicals and the finest quality steam-distilled organic essential oils carefully chosen for their deeply nourishing and protective properties and is one of the world's most accredited skincare ranges.
A lovely story behind the brand
Saaf (which means pure in Persian) was created in 2004 by Dr Mah Hussain-Gambles MBE a qualified pharmacologist with a passion for natural remedies. A long-held fascination with "all things natural" led Dr Mah to train as a homeopath. Learning how the healing properties of natural remedies could be harnessed in skincare motivated her to have a go at making healing balms for herself and her family.
Born out of a frustration with other skincare manufacturers tendency to "greenwash", she wanted to know the products she was using on her skin, and that of her two young twins, were as pure and honest as they possibly could be. Her first skin balm was for her own mother and it quickly helped to soothe her inflamed skin, something no other cream had managed to do.This success gradually led to the range of products that you see today.
Dr Mah combined the finest natural ingredients in scientific formulations to create our pure and powerful range of products that nurture both body and soul. So, what's the secret? Well, each serum and balm uses a different blend of essential oils and rosehip seed oil is a particular favourite in the team. And you've probably seen it growing wild in hedgerows and gardens, with its colourful big berries, which are loved by wild animals and birds as well as us!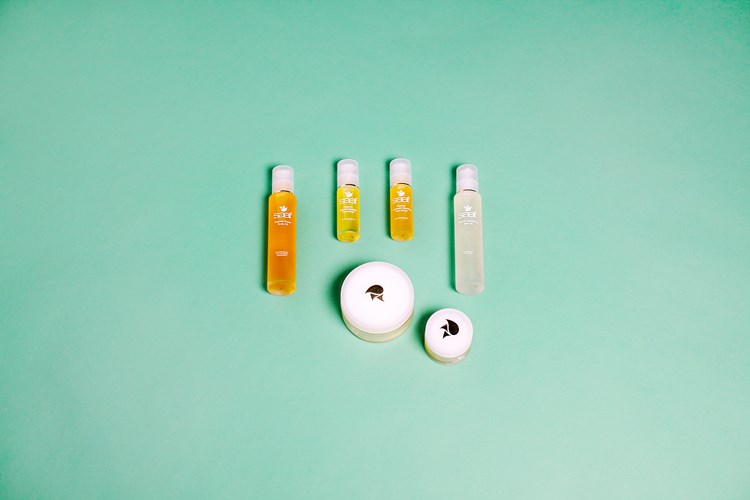 What's the lowdown on Rosehip Seed Oil?
Rosehip seed oil (Rosa Canina) has been considered a beauty essential for many generations. It has been shown to aid cell regeneration, boosting levels of collagen and elastin to create smoother, firmer skin. It also helps to reduce pigmentation problems and raised scar tissue by promoting healthy skin renewal.
It's effective even on old scars and helps to prevent and fade stretch marks. It also has anti-inflammatory and antioxidant effects and has been found to be useful in treating rheumatoid arthritis. When applied to the skin daily it protects from free radical damage associated with the sun, weather and ageing.

Rosehip seed oil is rich in essential fatty acids, but more specifically oleic, palmitic, linoleic and gamma linolenic acid (GLA) which help to maintain healthy skin.Trans-retinoic acid is a natural form of vitamin A found in rosehip seed oil which promotes healthy skin cell rejuvenation, reduces the depth of wrinkles, fades fine lines, and lightens age spots. It is also an excellent source of vitamins C, A and E, and wild rosehips can be eaten or made into a tea to treat colds and sore throats. 
It was first studied* in 1983 by a team of researchers from the Faculty of Chemistry and Pharmacology at the University of Concepcion in Chile, to evaluate the oil's effect in the skin regeneration process. During the two-year study, the oil was applied to 180 patients with surgical scars, injury scars and post-burn scars, as well as to a group suffering from premature aging. It was found that rosehip seed oil produced an effective regenerative action on the skin, helping to attenuate scars and wrinkles, preventing advancement of premature ageing, and regaining lost colour and tone. 
Find it in both our face serums; Complexion Boosting and Ultimate Moisture and Eraser Body Oil
 * http://www.mettamassagetherapy.com/reprints/rosehip_oil.pdf