Not in my banger: Fighting the Foston mega-farm

Fighting the Foston mega-farm
In March 2010, a planning application was submitted to Derbyshire County Council by one of the largest pig production companies in the UK, Midland Pig Producers (MPP).
The proposal was to construct a huge, American-style 'mega' farm, housing 2,500 breeding sows, 22,000 piglets and producing 1000 pigs for slaughter each week.  The site was planned to occupy 30 acres of land adjacent to a women's prison in Foston, Derbyshire.
The Soil Association has campaigned for many years to improve the lives of farm animals. Through our 'Not in our Banger' campaign, thousands of people took action to stop the Foston pig farm. Read on to find out why we're opposed to this massive industrial pig farm and for the timeline of the campaign.

Mega-farms - what's the problem?
- When animals are reared in intensive, indoor systems, the welfare of those animals suffers. They spend their short lives in cramped, crowded conditions where they cannot express their natural behaviours. Boredom and frustration results in aggression and compulsive behaviour such as tail-biting in pigs, and feather-pecking in poultry.
- Overcrowding, poor hygiene and poor ventilation provides a perfect breeding ground for infection and disease, and in the UK and in most of Europe, it is still legal and common practice to routinely medicate whole groups of animals as a preventative measure to compensate for poor welfare. Farm animals account for almost two thirds of all antibiotics used in 26 European countries, and around 40% of all antibiotics used in the UK.[1]
- This overuse of antibiotics in farming is a major contributor to the crisis of antibiotic resistance in humans. For certain bacteria, such as salmonella and campylobacter, most of the antibiotic resistance in human infections comes from farm antibiotic use. [2] The Soil Association is a founding partner in the Alliance to Save Our Antibiotics – you can find out lots more information about the problem and the solutions by visiting the Alliance's website.
- Studies have found that workers and residents local to intensive livestock units are not only more at risk from antibiotic resistant bacteria, but are more likely to suffer from respiratory problems and even raised blood pressure as a result of air pollution and odours from these farms.[3] [4] Aside from the possible health risks, the smells associated with intensive animal farms can also have a severe negative impact on the quality of life of local residents, including schools and hospitals.
- This sort of large scale, industrial agricultural production also poses a huge risk to the future of smaller, family-run farms and local rural communities. In 2011, the Soil Association and the World Society for the Protection of Animals (WSPA, now called World Animal Protection) commissioned a report to investigate the impact of intensive livestock units on family farms. You can read the report here.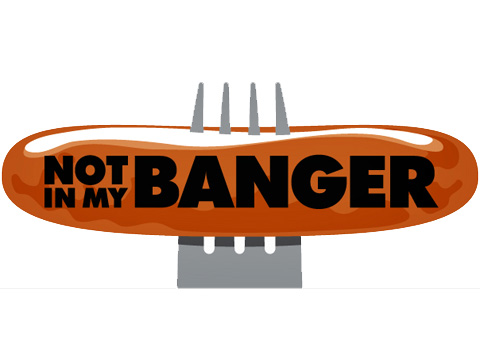 Timeline of the Not In My Banger campaign
August 2010
The Soil Association submits a formal objection to the planning application, which you can read here.
September 2010
The Soil Association receives a letter from MPP's solicitors, Carter Ruck, responding to case put forward by the Soil Association and threatening legal action if our objection is not withdrawn. You can read this letter here and press coverage here.
December 2010
The Soil Association responds to the letter.  The response rebuts the arguments presented by MPP. You can read this response here.
January 2011
An Early Day Motion (formal submissions for debate in the House of Commons) sponsored by a number of MPs calls for an investigation into the intervention by Carter Ruck in threatening the Soil Association with legal proceedings, and deplores the chilling effect that such an intervention could have on individuals and other civil society groups.
March 2011
The Soil Association launches the 'Not In My Banger' campaign, calling on our members and supporters to take action to oppose the Foston pig farm. Other organisations, including Farms Not Factories, animal rights charity Peta, and local community groups are also running campaigns and petitions. Collectively, the issue is gathering considerable media attention. Dominic West, a well-known British actor who grew up near Foston, also lends his voice to the campaign, raising its profile even further. In all, over 35,000 people wrote to Derbyshire County Council in opposition against the planning application.
June 2011
Our Chief Executive, Helen Browning, delivers a speech to the AGM of the Women's Institute, where a proposal to campaign against factory farming was debated.
June 2011
A public meeting is held in Derbyshire to rally support for the campaign against Foston. Our Policy Director, Peter Melchett, was joined on the panel by Linda Wardle, a campaigner who helped to defeat plans for a mega-dairy at Nocton, Lincolnshire, Tracy Worcester, an actress and campaigner who founded Farms Not Factories, along with activists from Derbyshire.
December 2011
The Soil Association writes again to Derbyshire Council, highlighting four new pieces of evidence relating to the health risks associated with large pig units. This letter can be seen here.
December 2011
A few weeks later, the Soil Association writes another letter to Derbyshire County Council, this time highlighting the findings an report commissioned by the Soil Association and World Animal Protection (formerly the World Society for the Protection of Animals) to determine the impact the type of anaerobic digestion unit planned for Foston, since the claimed environmental benefits were a principle benefit relied on by MPP. In fact, the report concluded that the AD unit at Foston was unlikely to confer any environmental benefits, especially over the longer term, and that it cannot be said with any certainty that such units actually lead to any reduction in greenhouse gas emissions. You can read the report here, and our letter here.
February 2012
The Soil Association writes a third letter to Derbyshire County Council. Advice was sought from a barrister specialising in human rights, in order to assess the likely impact of the mega farm in the context of its proximity to HMP Foston Hall, a women and juvenile prison. The conclusion was that the farm would pose serious health risks not only to the inmates of the prison, but to those working within it, and that the Council would be vulnerable to a human rights challenge on these grounds should the development be granted permission to ahead. You can read our letter here.
March 2013
The Soil Association writes again to Derbyshire Council with new research from the Netherlands, Germany and the United States into the human health impacts on those living or working in close proximity to intensive livestock farms. The studies found a greater occurrence of MRSA, impaired lung function and increased blood pressure. The letter can be read here.
October 2014
The Soil Association writes a fifth letter to Derbyshire County Council, reiterating the grounds for our opposition. The letter was signed by 5000 supporters of the Not in Our Banger campaign. You can read this letter here.
November 2014
The Soil Association writes to Derbyshire County Council to formally oppose a revision to the planning application by MPP. This letter is here.
March 2015
Victory (for now, at least)! In an unexpected twist, MPP withdrew its application following a refusal by the Environment Agency to grant an environmental permit on the grounds of the "significant pollution due to odour" which would likely arise from the site if it were to go ahead.
August 2015
MPP make an appeal against the decision of the Environment Agency to refuse a permit
August 2015
The Soil Association writes to the Environment Agency, setting out our objections to MPP's appeal – namely, that no new information has been offered by MPP to contradict the Environment Agency's original decision and there could therefore be no justification for a second assessment of the application. In view of that, we will continue to rely on our initial objections. You can read our letter here.
July 2016
The appeal is due to be heard at a public inquiry, scheduled to take place in Derby on 12 July 2016.
August 2016
The public inquiry was adjourned for three months in order to allow the Environment Agency to consider new information from Midland Pig Producers. The inquiry will therefore take place in October 2016, after which it'll take a few months for a decision to be issued. If the environmental permit is granted at appeal, MPP must submit a new planning application to Derbyshire County Council (preparation of which may take several months).
At this point, it is not certain whether MPP will continue to fight to obtain planning permission for the Foston pig farm, and the process would take many months, if not years. In any event, the Soil Association is staying abreast of the latest developments, and we are ready to spring into action if and when necessary.
February 2017
We received notice that an environmental permit has been granted to Midland Pig Producer by the Environment Agency.  It is not yet clear whether MPP will submit a new planning application to Derbyshire Council, but we are watching this situation closely and we will be ready to respond. 
Throughout our campaign, we encouraged our supporters to oppose the planned farm by writing to Derbyshire County Council and to their local newspapers. The public response to this issue was outstanding, and it's thanks to your support that we have been able to sustain pressure on MPP and on Derbyshire Council.
[1] http://www.saveourantibiotics.org/ 
[2] Alliance to Save our Antibiotics (2014) 'Antibiotic Resistance: the impact of intensive farming on human health' p 6, available online at: https://www.ciwf.org.uk/media/3758854/Antibiotics-Alliance-briefing-10-March-2013.pdf
[3] https://www.ciwf.org.uk/media/3758860/Case-Study-of-a-Health-Crisis-A-report-for-the-Alliance-to-Save-Our-Antibiotics.pdf p 15
[4] Schulze, A. et al. (2011) 'Effects on pulmonary health of neighboring residents of concentrated animal feeding operations: exposure assessed using optimized estimation technique' Archives of Environmental and Occupational Health, 66 146-54 and Wing, S. et al (2013) 'Air pollution from industrial swine operations and blood pressure of neighboring residents' Environmental Health Perspectives, 121 92