Transforming family food at the UK's most popular visitor attractions
View the 2019 Restaurant League Table

Out to Lunch 2018: Transforming family food at the UK's most popular visitor attractions
The school holidays are a great opportunity for British families to get out and about and spend some quality time together. Visitor attractions, from museums to zoos, theme parks to art galleries provide excellent entertainment for young and old alike, but unfortunately the food on offer can leave a lot to be desired.
Cause for celebration
The results are in and our Out to Lunch campaign has released a league table ranking 22 of the UK's most popular visitor attractions on the food and service they offer to families and there is some good news! Since our first Visitor Attractions league table in 2016 we have seen a marked improvement from several of the attractions we surveyed: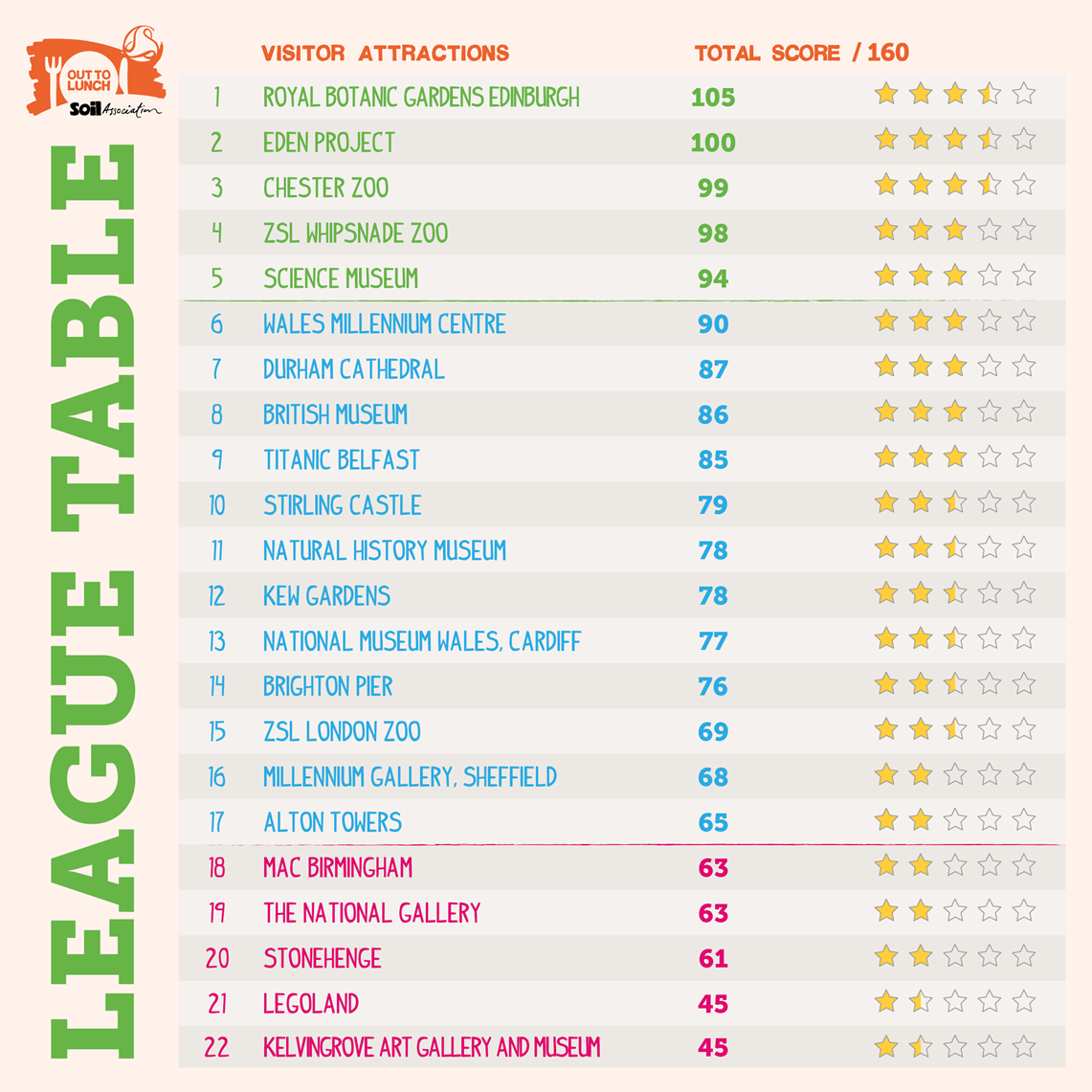 View the full interactive league table to find out more about the food on offer at each visitor attraction.
Who did well?
Royal Botanic Garden Edinburgh have leapt 11 places to claim the top spot by serving fresh seasonal and organic fruit and veg straight from their own Market Garden.
River Cottage Canteen at ZSL Whipsnade Zoo served the healthiest meals, serving two portions of veg with every child and adult meal.
The Science Museum, a new entrant this year, has opened the first fully vegetarian café at a major UK attraction, catering to popular demand for healthier, more sustainable and more climate-friendly choices.
The British Museum has climbed 10 places, having introduced a portion of veg with all children's meals and salad in all lunchboxes (in 2016 no child's meal or lunchbox at the Museum was served with a portion of veg).
The Natural History Museum has climbed 9 places having scored in last position in 2016, the Museum introduced a portion of veg with every child's meal and made information about ingredient provenance and animal welfare available on the menu.


Room for improvement
Unfortunately, it's not all good news. Working with an army of secret diner families Out to Lunch has uncovered unhealthy pre-packed lunchboxes, dodgy ingredients, and a lack of vegetables, with attractions frequently offering much healthier options to adults than children. In fact only 5% of the parents we surveyed felt that children's food at popular visitor attractions is good enough.
Not only this but we found attractions using promotional deals to push unhealthy junk food on families; attractions loading kids' plates with sugar – one pudding contained 63g of sugar, more than triple a child's recommended daily allowance; attractions failing to support British farmers by buying local produce; and a 'Hydration Station' serving refillable fizzy drinks but no fresh drinking water!
Why does Out to Lunch matter?
With 1 in 3 children now leaving primary school overweight or obese it is increasingly important that they form healthy habits when they are young. Recent data has shown that British children are eating 1 in 5 meals outside the home and, while a day out is usually seen as a treat, any venue serving food to children plays a role in what they grow up to think good food looks like.
Changing children's food for the better
The Out to Lunch campaign is calling on attractions to take five simple steps to improve the food and experience they offer to children and families:


Ensure that all children's lunchboxes and main meals include a least one portion of veg
Ditch unimaginative ultra-processed foods and focus more on fresh ingredients
Protect parents from an over-abundance of sweet treats, which make it harder to enjoy a healthy and happy day out
Make free fresh drinking water available to families throughout their visit
Support British farmers by buying the best of British produce, including organic
Share your food stories

If you would like to do your bit please share these steps on social media with the hashtag #OuttoLunchUK and tag the visitor attraction you think needs to clean up their act! We would also love it if you shared your best and your worst food stories on social media using the hashtag #OuttolunchUK

Tweet about #OuttolunchUK
In this section...
Will you help us change the menu?
As a charity, we rely on the passion and support of people like you. By giving a regular donation, you will be saying 'yes' to a food and farming future that supports public health. Together we can defend our health, and the health of our planet – by transforming our food.
Join Today
View the 2017 High Street Restaurant League Table