Green Kitchen Standard
Demonstrate the integrity of your environmental management
Soil Association Certification and Carbon Trust have joined forces to create the Green Kitchen Standard, a new certification which recognises caterers that are taking positive steps to sustainably manage energy, water and waste.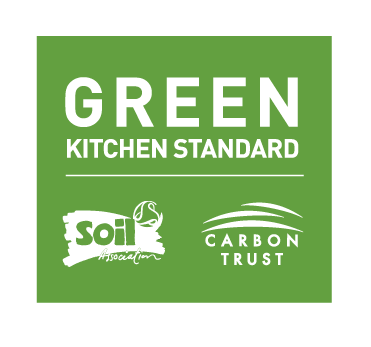 Prove your environmental credentials and provide a clear point of difference to set your service apart from the rest.
What Does the Green Kitchen Standard Involve?
All catering operations are different, so the Green Kitchen Standard has been designed to be flexible and to only assess areas you have control over.
Caterers are assessed on a point based system. There are a couple of mandatory standards which caterers must meet and a variety of optional steps caterers can take to score points.
The list below contains examples of the types of initiatives or practices that you can score points for:

What are the benefits of the Green Kitchen Standard?
Be one of the pioneers of the catering world and work with two of the sustainability industry's biggest authorities.
Tell your clients and customers your environmental practices have been audited by an expert third party, and you have been awarded for their quality and effectiveness.
Demonstrate alignment with the energy, water and waste requirements of the Defra Plan for Public Procurement and its Balanced Scorecard (England and Wales).
Evaluate energy, waste and water efficiency opportunities.
Receive expert advice for continuous improvement, which could help save you money.
Engage with staff and customers about green initiatives.
Use the Green Kitchen Standard logo for your communications, publicity, website and new business pitches.
Receive bespoke marketing support to help you position your award as the symbol of trust procurers are looking for.
What do our award holders say?
Don't just take our word for it - here's what some of our Green Kitchen Standard award holders have to say:
"Applying for the Green Kitchen Standard has helped us reinforce the importance of sustainability within our catering operation, providing a focus and structure to energy management, recycling and food waste prevention." - Emma Wilson, Head of Catering (Sheffield Teaching Hospitals NHS Foundation Trust)
"The Standard incorporates a variety of different sustainability areas and helped us identify key areas for improvement. In particular, it helped us to focus on how we communicate about energy, water and waste, enabling us to get training for staff on sustainability and how it relates to their work in order to create a truly sustainable culture." - Amy Johnston, Assistant Environmental Officer (Freeman Hospital)
"We were keen to achieve the Green Kitchen Standard to highlight the sustainability focus Carillion has as a business and to focus the team to achieve even more. The requirements of the Standard led to a working group and action plan being developed that heightened staff and users awareness of both carbon reduction and better waste management. We believe achieving the Green Kitchen Standard has been very valuable, and will be attempting to improve and maintain the award going forward. It will assist with the focus needed to hit higher and higher sustainability standards." - Lee Wiltshire, Facilities General Manager (Carillion Health)
Want to learn more about the Green Kitchen Standard?
Register for our free Green Kitchen Standard Webinar on Wednesday 19th September 2018 to learn all about the Green Kitchen Standard, why the Standard should be important to you, how to achieve it and what the certification process entails. The webinar will feature guest speakers. Register here to secure your place.
Take a look at our most recent webinar here.
Want to know more now? Take a look at our case study of a Green Kitchen Standard holder - Sheffield University Hospital.
How to apply
If you are interested in applying for the Green Kitchen Standard, please fill in the contact form below and our Green Kitchen Standard Development Manager, Liz Harding-Wyatt, will contact you with further details. 
What is the Certification Process? 
Welcome pack from the Green Kitchen Standard team

Visit f

rom our GKS Development Manager

Completion of the GKS Assessment Tool and submission of evidence (the main part of the assessment).
Date arranged for your on-site visit to measure your performance against the Standard.
Feedback and Certification Report from the Carbon Trust with their key findings and recommendations for improvements.
Marketing support to tell your clients and customers about your achievement.
Did you know?
From 2017, all of central Government will commit to use the Plan for Public Procurement's Balanced Scorecard when procuring catering. The wider public sector, such as schools and hospitals, will be 'encouraged and expected' to use the Balanced Scorecard. The Green Kitchen Standard will help you to meet the mandatory criteria for resource efficiency and should ensure a score of good or higher.
If combined with the Food for Life Served Here Award, which focuses on food provenance and supply chain, this new scheme is the first and only to provide a 'one stop shop' verification that aligns across all areas of DEFRA's Balanced Scorecard.
"This partnership is an exciting opportunity to inspire caterers to improve their environmental performance. Combined with the Food for Life Served Here Award, the new award will deliver a verification scheme that demonstrates equivalence across all areas of the Defra Balanced Scorecard for public procurement, including food provenance, socio-economic responsibility, quality and now resource efficiency, as well." Dr Peter Bonfield Creator of Defra's Balanced Scorecard
In this section...
... an exciting opportunity to inspire caterers to improve their environmental performance ...

Dr Peter Bonfield

Creator of Defra's Balanced Scorecard