Catering 1st for Scottish hospital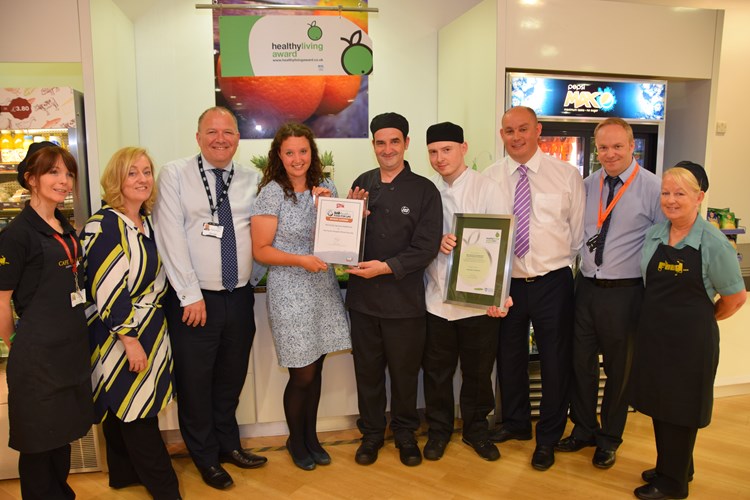 Hairmyres Hospital of NHS Lanarkshire has become the first hospital in Scotland to be awarded the Soil Association's Food for Life Bronze Catering Mark award. The award recognises the caterer ISS Healthcare for its work at the hospital's Courtyard restaurant. The award has been presented to ISS Healthcare, marking their commitment to improve the meals they serve in the Courtyard Restaurant. Main meals are prepared using fresh
ingredients which are free from undesirable additives and trans fats, are better for  animal welfare, and easily traceable. The onsite team prepare and serve over 200 meals to staff, visitors and out patients each day.
The changes at Hairmyres have been led by Robert Murray, the onsite ISS Healthcare Head Chef, ahead of the award ceremony he said: 'I'm so proud of all our team. Of course it is fantastic to be the first hospital in Scotland to be awarded the Catering Mark Bronze award but more than that I am proud that my team serve the best quality meals
we can to our customers.
'The initiative involves changing menus, working with suppliers, sourcing fresh produce
such as free-range eggs and preparing meals freshly on site. The team has really risen to the challenge and created some truly delicious menus as a result. All the fruit and vegetables used in meals and the salad bar are fresh and the team now offers a seasonal menu changing every three months. In addition the hospital sources its
bread rolls and potato cakes from Magee's in Stirling as part of a commitment to source more products locally.
Angela Mitchell, Food For Life Scotland Programme Manager for Soil Association Scotland said: "The team at ISS Healthcare and Hairmyres Hospital have worked hard to make their food vision a reality. We're delighted they've achieved the Bronze Catering Mark, particularly as they're the first hospital in Scotland to do so. Serving fresh, sustainable food that meets nutritional guidelines can make a real difference – especially in hospitals – and is a vital part of achieving the Scottish Government's ambition to transform Scotland into a 'Good Food Nation'.
"The ISS Healthcare team were be joined by the Soil Association and staff from NHS Lanarkshire at the award presentation in the Courtyard Restaurant on 8th June where food samples of the new menu were on offer for guests and visitors.