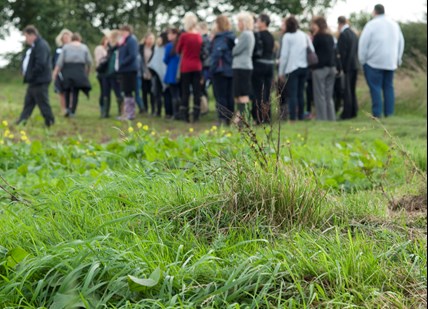 On Wednesday (28th September 2016,) as part of the Soil Association's Organic September, the first ever Open Farm Day for caterers was held by the Soil Association's Food for Life Catering Mark team.
St. Helen's Farm near Tadcaster – the home of producers The Organic Pantry – opened its gates to nearly 50 visitors from catering businesses for a farm visit and introduction to the benefits of organic food and farming. The organic sector is in steady growth, growing 5.6% in the 52 weeks to August 2016 and set to reach a value of more than £2 billion by the end of the year (according to data from Nielsen).
The event gave caterers information and ideas on how to source more local and organic produce for their kitchens. Catering Mark Supplier Scheme members were on hand to give advice as well. The Catering Mark Supplier Scheme has grown by 38% in the last 18 months.
Over 50% of English primary schools now hold a Food for Life Catering Mark, as well as more and more nurseries, hospitals, workplaces and iconic venues. To achieve a Catering Mark the caterer is independently inspected and awarded points based on the nutrition, freshness and sustainability of their food. In order to reach Silver and Gold Catering Mark standard, participants need to use a certain proportion of local and organic ingredients – with more Catering Mark holders across the UK there is a greater demand for local and accredited food.
Supplier Scheme manager Clare Hadway explains: "The Catering Mark Supplier Scheme was set up as there was a need to better link the supply chain; helping caterers find the products they required to attain the Catering Mark, and allowing both wholesalers and producers to find new routes to market.
"This event was an amazing opportunity for caterers to find out what organic is all about and find out where their ingredients are coming from. The Watson family, founders of Organic Pantry, have farmed the 300 acres at St Helens Farm for over 100 years and were fantastic hosts."
The event was a chance for caterers to share their experiences, whether new to the Catering Mark or looking to source much more organic food and progress to silver or gold Catering Mark standard. Attendees included Acorn Dairy, NCB Foodservice, caterers from schools, hospitals and B&I sectors including North Yorkshire Councils School cook of the year.
Activities on the day comprised of a talk from Catering Mark Gold holder Oldham Education Catering Service, networking and discussions, a presentation and farm tour from the Organic Pantry family, and stalls run by fellow suppliers Acorn Farm and Lower Hurst Farm.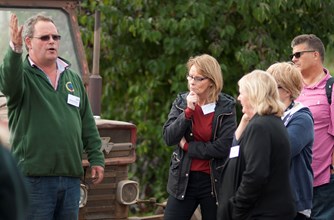 Freddie Watson from Organic Pantry said: "We joined the Catering Mark Supplier Scheme in 2015 because it enabled us to show our customers that we are committed to helping them improve their food sourcing practises. We are increasingly being asked about the Catering Mark and being a Catering Mark Supplier has been really helped us meet our customer's needs. Holding the event today has been a fantastic because it gave us a chance to inform caterers about our passion for organic farming and its benefits. We had some really great conversations with caterers about how we can help them achieve the Silver and Gold Catering Mark."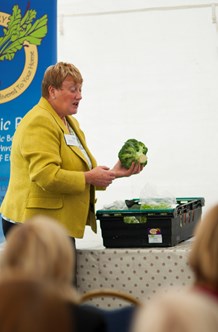 Ann Burns from the Education Catering Service of Oldham Council explained how networking and communication between caterers and suppliers was beneficial to their success:
"The event gave likeminded caterers an opportunity to discuss options for including more fruit and vegetables on menus. It helped highlight the importance of the relationship between caterers and their suppliers. By giving suppliers more flexibility to use seasonal produce grown on local farms we are able to offer higher quality, fresher produce to our customers.
"The Organic Pantry Veg boxes we use allow our cooks to be more creative. Supplementing our vegetable order with the organic boxes has helped us reduce waste and maintain our Gold Catering Mark."
Supplier Scheme members have access to a number of benefits such as training, technical tools and featuring on the Soil Association's online supplier directory. The scheme is free to licensees with Soil Association Certification.
To find out more about the Catering Mark: https://www.soilassociation.org/catering/
About the Catering Mark
The Catering Mark has been cited by NHS England and the Department for Education as a way to improve hospital and school food, and by Government's Plan for Public Procurement as a way to guarantee a good score across the Plan's Balanced Scorecard. The Catering Mark also verifies compliance with the Government Buying Standards' requirements on nutrition in hospitals, and incorporates the School Food Standards.
Financial statistics
Collectively, Catering Mark holders spend -
over £40 million on British ingredients each year
nearly £34 million on Red Tractor and other farm assured meat and meat products each year
over £23 million on Red tractor meat and meat products each year
over £9 million pounds on organic ingredients each year
nearly £4 million on free range and RSPCA-Assured meat each year
over £5 million on MSC certified fish each year
over £1.4 million on LEAF marque certified products each year
Catering Mark Supplier Membership is available for suppliers who offer products which meet the Catering Mark Standards. Suppliers can get in touch to find out more: cateringmarksuppliers@soilassociation.org.