Workplace Food Matters, say CSR leads
On Tuesday 29th November 2016, a select group comprising of influencers in the fields of CSR, sustainability and catering, from some of the UK's largest businesses, came together to discuss the challenges of delivering healthy, sustainable food in our nation's workplaces and of putting food at the heart of staff wellbeing strategies.
The event was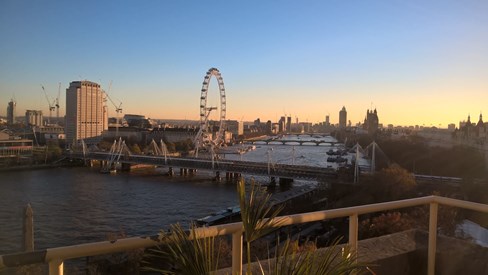 hosted by Pearson UK and held on the 10th Floor of Pearson HQ at 80 Strand, where we were treated to a stunning sunset and fantastic views of the London skyline and River Thames below.
The passionate attendees at this Food for Life Catering Mark roundtable session came from the Bank of England, the Environment Agency, Dixons Carphone, research and training charity IGD, property consultants GVA, as well as prominent caterers BaxterStorey, Vacherin, Graysons Venues and Harbour + Jones .
As 60% of our daily calories are consumed whilst at work, the workplace is a new frontier for healthy eating and the event set out to explore how to get food higher up the agenda and how food provision can be put at the heart of CSR strategies.
"A workplace marches on its stomach and food is an important part of morale so it should feature in any CSR strategy": Kesah Trowell, Head of Corporate Responsibility at Dixons Carphone, summed up the key point of the debate.
Jo Lewis, Strategy and Policy Director for the Food For Life programme kicked off the event by introducing the Soil Association and the Food For Life programme (FFL), the aim of which is to make good food normal, and to make good food the easy choice whoever you are and wherever you are.
Peter Hughes, Head of Corporate Responsibility for Pearson UK and Dan Stewart, Operations Manager for BaxterStorey and Pearson's chosen caterer, talked to us about their partnership and journey towards obtaining the Gold Catering Mark standard for menus served to staff at Pearson HQ.
"For Pearson the demand for better catering came from the grass roots – both driven by employees and by our values. The Catering Mark is one tangible way we can bring these issues together - within an independent verification" said Peter.
The FFL Catering Mark is a certification standard which awards the serving of fresh, local, seasonal, sustainable and organic food in education and healthcare settings as well as workplaces and visitor attractions.  Over 1.7 million Bronze, Silver or Gold Catering Mark meals are currently served every day.
"At the heart of our business philosophy is 'the human element'" says Abby Chicken, Sustainability Manager for Selfridges, who have just achieved the Catering Mark (Abby contributed to the debate virtually). "When we talk about 'engaged people', knowing that our teams have access to healthy, freshly prepared, sustainably sourced food on a daily basis means we can be confident that our teams will perform well – and feel well!"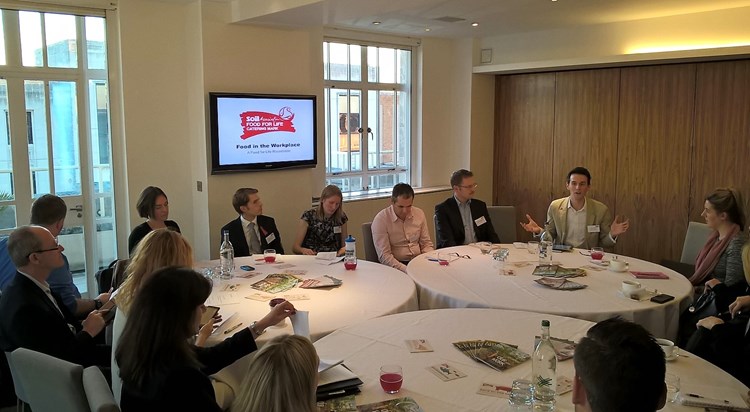 After lively introductions from around the table the discussion zoomed in on the following key questions:
What is good food?
Defining what good food is can be a complex matter, so having an external accreditation, a 'one-stop-shop', to help caterers and businesses improve the quality of their food, is extremely valuable.
Food in workplace can be a risk – but also a powerful tool to promote company values.
Catering is a potential area of reputational risk and so certification offers a label of assurance but also allows businesses to really shine and demonstrate their commitment.
Businesses can be supported by their catering partners, who have a key role to play by demonstrating the benefits, thus helping to incorporate the Catering Mark into the business's CSR strategy.
Who within business drives the good food agenda?
Change is often driven from the bottom up. Food is a very emotive issue and feedback from employees is a powerful way to encourage change.
Food is always both a personal and an emotional matter. Can employee restaurants become vibrant places within modern businesses to take people on a journey of what being healthy means in 21st century?
People need to internalise the link between good food and health & wellbeing in order to bring about a change in culture. In the home, many people are conscious of, for example, shopping locally, or buying free range eggs, or recycling.  However when they come to work, these things may seem out of their control, unseen or somehow just not as important.
Heads of facilities, catering, sustainability, wellbeing and HR: get them all into one room because the Catering Mark touches all these people and demonstrates that there is real benefit from having the award. Food can bring different strands of an organisation together.
The animated session ended with chatting and networking over wine and delicious canapes, curtesy of Pearson and BaxterStorey. A big thank you to our hosts and sponsors and to all the organisations that took part to make this event so engaging and worthwhile.
We hope that this event will be the first of a series of discussions to engage with business and industry, to bring about real change in the culture of workplace catering and improve the quality of food for all.
Find out more about Workplace Catering here: 
Interested in joining the leaders' table? Please contact Clare Clark on 07919 216 250 or cclark@soilassociation.org