Supplier Day at Lower Hurst
On Monday the 26th of June, Lower Hurst Farm - the home of longstanding Soil Association licensee and organic pioneer Andrew Sebire – opened its gates to over 30 visitors from catering businesses, for a farm visit, a refresher on Food for Life Served Here and an introduction to the benefits of organic food and farming.
The organic sector is in steady growth, with total sales growing 7.1% In 2016, while non-organic sales continued to decline. The UK organic market is now worth £2.09 billion and more than 8,000 stores stock organic products (according to the Soil Association 2017 Organic Market Report)
The event gave caterers information and ideas on how to source more local and organic produce for their kitchens, Food for Life Supplier Scheme members were on hand to give advice as well. To achieve a Food for Life Served Here award, the caterer is independently inspected and awarded points based on the nutrition, freshness and sustainability of their food. In order to reach Silver and Gold Served Here standard, participants need to use a certain proportion of local and organic ingredients – with more award holders across the UK there is a greater demand for local and accredited food.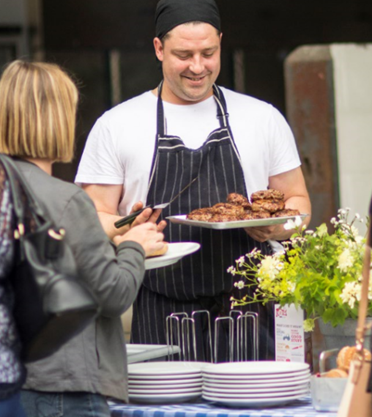 Supplier Scheme Manager Lee Holdstock explains: "The Food for Life Supplier Scheme was set up to meet the need for better connectivity in the supply chain; helping caterers find the products they required to attain the Food for Life Served Here award, and allowing both wholesalers and producers to find new routes to market. "This event was an amazing opportunity for caterers to find out what organic is all about and find out where their ingredients are coming from. It was a pleasure to share our knowledge of organic with support from the Lower Hurst Team, who themselves have significant experience of  supply to Food for Life caterers" 
The event was a chance for caterers to share their experiences, whether new to the Catering Mark or looking to source much more organic food and progress to silver or gold Food for Life Served Here standard. Attendees included suppliers Alvis Brothers, Produce World, Empire Dogs and Riverside Organics, who joined caterers from schools, hospitals and B&I sectors, including North Yorkshire Council and ISS. With ample time for networking and discussions, activities on the day comprised of talks, a delicious BBQ lunch and the finale, a farm tour of the beautiful Lower Hurst Farm set in the rolling hills of the Peak District.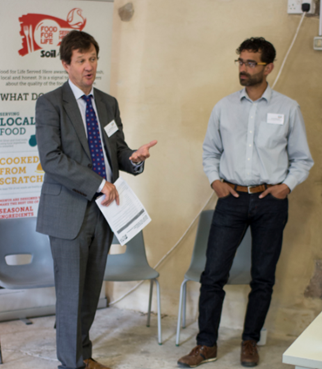 Our first speaker of the day, Food for Life Served Here Development Manager for the Midlands, David Persaud highlighted just how much progress has been made with the award, showing how over 50% of English primary schools now serve Food for Life Served Here menus, as well as more and more nurseries, hospitals, workplaces and iconic venues. David also demonstrated progress in some of our new settings, reporting that his team are working with the National Trust to ensure that food served across all their sites meet Food fr Life Served Here standards. Tim Blowers, who also happens to be Vice-Chair of LACA, also joined us for the day, sharing with the group perspectives from Derbyshire County Council, one of the first Local Authority School Caterers to reach Food for Life Gold.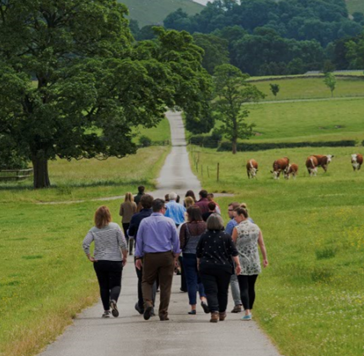 Nicky Stonebridge of Lower Hurst summed up what it meant to her team to host the day: "The team at Lower Hurst Farm have a passion for food & farming so it was with great pleasure that we welcomed our industry visitors to the farm. Last Monday was a chance for farmers, producers and caterers to chat and discuss the issues of the day. For us as a farmer and producer it was good to hear that even with pressures on budgets the emphasis has not moved away from caterers trying to source good quality local ingredients where possible!"
Supplier Scheme members have access to a number of benefits such as training, technical tools and featuring on the Soil Association's online supplier directory. The scheme is free to licensees with Soil Association Certification.
Find out more about Food for Life Served Here
About Food for Life Served Here
Food for Life served Here has been cited by NHS England and the Department for Education as a way to improve hospital and school food, and by Government's Plan for Public Procurement as a way to guarantee a good score across the Plan's Balanced Scorecard.
Served Here also verifies compliance with the Government Buying Standards' requirements on nutrition in hospitals, and incorporates the School Food Standards.
Collectively, Served Here holders spend over £40 Million on Red Tractor and over £15 Million on organic each year!
Food for Life Supplier Scheme Membership is available for suppliers who offer products which meet the Food for Life Standards. Suppliers can get in touch to find out more: foodforlifesuppliers@soilassociation.org