NUS Green Impact Partnership

The Food for Life Catering Mark and NUS Green Impact
Partnership Offer for University and College Catering
Food for Life Served Here and NUS Green Impact are excited to be working together to improve the quality of food served on university and college campuses across the UK. Combining the expert knowledge of Food for Life Served Here as independent assessors of sustainable food service across the UK, and the NUS' unparalleled experience supporting and strengthening students and their unions, this partnership provides a unique offer for university caterers and those committed to improving the food environment at their campus.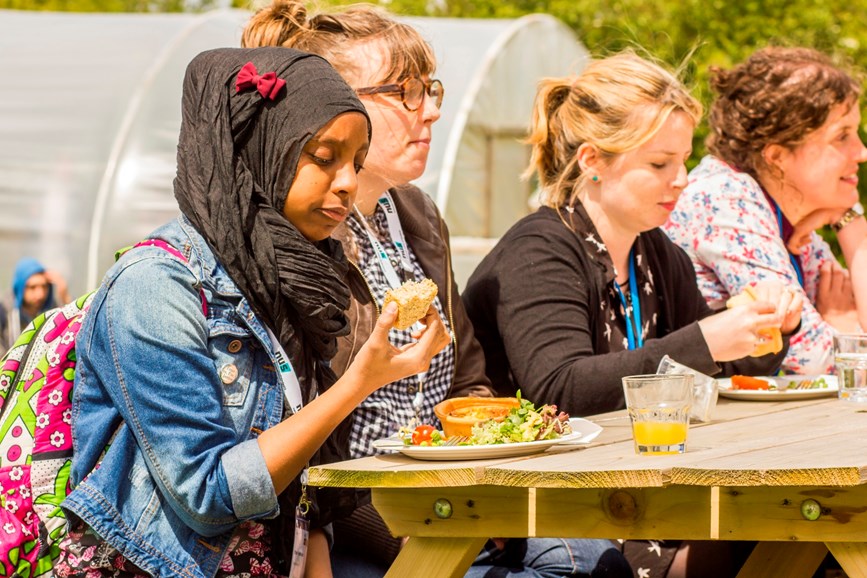 Our organisations have been working together in order to align our standards more closely, so that any campus operating or working towards the NUS Green Impact Catering Tab from July 2016 will be uniquely placed to achieve the standards of Food for Life Served Here, developed by Soil Association.
In order to encourage caterers on this journey, we have a very special offer for anyone taking part in the Green Impact Catering Tab who would like to achieve Food for Life Served Here for their food service:
First time applicants* to Food for Life Served Here will be entitled to 10% off the first annual fee or 10% Food for Life Served Here support.**
In addition to this, applying for Food for Life Served Here will unlock an enhanced range of Green Impact support, allowing wider engagement across the campus community, including:
Good practice webinars and network calls
Student facing workshops for courses and societies
Students' union training
Student training for Green Impact delivery
To take advantage of the offer, simply quote 'Green Impact' when you submit your Food for Life Served Here application and indicate whether you would like a fee discount or discounted support.
For more information on the range of Food for Life Served Here support available, see our Support pages.
*Existing Food for Life Served Here holders who also apply for/already run the Green Impact Catering Tab will be entitled to a one time only 10% discount Food for Life Served Here support, plus the enhanced Green Impact support package.
**One time only discount on support to be taken within one year of application.
Food for Life Served Here
Food for Life Served Here provides independent endorsement that food providers are taking steps to improve the food they serve, using fresh ingredients which are free from trans fats, harmful additives and GM, and better for animal welfare.
We work with caterers in education and healthcare settings, workplaces and visitor attractions across the UK to ensure the quality of over 1.6 million meals served each weekday.
Caterers who are certified by Food for Life Served Here are subject to an annual inspection, including an onsite visit, so students and staff alike can be sure that the food they're eating meets our rigorous standards.
For more information, email us at catering@foodforlife.org.uk
Green Impact
Green Impact is a change and engagement programme which helps people understand sustainability and social responsibility, shows them what they can do to make a difference, and supports them in taking these actions.
Run by NUS, Green Impact harnesses the power of the student movement to drive sustainability across all of society, with student project assistants and auditors at the heart of the programme.
From NHS Trusts to local authorities, teams of staff work together to green their workplaces, culminating in an awards ceremony at the end of the year to reward and recognise their achievements on sustainability.
For more information, visit:
sustainability.nus.org.uk/green-impact or email sustainability@nus.org.uk