H+J at Selfridges (The Loft Staff Restaurant)

H+J at Selfridges (The Loft Staff Restaurant)
Harbour & Jones runs Selfridges staff restaurant, the Loft, in the iconic building on Oxford Street.
Compliance project manager, Steve Woodman, oversees all accreditations for the company. He explains why they were keen to gain the award, how they found the process and what the value of it has been to the business.
Key facts
Bronze award (since October 2016)
Caterers for up to 4000 staff
Serves up to 500 a day, and up to 2000 transactions
Most popular meal: Rotisserie chicken (by far!)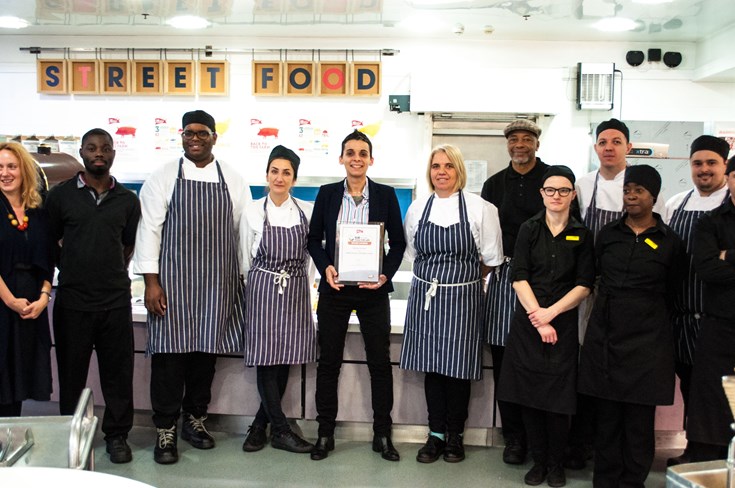 What was the original motivation for gaining the award?
In the first instance, we wanted to see if we could achieve the award in a commercial site, where there's a financial risk.
We chose Selfridges in London as our trial site, partly to prove that we could control costs in a large, price-sensitive restaurant while attaining high standards of food quality.
Food for Life Served Here's criteria match our own food philosophy. It was useful to have them independently examined and recognised by this established best practice award.
How did you find the process of gaining the award?
It's been a very positive experience, and it was clear what needed to be done. The main bulk of the work was compiling evidence for the inspection, such as ensuring suppliers listed certain criteria on the invoices and provided the necessary third party accreditation.
The Food for Life Served Here team were extremely helpful. It was great to see how passionate the guys were about the positive impact for all concerned, from an ethical, environmental, social and nutritional standpoint.
The process itself was quite quick – about 16 weeks from start to finish.
Sales in the Loft went up 13% [in September 2016] compared with September 2015 Steve Woodman, Compliance Project Manager, Harbour & Jones
What has the impact been on your organisation?
Sales
In September 2016 when the award was advertised, the sales in the Loft went up 13% compared with September 2015. The cost of implementing the award has been negligible.
Staff engagement
It's gone amazingly well. Even though the quality of food hasn't changed significantly (because we were already doing great stuff), our staff feel happy and proud. Now that we are able to highlight the great things we are doing by achieving and promoting Food for Life Served Here, this has followed through into sales.
They say an army marches on its stomach. This is absolutely true in Selfridges. Our team members are at the heart of the way we do business. Engaged people deliver great customer service and food affects more people daily than any of our other well-being strands possibly can. Abby Chicken, the Sustainability Manager at Selfridges
Marketing
The marketing material supplied has tangibly raised awareness of the quality and ethical nature of our ingredient sourcing.
CSR
It's a real perk for Selfridges' staff to know that their employer has invested in appointing a professional catering company to provide good quality, ethically sourced food at a subsidised price. This award brings real benefits for H+J, Selfridges and everyone who uses The Loft staff restaurant.
Other benefits
In the broadest sense, the award brings so much positivity to the business. It's made us all think about other links. For example, Selfridges Project Ocean campaign looks at single use plastic and ocean pollution, so we've been able to communicate our sustainably-sourced fish standards.
Next steps
Upgrading
We're currently excited about the possibility of gaining Silver, with the client's agreement.
Other sites
We're looking at another site currently and are discussing how this work could strengthen the company's position in the other sectors, such as education and B&I.
Top tips
For us, it was a minimal investment for a huge amount of return. It's a nationally recognised scheme which helps us all talk about the wider issues to our clients, customers and beyond.
Now, more than ever, we want to know about where our food comes from, so we are delighted that our Loft Café & Kitchen has been awarded Food for Life Served Here - one of the highest accolades going for ethical, quality food in this country. Hannah Bass, Restaurants Director at Selfridges