What Is The Food For Life Served Here Award?
What Is The Food For Life Served Here Award?
Fresh, Local, Honest Food
The Food for Life Served Here award (previously know as the Catering Mark), is an independent award scheme that means you can guarantee that the food on your menus meets certain standards. The award is inspected annually, during a visit from one of our inspection team.
The award is regularly cited as a requirement in procurement specifications and has helped many caterers to retain and win new contracts. 
Over 1.6 million Bronze, Silver or Gold level Served Here meals are served every weekday, in education and healthcare settings, workplaces and visitor attractions across the UK. 
It's not all about being organic…the entry-level Bronze Award is largely concerned with delivering fresh, traceable food that meets nutritional guidelines. The Silver and Gold Awards focus more on use of organic produce, ethical and environmentally friendly food, locally sourced ingredients and steps to offer healthier menus.  
"The Food For Life Served Here Award has become an industry standard" Mark Davies, Managing Director of ISS Education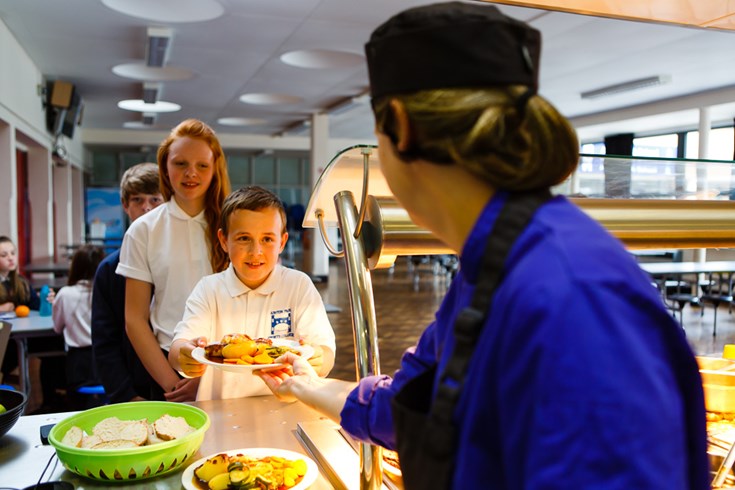 Who is it for?

Caterers of all sizes, working in all sectors. See here for more information.
What are the benefits?
"It has given our parents reassurance...The Food for Life Served Here Award is a guarantee for everyone." Katie Whirledge, Busy Bees Childcare (Silver)
 
Because the award can only be gained after a physical inspection, you can be confident that it offers a robust, structured process for improving food quality.
It addresses many of the food quality issues that concern us all. It ensures meals are made up of seasonal, traceable, healthier, sustainable and fresh ingredients, free from trans fats and nasty additives.
The Food For Life Served Here Award has been cited by NHS England as a way to improve hospital food, and by the Department for Education as a national framework to support caterers to increase uptake of quality school meals. The Government's new Plan for Procurement recognises the Food for Life Served Here Award as a 'well-established' best practice tool.
A great business move
"Our income across the business has increased by 13% over the past 3 years – we attribute much of our success to the Food For Life Served Here Award." Gerry Clinton, Havering Catering Service (Food for Life Served Here Gold Award)
Increasingly, having an inspected and certified award is expected by your customers and the consumers of your meals. It also opens doors to public sector contracts, which increasingly specify these standards.
Serving better quality meals can increase your revenue, as more people choose your local, fresh and honest food offer.
Being the proud recipient of a meaningful award is a good marketing tool and news story. It shows you adhere to a high set of values concerning good food, the environment and your people.
Paying attention to your food offering boosts your CSR strategy by demonstrating a commitment to good food.
Caterers have reported that the process can be cost-neutral and may even save you money.
"What we have noticed over a period of time is an increase in sales from the Food for Life Served Here menu which increases our purchasing volume and increases profits." Matt Smith, Catering and Hospitality General Manager, Elior, Café at At-Bristol (Food for Life Served Here Gold Award)
In this section...
Business Support for Award holders
Access our exclusive, free business support package.
Find out more