Sandy Lane Farm, Mixed Farm

Sandy Lane Farm - 40 hectare mixed farm
Sandy Lane Farm is a 40-hectare family farm close to Oxford and Thame selling produce via veg boxes, markets and to local restaurants.
The family partnership is managed by George Bennett who returned to the family farm after working in IT. George shares his tips for a successful organic business with us.
What to consider with organic production
Certified organic for growing vegetables for more than 30 years, the farm's activities are varied. They include field-scale veg production, a market garden, protected cropping, top fruit, pigs, sheep, chickens and arable crops. 
The farm has about 10 hectares under vegetables. There is a range of soil types that suit different crops, but in general it's mostly a sandy, free draining soil that's well suited to vegetable production, especially root vegetables. The farm operates an eight-year crop rotation to boost fertility and reduce the incidence of pests and disease; one rotation for the field-scale produce and one rotation for the market garden.
Soil fertility is key to success. Fertility is built up by incorporating green manures in the rotations. These include clover and other legumes that fix nitrogen and boost soil health. Woodchip is used in the polytunnels to boost fertility.
Pests are tackled in several ways:
Crop rotations help to reduce the incidence of pests. For example, carrot flies lay their eggs around the carrots, so rotating the crop means that any overwintering pupae in the soil hatch well away from the new crop
Physical barriers, such as nets and electric fences, are used to deter pests
There are habitats for natural predators, including beetle banks and tall hedgerows with plants, such as cows parsley. As George explains: "By far the most important pest control is biodiversity. If you try and artificially create an imbalance somewhere down the line, it's going to come back and bite you."
Overwintered brassicas, such as sprouting broccoli, are allowed to flower to attract predatory wasps.
Weeds are the bane of any organic grower. Establishing a stale seed bed means that young weeds are removed before the crop is sown, which reduces competition with weeds. Couch grass can be a major problem in organic systems, so George is trialling buckwheat to suppress couch grass.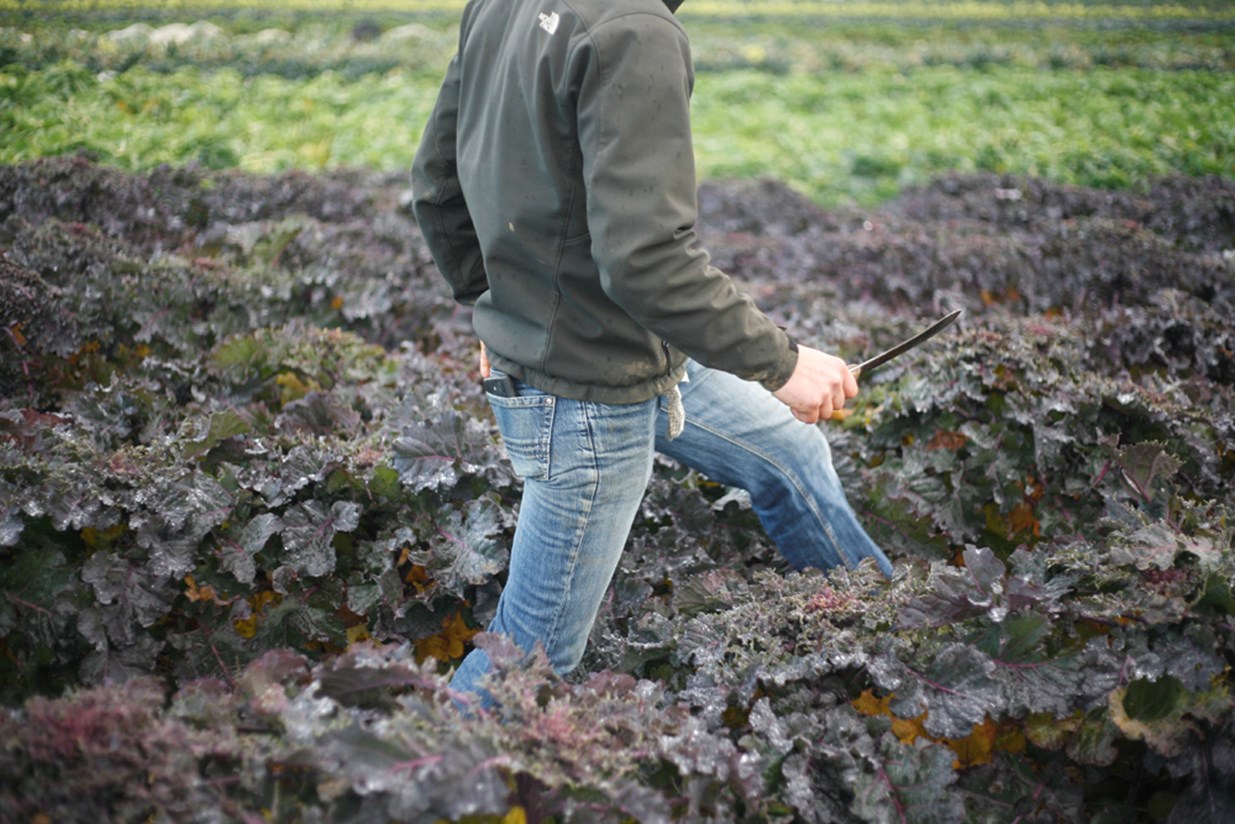 A move to direct sales
When George returned to the farm, the focus was on wholesale vegetables, but George flipped the model to direct sales, which has proved a very wise business decision. George explains: "Wholesale had been flat, so by selling direct we have kept the volume the same, but the value is much greater".
The farm is just outside Oxford and George has seen a growing demand for more provenance, flavour, freshness and organic and this has offered huge opportunities. Now 80 per cent of their business is veg boxes - more than 200 a week - and the farm works with a local company Ten Mile Menu, that has a slick online ordering system and delivers the boxes. As George says: "The company's website is really smart and easy to use", and it's allowed them to expand.
In addition, they run a farm shop two days a week in their barn. As well as selling their own produce, they invite local businesses selling bread, milk, cheese, honey etc. George describes it as "a small, humble operation, that's not at all glossy and loved by locals". It creates a sense of community for locals of all ages, from young mums to the retired, who come along and have a coffee, chat and buy great food.  He also sells at a farmers' market in Oxford, alternating a stall with another producer.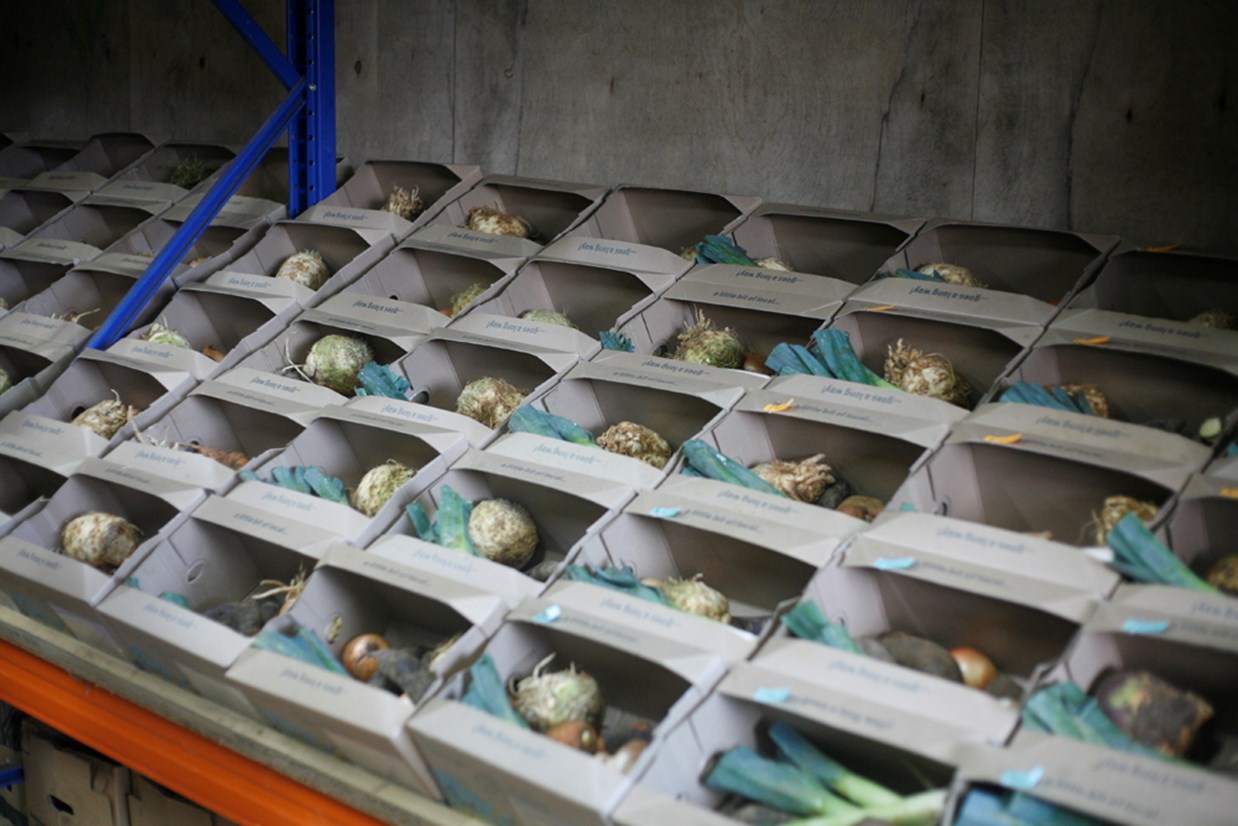 Diversified business
Diversification is important to the farm. The farm still raises their own traditional rare breed pigs, sheep and layers and produce is sold to pubs, restaurants and retailers. There is also a horse livery. But they now host open days and weddings and have a pop-up cafe in their barn which hosts seasonal suppers. Another diversification is growing ancient varieties of rye for a local artisan gin producer.
George says it's important to be entrepreneurial: "If your budget and acreage is small, go for high value crops, such as salads, unusual veg and edible flowers". Amongst George's specialities are pumpkins and squash. He grows 29 different varieties, and this has proved to be a great attraction in autumn. Despite the vast choice the customers' favourites are the better-known butternut, Crown Prince and Uchiki Kuri! They grow a range of unusual oriental vegetables too, which are popular with Japanese living in Oxford.
"If your budget and acreage is small, go for high value crops, such as salads, unusual veg and edible flowers" George Bennett, Sandy Lane Farm
Looking forward, George is thinking about adding value to his produce, maybe through high value organic ready meals.
Marketing is important to any business. George welcomes the support that he gets on marketing and communications from his current certifier,  Soil Association Certification. And some advice from George: "Be different, interesting and connect with your customers."
Get started

Interested in exploring organic conversion for your own business? Our expert farming certification team can help you with this every step of the way.

Find out more
In this section...
Financial support for organic conversion
Find out more about the funding schemes available.
Find out more
Become a Member
Together we make a world of difference. Join the fight to transform the future of food and farming today.
Join us