Tilhill Forestry (FM)
About Tilhill Forestry 
Ewan McIntosh is Certification and Assurance Manager at Tilhill Forestry, responsible for overseeing and managing the largest Group Forest Certification Scheme in the UK. His role involves maintaining effective working relationships with a large number of clients and stakeholders.
'I'm responsible for all internal and external auditing throughout the business which includes audit planning, management of audit process and focus and, in conjunction with the Quality and Environment Manager, analysis of audit findings and related corrective actions'.
He also sits on the UKWAS Steering Group and is a member of Confor's committee tasked with ensuring that forest certification is as cost effective and beneficial to woodland owners as possible.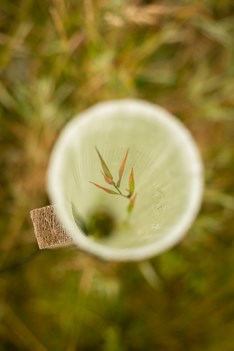 Tilhill Forestry was founded in 1948, and is the UK's leading forestry and timber harvesting and marketing company, offering consultancy and contracting services to woodland and forestry owners.
Environmental responsibility is key to all of Tilhill Forestry's operations. In fact, it's the only forestry company in the UK to employ a team of ecologists to advise on environmental matters.
Tilhill have worked on environmentally-sensitive sites for many years, including Sites of Special Scientific Interest for Natural England, Countryside Council for Wales, and Scottish Natural Heritage. We also work with many local authorities to help them deliver a range of environmental enhancements.
Tell us about your forest management:
We certifiy 220,000ha of forests ranging from 7ha to 7500ha throughout the UK. Our Group scheme is split into two different types of membership, Resource Management (who also instruct Tilhill to manage their forest) and Group members (who manage the forests themselves).
How long has your business been certified with FSC®/PEFC™?
We started our forest certification group scheme in 1999 and Coed Llandelgla in North Wales was one of the first certified forests in the UK.
We're now the largest Group scheme in the UK and continue to grow with new members joining on a monthly basis.
We transferred from our previous Certification Body to Soil Association Certification in 2014.
How have you find the process of working with us?

It's very straightforward. Auditors are thorough, pragmatic and always helpful and we receive support from Soil Association head office when required.
Certification provides [forest owners] with an internationally and independently verified standard that demonstrates sustainable forest management ... Ewan McIntosh
What impact does certification have on the forests you manage? 
Many of our customers certify their forests in our Group scheme to gain preferential access to the timber market through both enhanced rates on timber and improved access to the market.
Many forest owners also join because certification provides them with an internationally and independently verified standard that demonstrates sustainable forest management, which many of our clients see as a key part of their corporate social responsibility. 
Led by a dedicated Certification Manager we have a team of experienced forest managers across the country who help woodland owners maintain compliance to the UKWAS. 
Our audit team also adds value to the woodlands by advising owners on how to continually improve the management of their forests, providing advice on changes to legislation, funding streams, best practice etc.
Top tip …
Join a large Group scheme – it's a cost effective and supportive way to gain Forest Management certification.
Find out more at: