The Trade Briefing - what happened
For those of you who missed it, we saw over 150 organic businesses, retailers and journalists join us in London on Tuesday for our annual Trade Briefing. We had a packed agenda for the day, with the launch of our new consumer research, an update on the market from Nielsen and for the first time, an afternoon dedicated to Export where businesses met to discuss the increasing relevance and opportunities for exporting organic worldwide.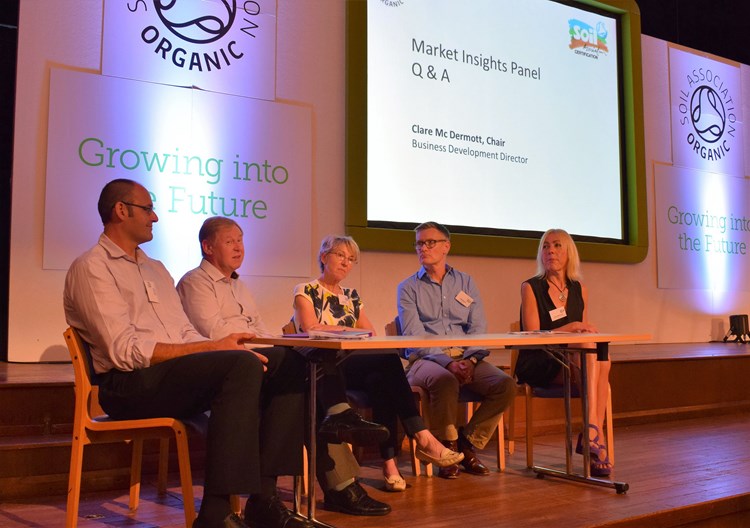 Making organic an everyday choice for everybody


The keynote speech was the launch of our ground breaking new research into the organic consumer; understanding who is driving the growth of organic today and into the future. The research highlights the category drivers necessary to take organic into the mainstream and is the first piece of nationwide research covering all of England and Scotland. It includes: 
NEW attitudinal segmentation model
Clear motivations that influence purchase decisions
The macro trends under pinning food retail today
Access to market mapping tool to support product development and targeting
The new research was presented by David Preston from The Crow Flies, who summarised, "people want organic to be the everyday way of doing things – they want it normalised – but there are challenges. If we can understand the range of segments and motivations of organic consumers we will be able to grow the organic market and consistently communicate the rich tapestry of what organic is. But this has to be supported throughout the industry."
The full research report is available free of charge for Soil Association Certification licensees and for just £250 for non-licensees. Don't miss out on this invaluable insight to the organic market – contact us to order your copy. 
The Organic Market continues to grow 


Mike Watkins, Head of Retailer and Business Insight UK at Neilsen gave an update on the organic market, once more revealing positive growth in the organic sector with a 5.6% increase in organic sales in the 52 weeks to 13 August 2016 (Nielsen Scantrack). The organic market is set to break the £2 billion mark this year and continue to outperform non organic sales. Read more about the growing market here.
Graphics taken from our new infographic 'A look at the Organic Market', launched in partnership with Triodos Bank. Available FREE for Soil Association Certification Licensees - email us for your copy.
Clare McDermott, business development director at Soil Association Certification said; "The organic market is in the fourth consecutive year of growth against continuing decline in non-organic food sales. There are clear opportunities across a variety of sectors, with growth driven by fresh produce and grocery, but also home baking and store cupboard essentials. Shoppers are increasingly buying organic as it answers their need for a healthy, sustainable and ethical choice".
Exporting organic worldwide

With strong growth in virtually every other developed organic market, combined with favourable currency conditions, there's never been a better time to export organic goods. Find out more about what you missed here.
Whether you already export or are simply thinking about expanding your international business, events such as this are just one way to get support. Visit our export pages to find out more about guidance, consultancy services or international events.
Our biggest Organic September yet

Soil Association Certification continues to support businesses and the organic market through Organic September. Find out more about what's been happening and how to get involved here.
Thank you to the following licensees who supplied products for us to enjoy: Planet Organic, Clearspring, Daylesford Organic, Pip Organic and Marley Coffee and to our sponsors Divcom and Arla without whom this event would not be possible.  If you would like to supply product for future Soil Association events please email us here.