Sustainability and organic: joining the dots...
Soil Association Certification commissioned a mixed-method research[1] study against the backdrop of climate change, COVID-19 and Brexit to understand how people's views on sustainability and organic have been influenced by them and the actions needed to realise the shopper opportunity. 
In the research conducted by The Crow Flies, we saw attitudes towards sustainability score very highly.
Shoppers claimed that they wish food was produced in a more natural way without excess processing and chemicals. They are becoming increasingly worried about the impact they have on the natural world and excessive packaging and waste materials. 
Being able to trust food manufacturers and retailers also came top of their priority list, as they want to make more sustainable and ethical choices about the products they buy.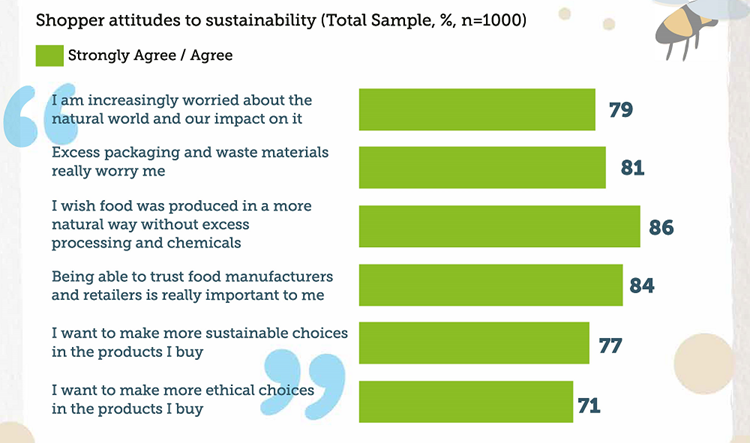 COVID-19 has put more focus on sustainability
71% of people interviewed have become more concerned about the environment
66% now want to know more about where the ingredients in their food come from and that they are safe
"I now buy more food that I believe is better for my health" was ranked 2nd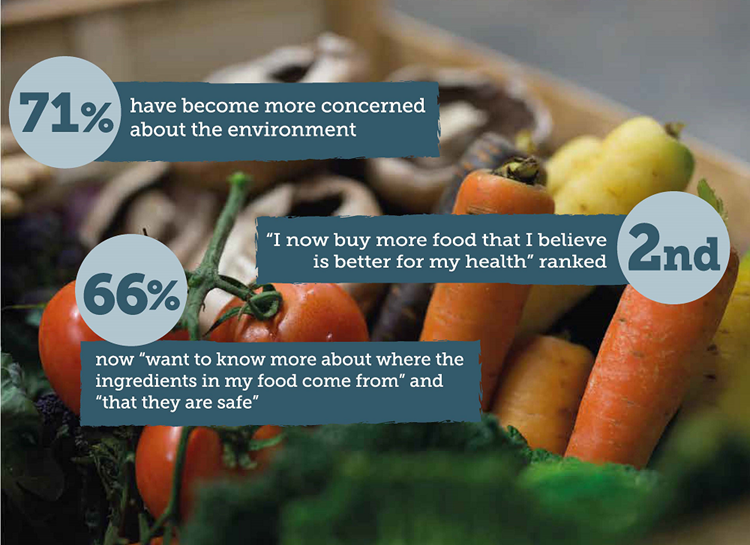 The research also enabled us to understand more about why people choose organic.
The two main themes that came up were health and the environment, with fewer pesticides and chemicals being a key factor that underpin the rationale for shoppers choosing organic.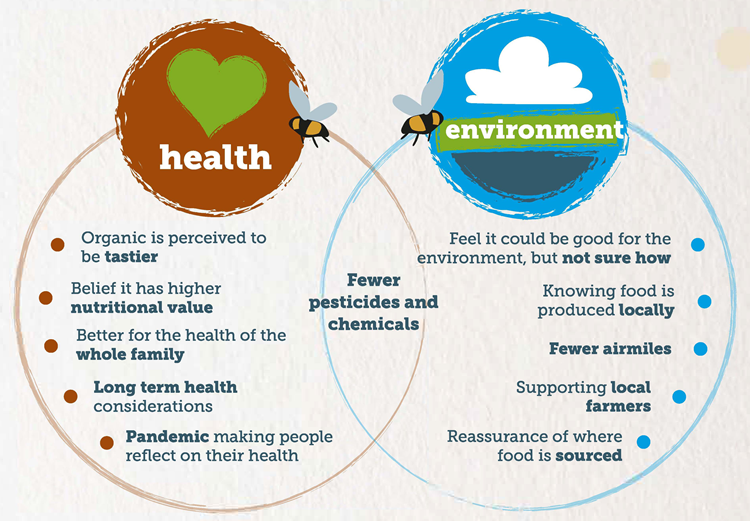 According to the reserch, shoppers perceive organic food to be tastier, have higher nutritional value and improved long-term health considerations. The consensus was that they felt it is better for the health of the whole family and these considerations were spurred on by the pandemic. 
In relation to the environment, shoppers felt that organic could help but weren't sure how. Despite this, they were still keen to buy locally produced foods with fewer airmiles and support local farmers.
However, they don't directly connect buying organic with sustainability. 
Organic appeal vs current shopping habits
The research found some key issues that prevent shoppers from currently buying organic. By addressing these blockers, we can unlock the appeal of organic and disrupt people's 'auto-pilot' shopping habits.  
Price: This isn't about simply discounting price; it is about organic getting more of an effective share of mind in store via different mechanics - from price promotions to drive penetration and trial across a broader spectrum of organic products, to loyalty schemes to help customers keep up their purchasing patterns. 
Information: Consumers are wanting more information and more clarity on organic - from understanding its benefits, to wanting to know more about the source of the products, the story behind the growers and producers, the number of food / air miles and whether the product is British / local.
Variety: Having physical availability for products, across stores for more local and top up shopping, as well as more options across ranges, formats and store sizes is essential to drive scale. 
Communication: Knowing there is a regulated organic standard is the most motivating statement to get people to pay more for their organic products. It has also seen the highest year on year increase in persuading people to choose one product over another. It's therefore important to consider this in communications and in prioritising what you put on front of pack. 
Sustainability and organic: joining the dots...
Driving people's focus on their health, the environment and animal welfare and helping consumers understand the price differential through communicating the benefits and the story behind organic products is key to the success of the organic market. Where, the use of promotions and increased availability will help organic to stand out in store and break shopper habits.
And finally, the research found that a prominent organic certification symbol on products also provides a useful short-cut to reassure shoppers that what they are buying meets their ethical and environmental standards and builds consumer trust in products.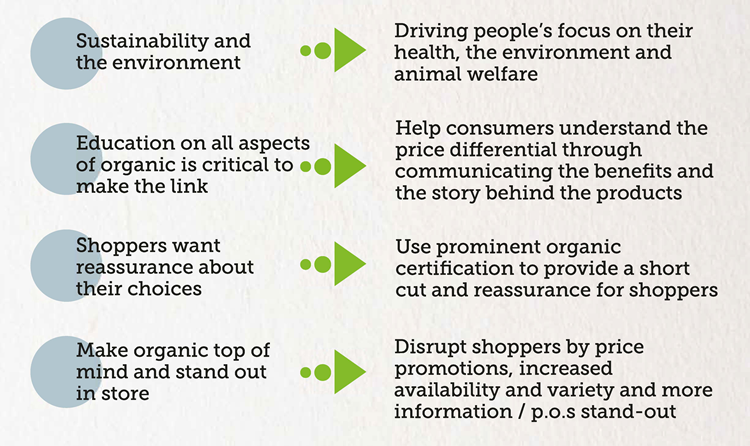 "We are still ahead of where we were last year and we are massively ahead of where we were two years ago. There is so much opportunity to take organic forward to 2030 by joining the dots between organic and sustainability." - Clare McDermott, Soil Association Certification
Speak to the Business Development Team at Soil Association Certification to find out more about this research and tools to grow organic in your category. We also have information on how to use the organic symbol and other organic marketing materials on our website. 
---
[1] A combination of in-depth qualitative shopper research and a quantitative study (1,000 people), June - August 2021.