Christmas 2016 - Natasha Corrett's Christmas Pudding

Natasha Corrett's Healthy Twist On A Christmas Pudding
Natasha says:
"What Christmas would this be without a proper Christmas Pudding? This is a blow-your-socks-off Christmas Pudding. Packed with nutritious fruit, it is gooey smooth and a real show stopper."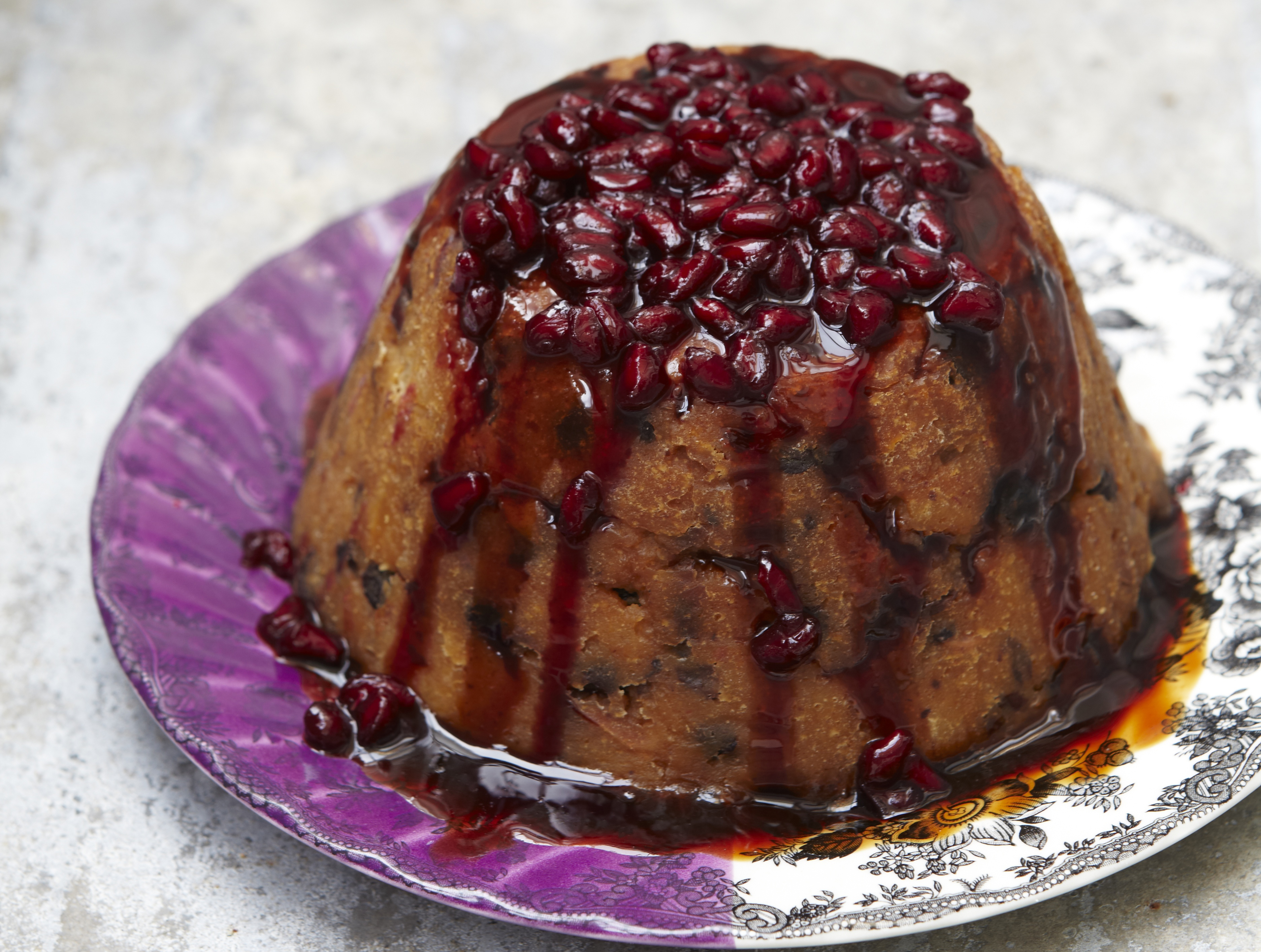 Ingredients 
350g ground almonds
2 eggs
50g coconut oil or vegan butter
100ml date syrup
200g pears
100g raisins
50g currents
150g apricots
100g dates
1 orange
1 lemon
250ml water
2 chia t-bags
1 star anise
¼ tsp cinnamon
¼ tsp ginger
Tea Syrup:
1 cup of stewed chia tea
¼ cup of coconut palm sugar
¼ cup of date syrup

Method:
Pre-heat oven to 180 deg C
1. Dice the dried fruit and put into a bowl. Boil the kettle and pour 250ml of hot water over 2 chia tea-bags. Leave to stew for 30 minutes.
2. Chop the pear into small 1 cm cubed chunks and add to the dried fruit.
3. Pour the stewed tea over the dried fruit with the zest and juice of the orange and just the zest of the lemon. Also into the bowl add the star anise, cinnamon and ginger.   Leave to one side until all the tea has been absorbed by the fruit.
4. In a separate bowl mix together the oil or butter in with the ground almonds. Add the beaten eggs to the mixture until corporated. Add the date syrup.
5. Take out the star anise out of the mixture and put into a blender or food processor. Blend half of the mixture until a chunky mixture add back into the rest. Mix this into the almond mixture and mix until corporated.
6. In a pudding bowl butter the inside then line with baking paper in the bottom of the bowl and all around the sides. Pour the mixture in and then cover with a muslin cloth and secure with either an elastic band or string.
7. Fill a deep baking tray with boiling water and put the pudding bowl into it – make sure the water comes up to as high as possible on the bowl. Put into the oven and cook for 4.5-5 hours. Make sure you top up the water in the baking tray so it stays high up on the sides. If the top of the muslin starts to go brown just put some tin foil over the top to stop the top of the pudding burning.
8. To make the syrup put all ingredients into a pan and leave until the sugar has dissolved and the syrup is the desired consistency.
9. Serve with chia syrup, pomegranate coolie and cashew cream for the ultimate decadent Christmas pudding.
I love to cook, we are always looking to create new exciting twists, flavours and add-ons. My recipes are super healthy and based on Alkaline food principles. All recipes are Gluten Free, Wheat Free and free of cow's dairy but that doesn't mean they are not tasty.

Natasha is one of the UK's top vegetarian chefs and is a cookbook author