Christmas 2016 - Rebel Recipes' Mini Buckwheat Pancakes

Rebel Recipes' Mini Buckwheat Pancakes
A Healthy Recipe For The New Year
Buckwheat pancakes topped with turmeric hummus, quick beetroot pickle and dukka 
We all want something light after filling our mouths with as many different delicious treats that we can get our hands on over the festive period. However, light doesn't have to mean boring...  
Rebel Recipes aka Niki Webster says: "Buckwheat pancakes are my favourite – a cross between a pancake and flatbread. I regularly eat them for breakfast with whatever dips I have in the fridge. It also seems to impress my friends when I make them in the morning with homemade hummus, yay!"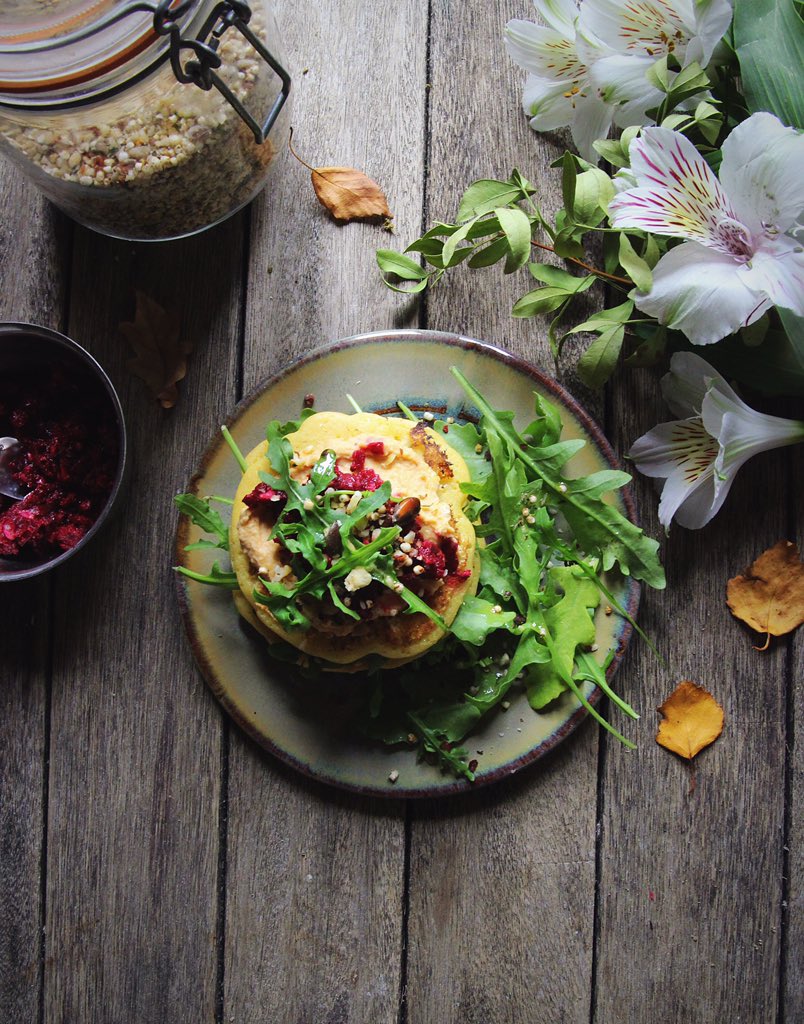 Hazelnut dukka 
100g raw, unsalted hazelnuts
1 tbsp. cumin seeds
1 tbsp coriander seeds
3 tbsp sesame seeds
2 tbsp sunflower seeds
1 or 2 sprigs of mint
1 tsp pink himalayan salt
1/2 tsp chilli flakes
Method 
1. Put nuts, cumin seeds, coriander seeds and sesame seeds on to a baking tray lined with parchment paper
2. Dry toast for 12 minutes on gas mark 4/180C. Allow to cool.
3. Add mint leaves, chilli & salt to a mini chopper and pulse on 1 second bursts.
4. Check after each pulse as you don't want it too finely chopped.
Quick spiced beetroot pickle 
1 medium beetroot - remove the skin
1 green chilli 
Handful coriander leaves 
1 olive oil 
1/4 tsp mustard seeds 
Juice 1/2 lemon 
Sea salt 
Method
1. Peel the beetroot then grate it. 
2. Heat the oil in a small pan and add in the mustard seeds until it pops. Turn off the heat. 
3. Add the coriander, green chillis and salt to a pestle and mortar, bash until you get a paste. 
4. Add the paste, grated beetroot & lemon juice to your pan and mix well. 
5. Remove from the pan and eat straight away. 
Turmeric hummus 
1 can of organic chickpeas
Juice of 1 lemon
2 peeled garlic cloves
1-2 tbsp. organic tahini
1-2 tbsp olive oil
Pink Himalayan salt
Ground black pepper
1 tsp cumin seeds
1 tsp turmeric
Method
1. Tip the organic chickpeas in the your blender.
2. Add the garlic, lemon juice, tahini, turmeric, cumin seeds and olive oil.
3. Blitz until smooth and creamy (approx 2 minutes), add a little water to loosen.
4. Season to taste and blitz again.
Buckwheat pancakes 
1 cup of organic buckwheat flour 
1 cup water
1 tbsp olive oil
Pink Himalayan salt or sea salt
Twist black pepper 
Cumin seeds
Method
1. Put the flour and other dry ingredients in a bowl, make a well in the middle and add the olive oil.
2. Gradually pour in the water, mixing with a spoon or whisk, until you have a batter like consistency.
3. Heat a small/pancake pan until very hot, brush with olive oil and pour in 1/4 of the batter.
4. Lower the heat slightly and allow the flatbread to firm up before turning and browning the other side.
5. Remove from the pan and then repeat with the rest of the batter. 
6. Top with all the delicious toppings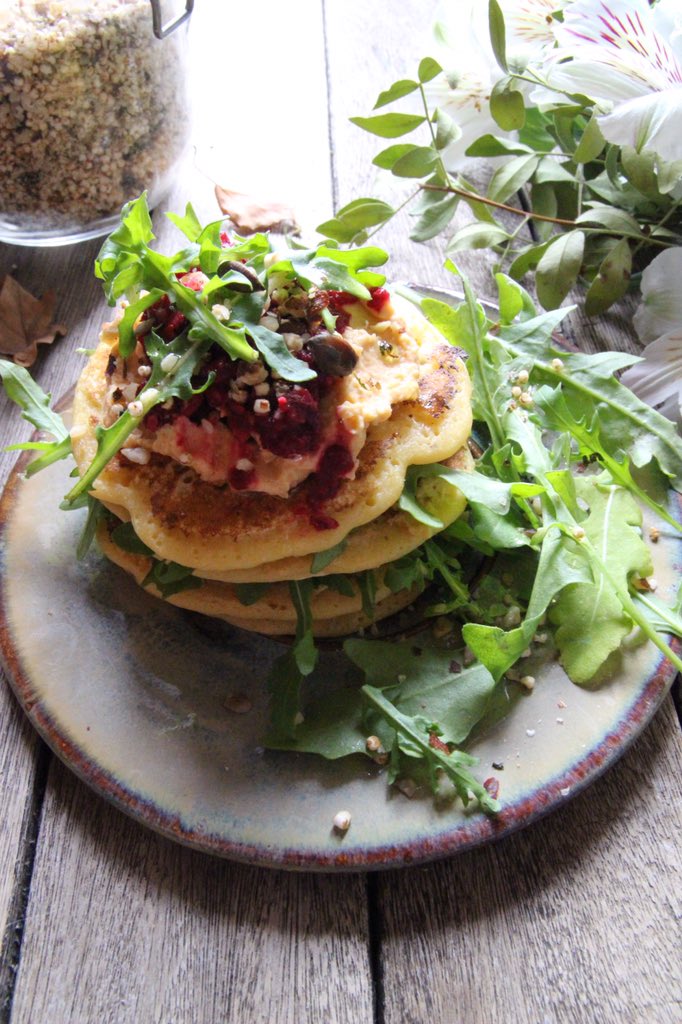 Editor's note: This recipe is the perfect accompaniment to all of our New Year's resolutions! Rebel's guilt free treat will transition you seamlessly into any healthy eating regime you have planned. 
Rebel Recipes
Impress your friends with this healthy, delicious recipe this winter!

Chef and blogger