Farmers working together for soil health
"It's good to work with neighbours. It's days like this where we all get together, that the best ideas come out." Anthony Campling, Loveden Estates
Jerry Alford, Soil Association Arable and Soils Advisor, tells us what he learned at a recent open day for the GREATsoils Improving Soil Health in a Shared Rotation field lab.
One of my first days as Arable and Soils Advisor at Soil Association found me at Jepco in Lincolnshire, at the AHDB funded GREATsoils Improving Soil Health in a Shared Rotation field lab. I have to be honest and say that I don't know a lot about growing lettuce, but the focus of the day was soil health, and pretty soon I realised that growing field scale lettuce is no different from any form of farming, namely attention to detail, knowing what you aim to achieve, and reacting quickly to change. 
For Jepco, as for many veg growers, there is the added complication of sharing land with 2 other businesses, Lovedon Estates and Worth Farm, with each business bringing different crops to the rotation. Traditionally this has meant that soil health is of secondary importance because there is no incentive to improve the soil for someone else's benefit. In this field lab, cover crop choice now has to work for all three businesses because the risks as well as any benefits affect them all. With 30 people attending to the public meeting there was real interest in the trial, and the possible benefits that can be obtained.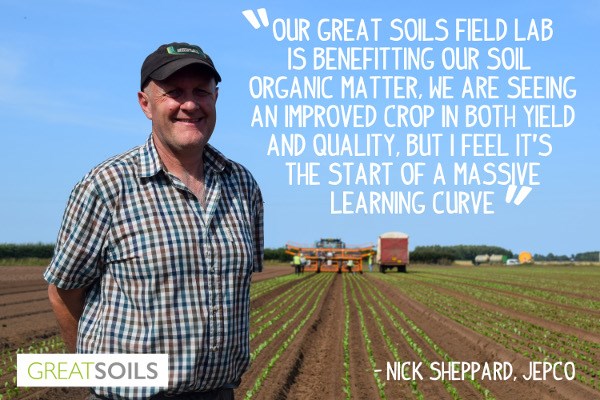 Although the trial is ongoing some of the early results are significant. Jepco's Nick Sheppard described some of the early conclusions ''We have found an increase of almost 8% in lettuce yield after overwintering cover crops, compared to bare soils; as well as a perceived reduction in fuel use in soil cultivations, and better water infiltration after heavy rain falls in the lettuce fields which have had an overwintered cover crop, compared to fields which were ploughed or left as an over winter stubble."
What was interesting was that these benefits were seen as part of a process to improve soil health, and during discussions it was plain that all three businesses wanted to see further improvements. Reducing the dependence on ploughs, improving water retention and the potential to reduce fertilizer input costs were some of the long-term intentions across the all of the businesses. Simon Day of Worth Farms said "GREATsoils is a good forum for getting people together to talk about the same thing." with Anthony Campling of Loveden Estates adding "It's good to work with neighbours. It's days like this, where we all get together, that the best ideas come out."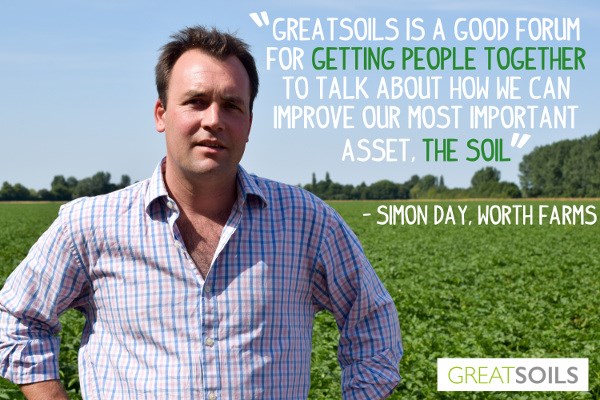 The GREATsoils field lab, also part of the Innovative Farmers programme, is about more than just cover crops and lettuce, but is an example of neighbouring businesses who now work together, and are aware of the consequences of their actions on others. They are committed to improving the soil they manage, and are working together to improve them.
The Growing Resilient Efficient and Thriving GREATsoils is being delivered in partnership by the Soil Association, Organic Research Centre and Earthcare Technical Ltd. The project is part of the GREATsoils programme funded by AHDB.
For more on this field lab see Innovative Farmers.