Agroforestry at Eastbrook
Fruit & Nut Agroforestry at Eastbrook Farm

I've been interested in agroforestry for a number of years. So when Helen Browning invited me to help her realise her own dream of an agroforestry system on her mixed farm in Wiltshire, I jumped at the chance. At 80 hectares, the site at Eastbrook offers almost unlimited potential.
Agroforestry has many benefits such as reducing exposure to wind, improving drainage and soil health, increasing biodiversity and providing shelter for animals. But first we needed to think about what else we wanted the trees to do. Did we want fodder for the animals, timber, biomass for boilers, woodchip for fertility? The answer was yes to all of these, but Helen was also very interested in getting a crop from fruit and nut trees.
When we sat down for the first planning meeting with Amelia Lake, from the Real Food Garden, (who worked with us to design the first plantings) we had a long list of potential tree species with each of us championing particular favourites. Helen is keen for the farm to provide a future food source that is resilient in our uncertain climatic future. But of course, it also has to work financially in at least the medium term and fit in with the existing enterprises on the farm. We will be grazing sheep in the understorey for the larger trees, though with some of the initial fruit planting we'll be sticking to chickens.
We decided on a diverse initial planting of a small area, with a gradual development of the whole site. We want to see which trees do well at Eastbrook, at least during establishment phase, before planting the rest of the area. Seventy chickens have already moved in to wait for the trees and more will follow.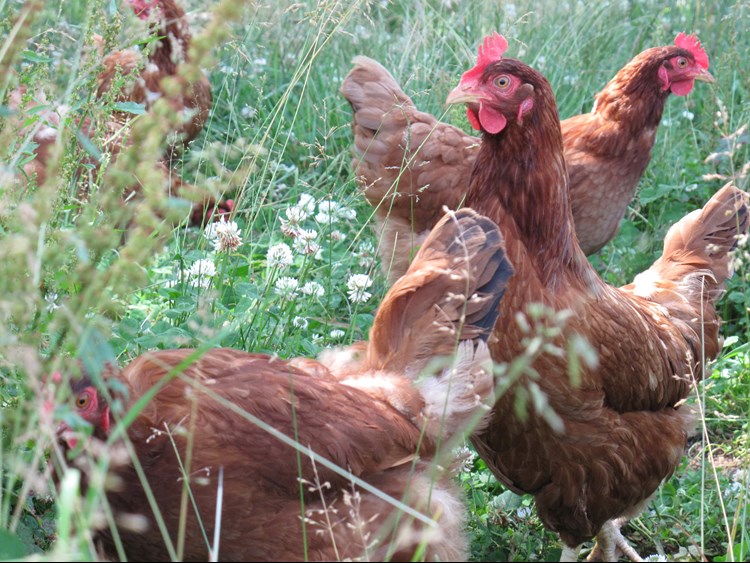 The first field to be planted is 4.5 hectares of mostly fruit, both top and soft. There weren't too many arguments about this, though the team got rather bored of my constant reminders about how long soft fruit takes to pick. The bulk of the produce will initially go through Helen's two restaurants, as fresh fruit, juices and processing by the chefs.
Once we move into the larger fields things get a little more complicated. The system is silvopastoral (in other words trees and livestock). It will be mostly grazed by sheep, though we hope to bring cattle in too as the trees grow larger enough.
In the larger fields, we plan to plant walnuts and chestnuts, as well as some cobnuts. These we hope will be for human consumption. There is growing demand for nuts in the UK, but as yet very little being supplied commercially. We hope to collaborate with other growers to build production and processing capacity so that when our trees finally start fruiting (or nutting) we will have someone to sell them to. The nut trees will be augmented by nitrogen fixing alder and mixed use trees like willow and ash. We are also planting a mixed shelterbelt around some of the fields. Though they will make little initial difference, they should grow quicker than the infield trees and provide some protection for the future.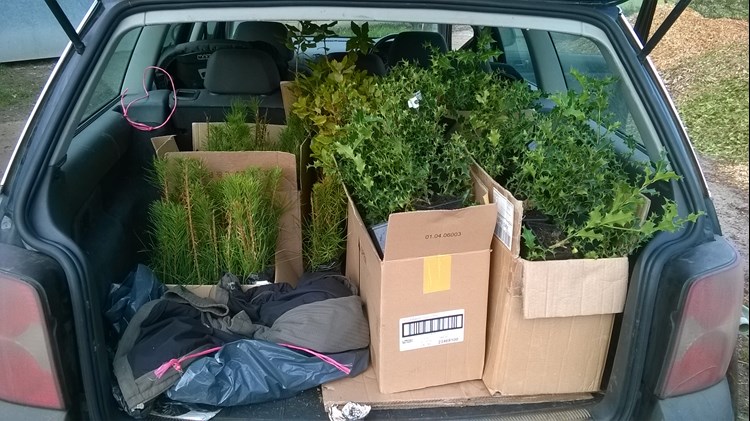 The first trees - small enough to fit in the boot of my car!
We are still grappling with some issues, such as how to manage the understory in the early years, and how to keep the deer off the trees. The fruit field has been deer fenced but the cost of doing the whole farm is prohibitive. The trees have just gone in and we're hoping the site can provide a useful resource of learning (from both our successes and failures!) on agroforestry in the UK.