A Royal Visit for An Innovative Farmer
HRH The Prince of Wales recently visited Bradwell Grove Farm in Gloucestershire as part of the Duchy Originals 25th anniversary celebrations.
The Prince is still as passionate about organic farming as he was when he founded Duchy Originals back in 1982. The royal guest was shown around the farm by Innovative Farmers and Soil Association Certification licensee, Charles Hunter-Smart who commented: "The Duchy brand has grown and grown, but he (Prince Charles) is still heavily involved with what goes on, and deeply passionate about how it progresses. It highlights his passion for the whole organic movement, and the need to improve our environment and our soils because we have wrecked them over the past 100 years."
The Prince's host, is the owner of a cattle farm nestled within the midst of the Cotswolds, and is a supplier for Waitrose under the Duchy brand. Beyond producing beef for Duchy Organics, Charles Hunter-Smart is also an active member of the Innovative Farmers network. The programme is one of the projects backed by The Prince of Wales's Charitable Foundation through sales of Duchy Organic products in Waitrose. There are over 400 members of Innovative Farmers, sharing knowledge and working with researchers to overcome the big challenges faced by the farming industry. 
Charles Hunter-Smart is currently taking part in a practical 'field lab' with the long-term aim of increasing soil biology activity and nutrient availability. He said that "Innovative Farmers enables us to pose questions and carry out more detailed research on our actual farms."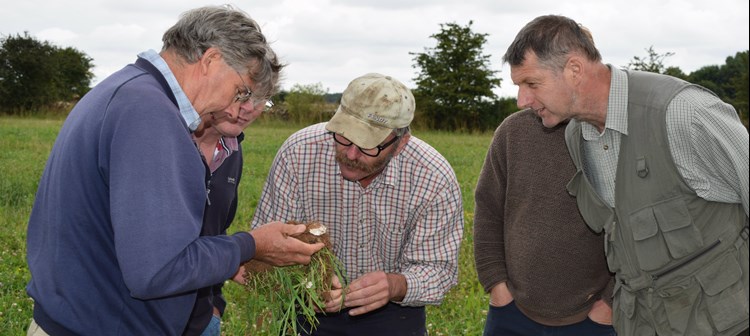 Charles (left) inspecting his Cotswold brash soil with his field lab group