Nathan Richards and his partner Alicia Miller run Troed y Rhiw Farm in West Wales. The business has a mixed horticulture focus, though Nathan also keeps a small herd of organic Highland cattle. Troed y Rhiw is small farm of 23 acres, based on serving local people local food. The farm runs a box scheme and a weekly stall at Newport Market in Pembrokeshire, and also supplies local restaurants and shops.
With autumn creeping into view, Nathan found some time to talk us about how he manages his system of cover crops and rotations.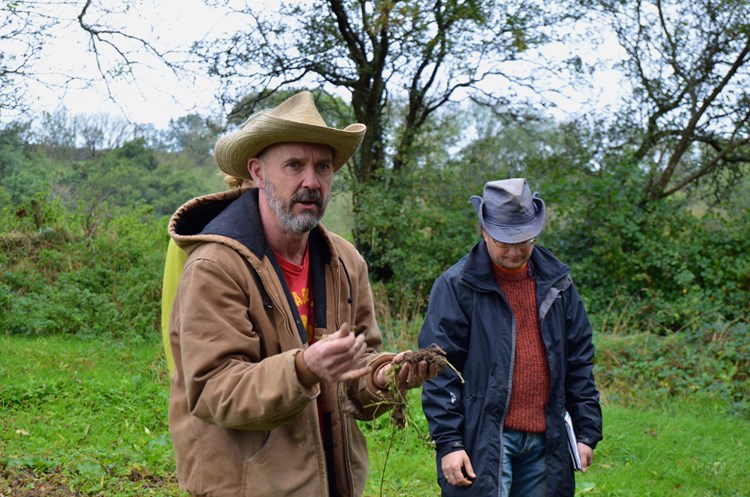 Nathan explaining the importance of healthy soils 
Why are you interested in soil?
Soil is the absolute life source of everything on the planet and if we don't have good healthy living soils, essentially we're doomed.
We're on marginal, heavy Welsh silt clay. It's very difficult to put any structure into it, hard to look after and easy to compact. When I arrived some of my neighbours said "You can't grow vegetable on this." My answer to them is always, 'What did your grandparents and great-grandparents eat then?'
In 2009, when I first ploughed this farm, the soil that came up was grey and it stank. It was anaerobic, water-logged and compacted by years of poor management and overgrazing. Now we have brown, nice smelling soil and the structure is improving. It's still a work in progress, but, essentially, we've got a living soil again.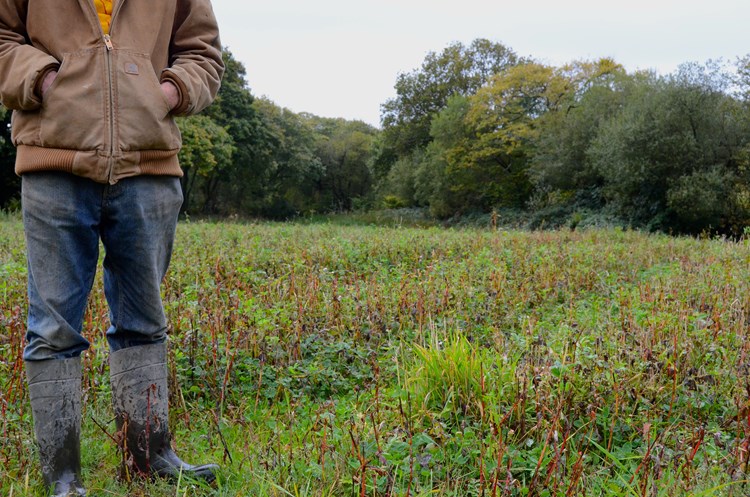 Fertility building; green manures
How does your rotation start?
We run a green manure cycle – a long rotation across all the fields we grow vegetables on. We start with two-years of fertility building clovers. This phase is to fix nitrogen and create a lot of bulky organic matter that we're going to return to the soil. We top it quite high and let it fall on to the sward, then we let the earthworms do their job as it breaks down. Through this simple process, we're building up a lot of organic activity.
Coming out of a historic grassland farm, we tend to use pure mixed clovers without grass, as grass is a continuing battle on the farm.
What do you do after two-years of fertility building?
After the green manures, we go into a cycle of growing vegetables. We start with potatoes, a heavy feeder; after harvesting the crop, we put in a winter cover of either rye and vetch or rye and oats. Over the winter these two cover crops are putting in nitrogen and a huge amount of bulk organic matter which we're going to mow down and incorporate in the spring time. After mowing and mulching, we'll plough it in. Once our winter cover crop has been incorporated, we'll plant brassicas.
Does the choice of cover crops vary throughout the rotation?
Our approach with cover crops is different throughout the rotation. If we have bare soil, or some land which isn't being used, we will often take a break and put in a cover crop. However, I would warn not to put down too much available fertility before carrots and parsnips!
We also use short inter-row beds of low growing home mixed yellow trefoil/white clover as a weed suppressing cover crop, wherever possible.
Does the type of soil affect your fertility building?
You have to think about the way you farm and grow in relation to your soil and local climate. For instance, in an area with less rainfall than here red clover may be suitable for under-sowing a late crop like winter squash. Here in west Wales where it rarely stops raining, red clovers tend to out compete and drown out the crops you've sown them under. We've tried different techniques to find out what's right for our system.
How do you build fertility whilst simultaneously cropping?
Wherever we can, we have a fertility building crop. Our method for producing onions and shallots is by growing them through a plastic mulch. With the tractor we lay mulch onto our soil, which has also had a cover of compost. We make sure we leave 2 ½ feet of bare soil in-between each bed, which the tractor wheels need to pass over. Into that bare soil we sow yellow trefoil and white clover, so that in-between the rows of onions there is a fertility strip and crop that will supress the weeds. So, the following year when we rotate, the fertility is already there.
What do you do with bare fields?
If there is any bare soil that will be left more than a year I will often use a Summer Quick Fix Mix and then another green manure. I like to use mixes – if one thing is failing then another is probably doing all right. Personally, I tend to go for a crimson clover/ red clover mix. 
Cotswold seeds are great for advising you on mixes – they'll change out clover so that it suits my land and pH levels.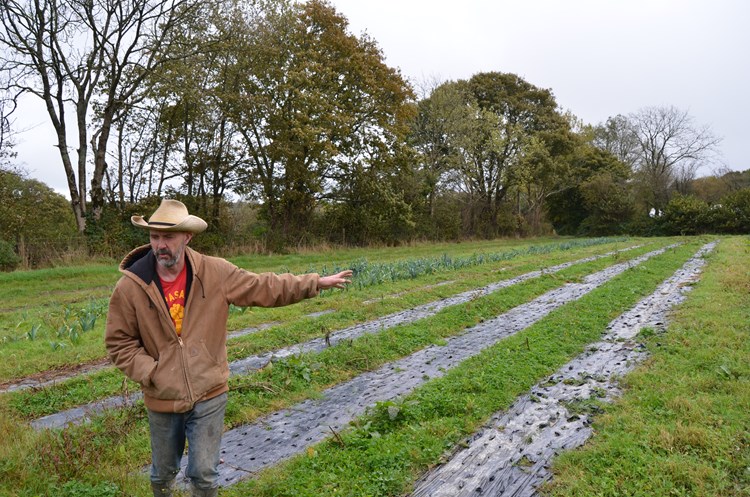 Nathan reiterating the importance of timing your rotation
How is climate change affecting your rotation timings?
This year it's rained the entirety of August and most of September. Our land is properly water-logged – we've got standing water, we have over-flooding streams and the local roads are washing away – it's unbelievably wet. We can't get on our land with the tractor, so I can't get out to put in green manures and we're finding this a repeat of last year. We are starting to find the sowing of winter green manures very, very difficult. And If you can't get on to plant your green manures, and you have bare soil, you have the potential of watching the fertility you have built in the soil, literally wash away. I would prefer to winter in a cover of weeds than in bare soil. Sadly, this is where we're headed this year.
Want to learn more about your soils? Have a read of the soil tips and advice written by our experts.