Protecting land & providing opportunity
What is the Land Trust?
The Land Trust protects productive land from generation-to-generation, preventing land being lost from farming and growing and providing opportunities for new farmers, growers and communities to develop a thriving sustainable business. Land is donated by retiring farmers and landowners, often those with no dependents, who wish to see their life's work continue into the future.  
Case study: Feldon Forest Farm, Warwickshire
Since purchasing it in 1994, George and Gill Browning have invested heavily in Feldon Forest Farm, taking it from mostly arable to a farm rich in diversity and wildlife. As an example of ecologically rich land, the farm has become a mecca for visiting groups.  But after twenty years of success George and Gill are looking to take more of a back seat, allowing a new farming entrant to share the land with them. 
We sat down with George to talk about the history of the farm, his passion for organic and why he's signing up to the Trust.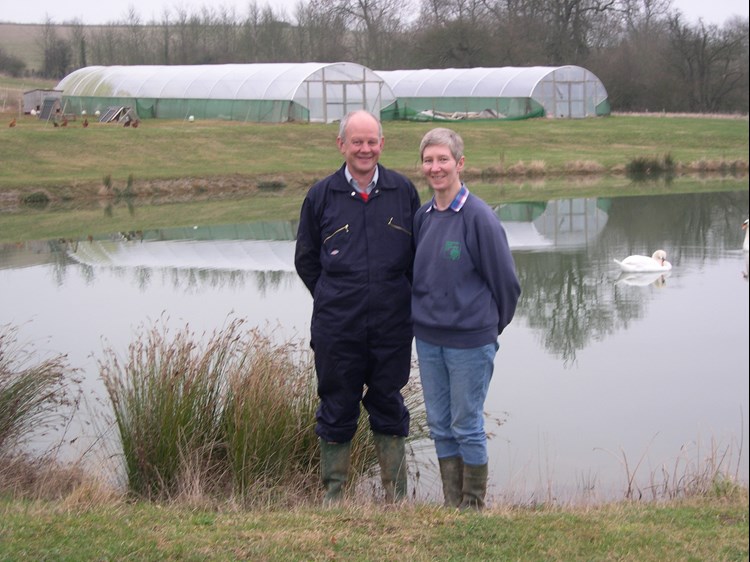 George and Gill Browning in front of pond & polytunnels 
Why Organic?
I belonged to H.D.R.A (now Garden Organic) for years so I was already very committed to the organic movement. When we bought Feldon Forest Farm we didn't have any farming experience, however from the start I felt uneasy about advice to spray our crops.
What does the farm look like now?
Completely different.  The arable is now flower rich meadows which are getting better every year. We have planted an extensive orchard, hedges, woodland, created water features and we embarked on agroforestry before it became fashionable, starting with poplar in an arable field, now species rich pasture grazed by traditional breeds of cattle and sheep.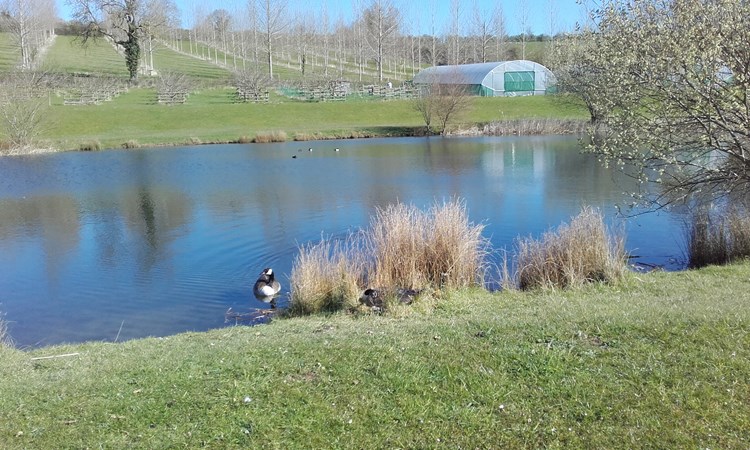 Enjoying the view of Feldon's pioneering agroforestry project
How did you hear about the Land Trust?
I originally heard of the Land Trust by reading about it in one of the Soil Association's magazines. I immediately thought; "Oh, that might be interesting".  We don't have children and from our extended family no one is interested in farming.  That's why I started to think that the Trust might be worth considering. 
What does the Land Trust offer?
We've spent over 20 years building the farm up to be an organic haven. I've personally laid most of our hedges, planted hundreds of trees and reintroduced wildflower meadows. What I've learnt with farming is that you can spoil things awfully quickly. You can't create the environment that we currently have overnight. It would be a real shame for it to be sold to someone who could plough it up and wreck it all in the blink of an eye. That's where the Land Trust comes in as they give assurance that the farm will continue to be organic.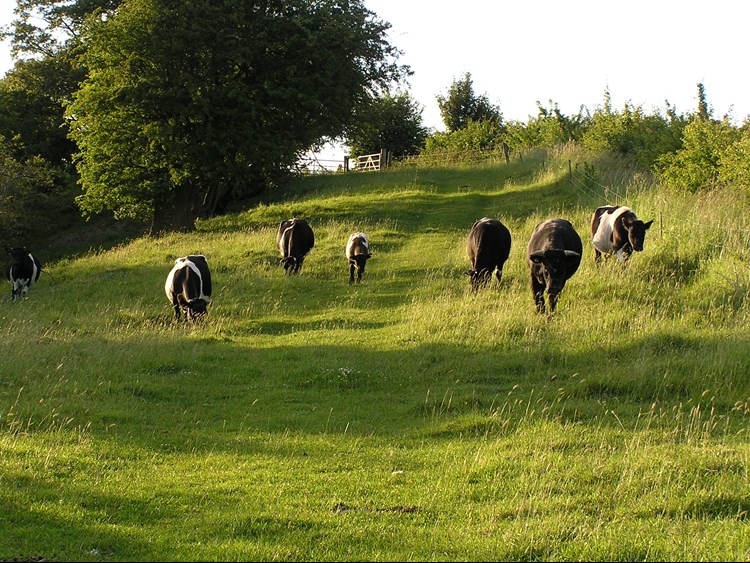 A balmy summers afternoon: Feldon's cattle roam freely
What are you looking to protect?
Particularly those things that have taken years to establish; our orchard and wildflowers are something we'd really like to see preserved. After years of care, and a prolonged absence, we've had orchids returning to the farm. They must have been lying dormant in the ground for years but now the conditions are right we've started to see them return. It's this kind of discovery that shows how far we've come and reminds us how important it is that the next generation of farmers here continue to farm in tune with nature.
Want to know more about the Land Trust? Visit the website to see how it works.