This year's Oxford Real Farming Conference was bigger and better than ever. We've dipped into the program to pull out some of favourite sessions. 
Mechanical Weeding - Tried and Tested
Jerry Alford, Soil and Arable Advisor at the Soil Association, led a session that looked at mechanical weeding in terms of: current practice, being tested and the future.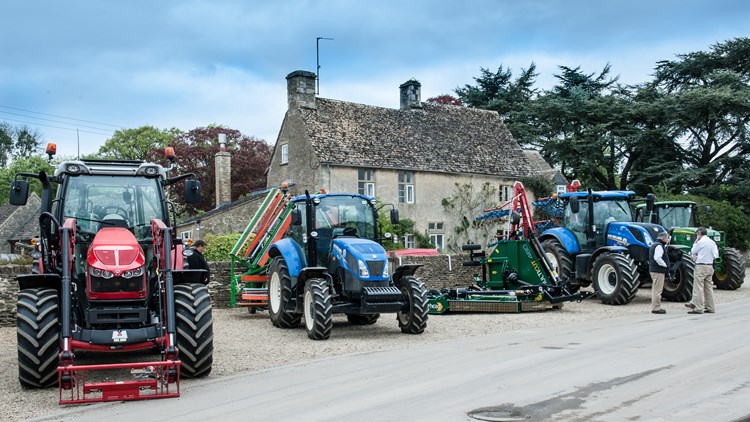 Weeders lined up for testing at the Royal Agricultural University  
What did the speakers say? 
In a presentation on mechanical weeding options available right now, Dr Nicola Cannon from Royal Agricultural University talked about her recent trial on . Over a hundred farmers attended a field lab comparing the effectiveness of four different weeders, currently available on the market. Dr Cannon noted that timing was key, with the stage of plant and weed growth being the most important. Problems with the trial were also looked at, with wet conditions making it hard to weed earlier in the season. In the end, there was a reduction in weed biomass and yield increases due to treatment, but the results were not statistically significant.
In a discussion about his upcoming trial, Robert Diprose from Ubiquitec, told the audience about his Rootwave Electricide system. Rootwave uses electricity to destroy weeds. If successful it has the potential to replace the use of chemical controls. The upcoming test, part of an Innovative Farmers trial on weed control in blackcurrants, will assess the kit's efficiency on annual and perennial weeds, and its effects on soil bacteria and earthworms.
Looking to the future. Professor Simon Blackmores robotics presentation finished by asking whether we were using ''big, dumb tractors'' to do a job that small self-propelled robots could do instead? Professor Blackmore said that smaller robots caused less soil compaction, and could control weeds with very small amounts of herbicides. He even shared early research into using a programmed laser to recognise and destroy weed seedlings. In theory, the laser weeding technique could work from drilling through to harvest.
Listen to a recording of this session.
Trees - Improving the Lives of Livestock
Trees and shrubs used to be key features in the lives of animals in the UK, providing shelter and fodder, improving health and welfare. This session, chaired by The Soil Association's Head of Farming, Liz Bowles, saw four speakers discussing the benefits for livestock and farmers from introducing trees into livestock farming systems.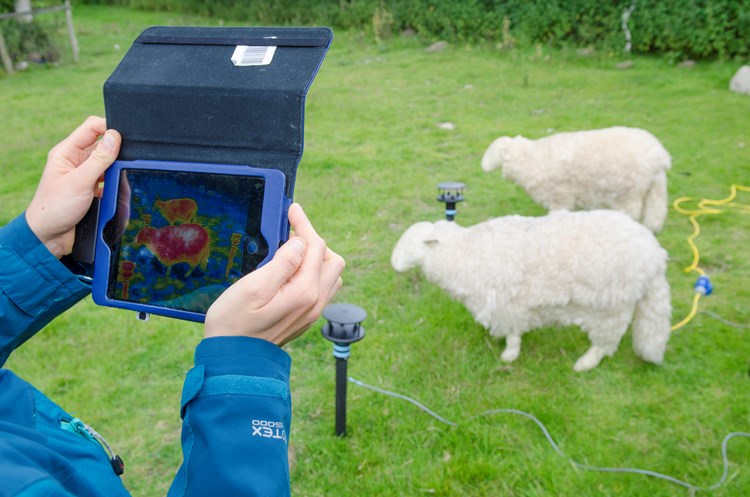 Bangor Universities electronic sheep test in action 
What did the speakers say?
David Brass, CEO of the Lakes Free Range Egg Company kicked off the session talking about the benefits of trees for his laying hens.  After noticing that his hens liked trees in 1997, he went on to plant 21 million saplings. With a ratio of ten hens to one tree. David discussed how trees have helped improve bird health and welfare - reducing feather pecking and increasing egg production and quality. At the same time, trees have improved his soil structure and drainage - mitigating floods and droughts, as well as leading to increased system biodiversity.
Ted Green, a leading authority on woodland, talked about his experience of tree fodder and its use for livestock. Before grass cutting became the norm pollarding of trees and feeding of tree hay to livestock was common practice. In his presentation Ted gave plenty of practical advice on tree pollarding which can be found in his leaflet on tree hay.
Andy Smith, from Bangor University, discussed how his trial was looking at the impact of trees and hedge shelter for sheep performance. The research showed the beneficial impact of trees and hedges in reducing the energy requirements for maintenance of sheep. Energy is saved as trees and hedges reduce the heat loss form sheep in cold, wet and windy weather. As well as improving energy loss, a well-considered planting of trees and hedges can also reduce sheep mortality in bad weather. The project is still running, with the team looking to develop a phone app to help farmers choose the best places to plant trees and shelter belts for livestock protection.
Our final presenter was Paul Burgess from Cranfield University who has been coordinating the Agforward project for the past four years. The Agforward project has been studying examples of agroforestry across Europe but for this presentation Paul concentrated on sylvo pastoral systems (combining trees and livestock). Agforward has produced a database of the nutrient content of different tree fodder which shows that the leaves of black locust, chestnut, white mulberry and ash have crude protein levels of 22%,  a possible reason for why livestock are so keen to eat leaves from trees.
Listen to a recording of the session.
Mixing it up! Improving the Diversity of Forage and Crop Species
 In this session, chaired by the Soil Association's Arable & Soils Advisor Paul Flynn, speakers debated the pros and cons of mixed cropping.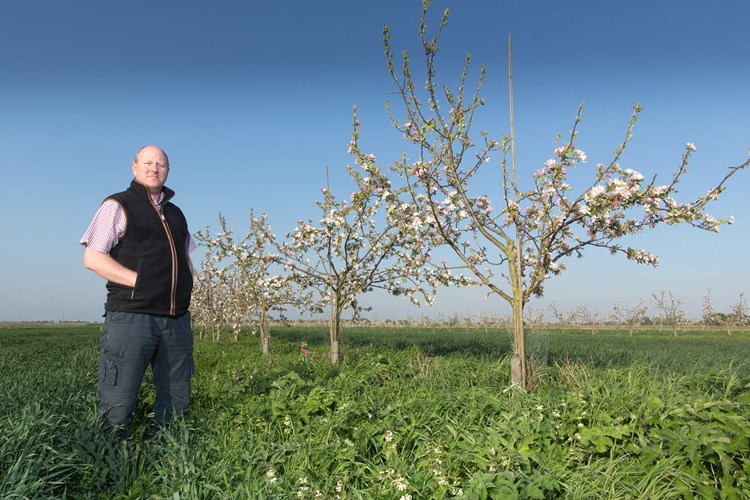 Stephen Briggs beside his treasured apple trees
What did the speakers say? 
Stephen Briggs, owner of Abacus Agriculture, reflected on the success of growing both upwards and downwards to take advantage of every acre. By diversifying his crops with the addition of thirteen varieties of apples, Stephen was able to reduce wind speed and soil erosion. Wide row spacing within the arable crops allowed for controlled weeding as well as a move to inter-row planting of legumes which helped increase the amount of nitrogen available to beneficial microorganisms. The system has reduced the time required for fertility building and supported a longer cropping rotation.
Iain Tolhurst of Tolhrust Organics, discussed the need to build fertility at every opportunity. For Ian it seemed that there was always room to squeeze in another legume or green manure, with the land never being left to fallow. He used green manure, to control his weeds. By sowing a diverse ley, he made sure that he wouldn't allow any one of plant to over-dominate. Iain's new book, "Back to Earth," UK Organic Horticulture through the lifetime of a grower, is well worth a read and goes into far greater depth on the process and development of organic horticulture in the last four decades.
The session's final speaker was James Wrighton, a young farm manager from Vitacress Ltd., in charge of 40 hectares of high value salads and watercress. Vitacress spend over £5,000 on cover crops and green manures. And, as a result, James has already seen significant savings in diesel through improved soil structure. The changes have also meant a more workable soil and reduced costs associated with machinery wearing parts. James has stopped spraying off the ground cover on conventional fields, noting that when ploughed in, the soils seemed to be more robust during periods of heavy rain. He recorded a 100mm rainfall incidence in a two-hour period, something he fears we will see more of. He told the audience that whilst his conventional land remained soaked and operations suspended for a week, organic land was "moist" but much quicker to recover.
Soil Frontiers
Chaired by Ben Raskin, Head of Horticulture at the Soil Association, this session looked at how to improve your soil whilst still making a profit. Progressive farmers were asked about techniques that worked: from working collaboratively on a shared rotation, trialling new cultivation methods or collaborating as a group to test your soil more regularly. Speakers included James Alexander (Primewest Ltd), Niels Corfield (Edible Cities) and Phillip Hubbert (Jepco).
Listen to a recording of the session.
What Animals Want
Chaired by Kate Still, Animal Welfare Advisor on Assurewel, a programme looking to embed welfare outcomes into the assurance process of certification schemes. This session identified how animals benefit from making their own choices. Speakers included Siobhan Mullan (University of Bristol Veterinary School), Lesley Prior (sheep and goat farmer) and Angela Wright (Compassion in World Farming).
Copies of most speaker's presentations are available here.