Oxford Real Farming Conference 2019
The Soil Association was once again proud to sponsor the Oxford Real Farming Conference (ORFC) that took place on 3rd and 4th January 2019.
The conference was established in 2010 (with just 30 delegates) as a much-needed alternative to the annual Oxford Farming Conference. Now, the ORFC is a firm fixture on the farming and growing calendar and is always a fascinating and inspiring way to start the year.
This year, on its 10th anniversary, there were 1,000 delegates (and 500+ people on the waiting list), 240 expert speakers and over 100 workshops to choose. The event is a unique opportunity for like-minded people from all aspects of food and farming to come together and discuss working towards more sustainable and fairer food and farming systems.
The Great Cider Debate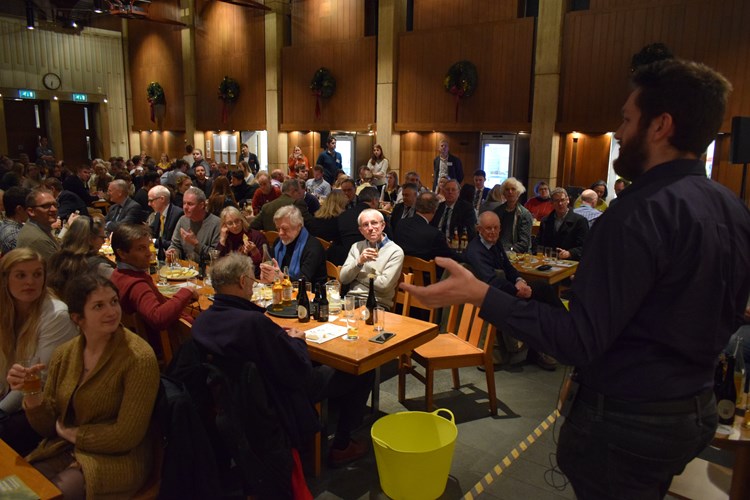 On the Wednesday evening before the main conference, the Innovative Farmers (IF) programme hosted The Great Cider Debate, with over 200 delegates from all walks of life coming together to discuss and taste all things cider.
BBC Farming Today's Anna Hill chaired a distinguished panel of British cider producers, as they took us through a tasting of several ciders, explaining how the decisions they make on-farm affect the finished products, followed by a fascinating Q&A session. The Great Cider Debate proved extremely popular, with excellent media coverage, helping to further raise awareness of the IF network.  
Oxford Real Farming Conference
The conference proper kicked off at 9am on Thursday and, over the next two days, the Soil Association led six packed-out workshops covering a range of topics, including 'Green' Brexit, a Growers Question Time, agroforestry and two sessions on sustainable soil management. We featured on the panel in several other sessions and hosted two busy IF and Certification information stands throughout the event!
Some of our workshops
Sam Packer, Policy Officer (Farm and Land Use), organised and chaired the Green Brexit: Holding the government to account workshop:
The 'Green Brexit' rhetoric from the Environment Secretary has focussed on the environmental harm of the Common Agricultural Policy (CAP) and the opportunities for better food and farming outside the EU. Along with academics at Queens University Belfast and Cardiff University, we are interrogating what a 'Green Brexit' would truly mean; what is currently possible and already achieved by other nations within the EU. We find that the flexibility within the CAP is greater than at first look: Italy supports social farming; France is making agroecology mainstream in education; Spain protecting producers from unfair trading. The urgency of these findings was palpable in a packed audience at the conference, so stay posted for our report to be published soon.
Listen to a recording of the session.
Adrian Steele, Organic Sector Development Advisor, organised and chaired the Cultivating the UK Organic Herb Growers Alliance workshop:
"Anne Stobart of Holt Wood, Jim Twine of Organic Herb Trading Co., Caroline Brevitt of Blue Sky Botanics, and Helen Kearney of Elder Farm presented to this well-attended workshop, which also heralded the creation of a new organisation, the Organic Herb Growers Co-op. Anne Stobart described how the idea to form a co-op was born after the last ORFC, when a group of herb producers got together to discuss how they could cooperate better. I became involved as part of the Soil Association's desire to help, and the co-op was formally set up in Taunton in December. Jim Twine and Caroline Brevitt both expressed how their businesses would like to source more UK grown herbs, which was enormously encouraging to growers in the audience, and Helen Kearney led a lively question and answer session. Events are already being planned for 2019 and the future of British herb production looks promising."
Listen to a recording of the full session.
Paul Flynn, Arable and Soil Advisor, organised and chaired two linked workshops on Sustainable Soil Management:
"Two complimentary hour-long sessions were designed to allow delegates to learn about—and discuss—all aspects of sustainable soil management. In the first session delegates listened to presentations by our four soil experts, Jennifer Dungait (soil scientist), Simon Parfey (soil testing laboratory), Felicity Crotty (soil biologist) and Neil Fuller (soil advisor). However, I watned to run the second session as an open Q&A, giving delegates the chance to pose their own questions and situations to the very same experts in a relaxed and more informal setting. This allowed us to cover a huge array of topics and issues—from compost tea, pH and options to minimise soil compaction to the importance of preventing soil erosion, the future potential for carbon credits and sources of further advice. It was a hugely enjoyable and informative workshop to chair."
Listen to a recording of the first session.   

Organic growers (from left to right) Nathan Richards, Andy Dibben, Sarah Weston and Fred Bonestroo join Soil Association Head of Horticulture Ben Raskin at the Grower's Question Time in the Main Hall on Day Two at ORFC 2019. Listen to the full session here. 
Other inspiring sessions
Arguably one of the most inspiring presentations was from Barbara Hachipuka Banda, who spoke about her work in empowering women farmers in Zambia through natural agriculture—and brought several audience members to tears. Listen to the session in full here.
We also learnt about Richard Perkin's incredible small-scale permaculture operation in Sweden, where he produces an incredible range of foods on just 10ha with only a three-month frost-free growing season. Definitely one of the most talked about sessions at this year's conference. Listen to the session in full here. 
Eliot Coleman, pioneering U.S. organic farmer and author of The New Organic Grower, regaled a packed Main Hall audience with tales of his 53 years' experience as an organic producer on his farm in Maine, and his thoughts on the future of food and farming. Listen to the session in full here.
"My biggest 'light bulb moment' at the conference came as a result of the first slide of Steve Gabriel's presentation on silvoarable. He told us that every two minutes, the energy that reaches earth from the sun is equivalent to the annual energy use of humanity. The best solar cells that exist for converting that energy, he explained, are stomata.  
If you follow his train of thought, this makes managing trees cutting edge technology. As private and public funding pours into all sorts of agritech, we should remember that we already have amazing technology in trees as the best solar converters, carbon sequestration technology, pollution filtration systems, flood defences and so on. It is a question of learning how to harness and work with that technology."
-- Simone Osborn, who attended as part of the Soil Association Innovations support team. Listen to The Promise of Silvopasture session here. 
The Agriculture Bill
For the second year running, Michael Gove, Secretary of State for Environment, Food and Rural Affairs, addressed the conference on Thursday, before taking part in a Q&A session on Brexit and the Agriculture Bill, led by Bristol East MP Kerry McCarthy. Listen to the full session here. 
As an (important) aside, while we welcomed Michael Gove's words of support for organic farming at Oxford Farming Conference and Oxford Real Farming Conference, this now needs to be enshrined in UK law. We are calling on the government to support our proposed amendments to the Agriculture Bill. Read my full statement here.
Sowing sustainable seeds
Our CEO, Helen Browning, and Innovative Farmers Programme Manager, Kate Pressland, were also asked to attend the Oxford Farming Conference just up the road. Kate took part in a session on the world's most spectacular innovations in food and farming, where she promoted farmer-led research and the IF network to much acclaim. We are hoping to encourage more cross-fertilisation of ideas between the two conferences next year—watch this space!
Watch and listen
The ORFC event team is in the process of publishing an audio and video archive of the sessions (where available). They hope to have everything uploaded by the end of January, but it's well worth browsing already.
That just leaves me to say well done to everyone involved on doing such a magnificent job and helping to make delegates' experience of the conference something that will take them through the year ahead. 
I came away feeling more inspired than ever to work alongside my fellow farmers and growers towards an innovative, environmentally sustainable future. There's no limit to what we can achieve together in 2019.