An update from FABulous Farmers
Welcome to the first FABulous Farmers update. This programme will be working with farmers in three pilot regions (East of England, South West and Pembrokeshire) to support adoption of a range of farming practices to increase functional agro- biodiversity (FAB).
These are practices which will be familiar to organic farmers:
Mixed crops/crop rotations
Cover / catchcrops (incl legumes)
Organic matter input (plant residuals, wood chips, biochar)
Modify manure quality and diversity (fresh manure, limit use of fertilizer)
Agroforestry
Hedgerow management
Field margin management
Reduction in the use of plant protection products
Semi-natural landscape elements (provide habitat)
Reduced tillage techniques (reduced soil disturbance and compaction)
Currently, we are starting farmer learning networks in each region. If you would like to find out more about any of these practices and are interested in joining one of the networks please let us know by contacting us here. Involvement is completely free as this programme is funded through the European Union's Interreg North West Europe programme.  
Learning from our European partners
The first General Assembly for FABulous Farmers took place last week in Holland last month. Site visits were made to see the famous wildflower margins of the Hoeksche Ward, which is effectively an island close to Rotterdam. As well as reducing the pesticides required for the adjacent vegetable crops the wildflower margins have become a tourist attraction, with people coming on bicycle tours just to see the flowers when in full bloom.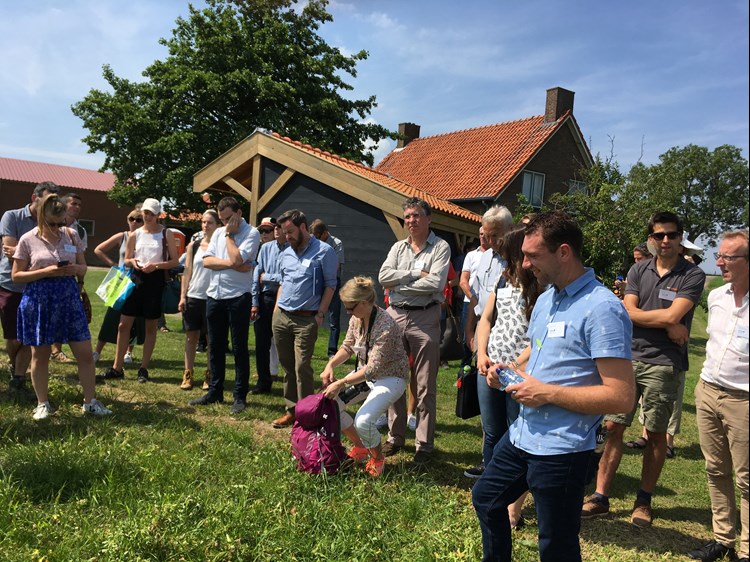 The FABFarmers group in Hoeksche Ward learning about the value of wild flower margins for horticultural crops 
Setting up groups in the UK
In the UK, the first FAB learning network is now up and running in the South West focussing on diverse leys for livestock. This group is running in conjunction with IF and is looking at management practices for diverse leys as well as monitoring the benefits of diverse leys for soil health and livestock.

We are in the process of forming a learning network in Pembrokeshire with fruit and vegetable growers and a second one with livestock farmers who are interested in agroforestry.
Upcoming dates:
Next week in Norfolk we are holding a meeting on the 9th July from 2-4pm for farmers interested in finding out more about practices to support increased functional agro- biodiversity and to start a learning network. To find out more contact producersupport@soilassociation.org
On October 23rd we are holding a conference on alternatives to chemical weed control in conjunction with RAU and Innovative Farmers. More information will be available soon, but please save the date in your diary if are interested in joining us.
On November 26th/ 27th the next General Assembly will be held at Wimpole Hall  in Cambridgeshire with opportunities to visit some of the demonstration sites on the estate. More information will be available in due course.