A new project looking to reduce antibiotics use on organic dairy farms is using discussions to encourage farmers to share the challenges they are facing and learn from each other. With so much knowledge and individual experiences to share, getting farmers together to talk through practical on farm challenges is proving to be really valuable.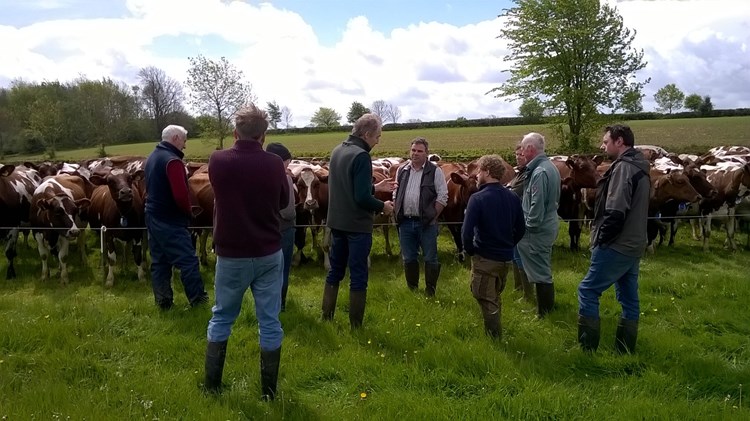 Finding the energy and confidence to change our behaviour is not always easy. But through understanding how others are approaching challenges and issues on farm, the hope is that farmers will pick up practical solutions and snippets of valuable information. And these insights will enable them to make effective changes and over time reduce their use of antibiotics.  
What are farmer field schools?
The farmer field schools project is part of a wider European initiative to improve inputs in organic farming called RELACS. The peer-to-peer learning process being trialled is based on a short 2 hour meeting, with the focus being about the farmers sharing experiences and challenging each other to find solutions or divulge their opinions. Split into a farm walk and discussion session, the host farm shows the group around, providing an opportunity to discuss things that are working well, and not so well. This is followed by a discussion session where the host poses two questions or challenges to the group and the farmers in the group share any experience or suggest potential solutions. This condensed and focused format seemed to work well for the two South West groups that have been established under this project and kicked off with their first meetings last week.
What issues are being discussed?
From the aspirations of having the stock numbers to be more selective with breeding, the effects of feeding high cell count milk to calves to the challenges of slurry storage to meet tighter regulations. A huge amount of ground was covered at the first two meetings. As we work our way round the diverse selection of farms involved the opportunity for learning is huge.
Get involved
If we can demonstrate the benefits of these sort of field school groups to the farmers and the impact on antibiotic use, hopefully more funds will be available to establish a larger network. If you would be interested in being involved in a future farmer field school network please get in touch with kstill@soilassociation.org