In the latest instalment of blogs for the Woodchip for Fertile Soil project, Jack summarises the recent 'Wonders of Woodchip' event held in Odiham, Hampshire:
Let's set the scene. The Cross Barn, in the charming medieval village of Odiham was the starting point for the day. A strong contingent of woodchip enthusiasts and experts from far and wide turned up eager for the day's events. There was great appreciation for the venue, one of the earliest agricultural buildings built of brick in Hampshire, before we settled in for the morning's presentations.
Iain Tolhurst, an organic grower, kicked us off with a really interesting presentation on the benefits of composted woodchip. Iain produces his own composted woodchip on his farm and uses it to good effect by spreading it on the land and as a potting substrate for growing on young vegetables before they are planted out.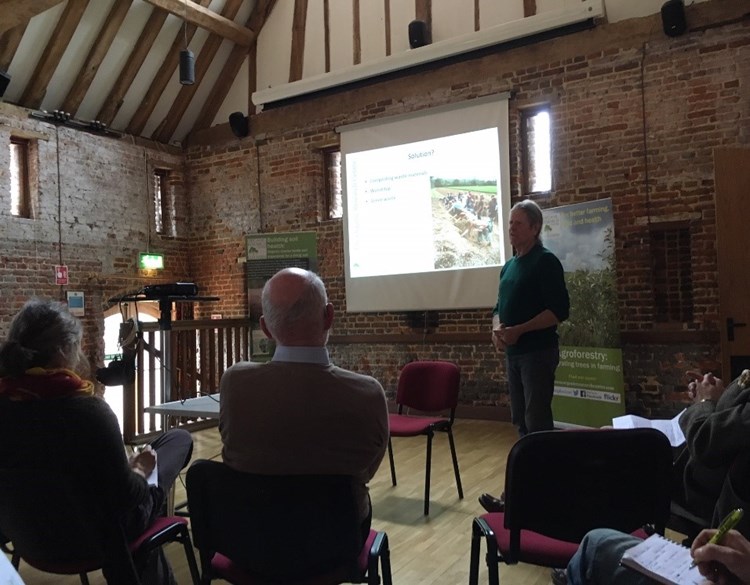 Iain Tolhurst entertaining the crowd. 
The benefits of using woodchip in farming
Next up was William Hamer with a thorough synopsis on the benefits of using woodchip as a fuel. Having run the Hampshire Woodfuel Cooperative for the past 10 years he gave a good insight into the benefits of sourcing, producing and supplying woodchip with a cooperative approach.
Jo Smith and Sally Westaway from the Organic Research Centre followed with stimulating presentations. Jo focused on the wider uses and benefits of woodchip on a farm. Jo put across some interesting points on its use for animal bedding and composting to provide heat for on farm propagation. Sally was up last with a positive focus on the production of woodchip from on farm woody resources (i.e. hedgerows and woodland). Giving a quick synopsis of her current ramial woodchip trials (with help from the trial farmers Robert Benford and Iain Tolhurst), Sally gave strong insight into the use of woodchip as a soil improver on farms. She was positive the trials will provide useful evidence in the long run!
A hearty lunch was served before we all headed out for a tour of the Hampshire Woodfuel Cooperative's Hub at Down Farm, Odiham.
A farm walk
Robert Benford was our guide for the afternoon excursion to the Woodfuel hub he runs at Down Farm. Hi-vized to the max, the group were given an insightful tour of the multi-faceted setup.
Based on his 300-acre conventional arable farm, Robert has diversified to take in Green Waste and wood from the woodfuel cooperative. From these inputs he produces woodchip which is sold through the cooperative, logs sold to local customers and compost which he spreads on the farm as a soil improver.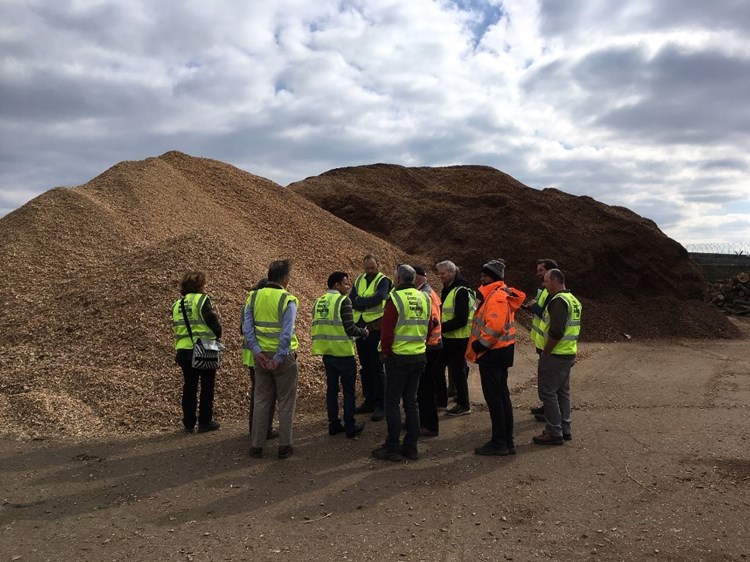 Nothing like big piles of woodchip to keep everyone happy.