In conjunction with the National Trust Farm Innovation Fund, dedicated to supporting tenants of the organisation farm for nature, the study tour took 22 farmers and advisors to four farms in the east of England, each focusing on different FAB measures.
Cover crops reducing nitrate leaching
The first farm the group visited was E.J. Barker and Sons, an AHDB Strategic Farm in the east of England that focuses on high yields and top wildlife conservation. We were shown how cousins Brian and Patrick use hedges, margins and awkward areas of fields to create space for nature. These areas, including winter bird mix plots and pollen and nectar areas were having a positive affect on yields, and reducing costs on inputs such as insecticides by promoting biodiversity on the farm. In addition, we were shown many of the trials that the farm hosts, including how cover crops can drastically limit nitrate leaching in comparison with heavily cultivated fields. For more information on what Brian and Patrick are striving to achieve on the farm, click on this link.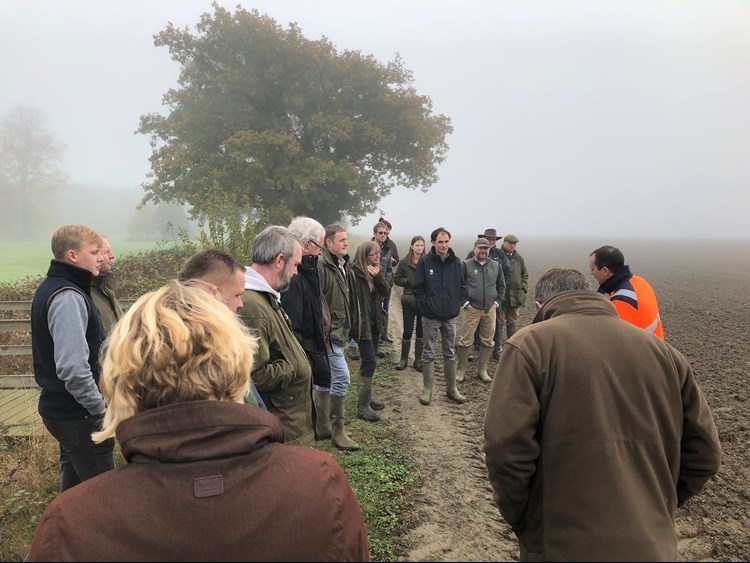 Companion cropping with Oilseed rape
The second farm we went to see was that of David White. David follows the three principles of conservation agriculture; minimum soil disturbance, residue cover on the soil and rotations. Everyone was impressed with the cover crops on David's farm, and it was great to see beans and phacelia flowering at this time of year. His recently planted wheat looked especially good considering the extraordinary amount of rain the region had experienced during previous few weeks. We also saw David's oilseed rape companion crop trials. David explained how he felt growing OSR with other crops had distracted the flea beetle, resulting in a healthy crop that had not required any insecticides. Furthermore, tests had shown that companion crops like beans had provided 20kg/ha of free, available nitrogen for the crop.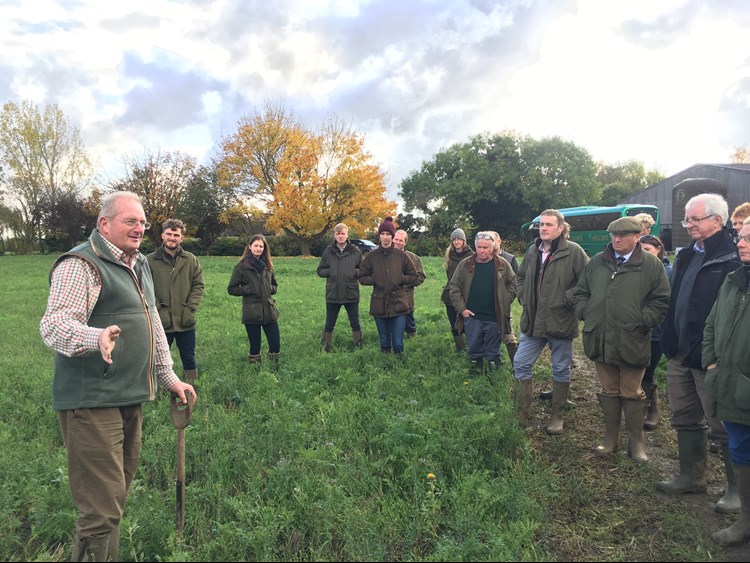 Boosting soil health with leguminous crops
On the second day, our third stop was with Innovation for Agriculture Soil Farmer of the Year Simon Cowell. We walked around Simon's 400 acre farm which had not been cultivated for 15 years, and everyone was amazed how clean their boots were, despite the clay soil. Simon's recalibrated everyone's perception of what 'good soil' should look like by showing us the soil under the hedge; getting his arable soil to look like this is his aspiration. Through healthy soils, the addition of compost to boost soil biology and using leguminous crops such as beans and lucerne, Simon explained how he was able to grow a 7.5t/ha wheat crop without any nitrogen fertiliser. This provoked a lot of discussion amongst the group, but Simon went on to explain to everyone that the another important impact of reducing nitrogen fertiliser use was how this had also reduced the vigour of blackgrass by so much that he was able to slash herbicide spend as well.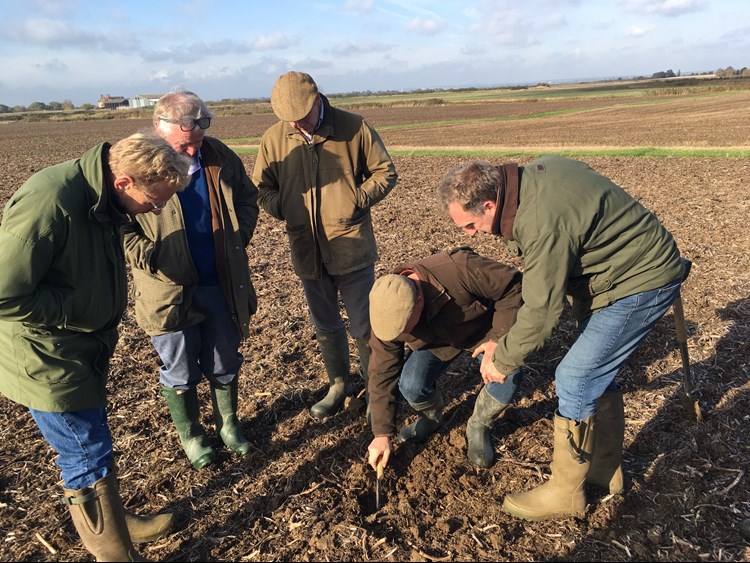 Growing alternative crops to reduce risk
The final stop on our tour was to visit George Young. George is using agroecological approaches to produce high value food, as well as boosting soil health and biodiversity on the farm. George showed us how heritage varieties of wheats have been able to smother out ryegrass much more effectively than conventional varieties, but it also required less inputs and fetched a higher price due to the rising demand of artisan bread. George also showed us how alternative crops such as hemp, lentils and buckwheat had helped reduce risk in his business by creating more diversity on the farm. Everyone was impressed with George's enthusiasm and willingness to question what he perceived as the raw deal that farmers get in the supply chain. We all agreed that it would be interesting to visit again as George looks to shorten his supply chain even further by potentially introducing a milling and bakery business to the farm, as well as embarking on other ambitious projects such as farm-scale rewilding, agroforestry, introducing livestock and organic conversation.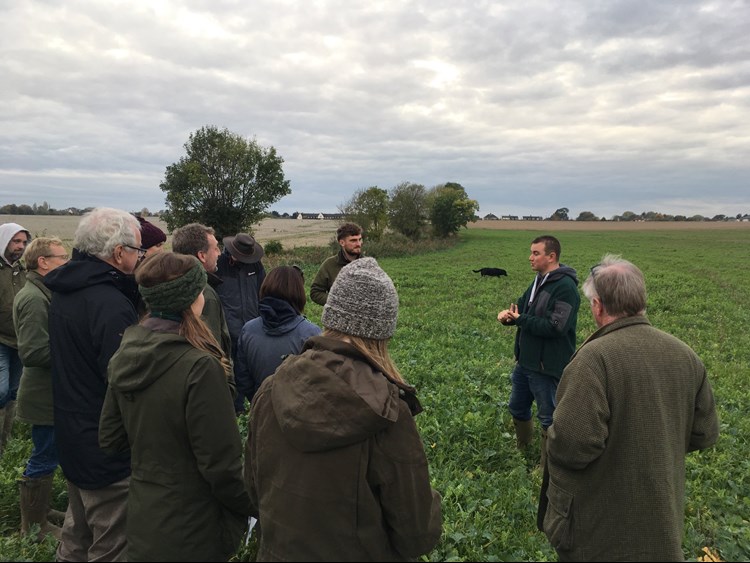 Overall, everyone enjoyed the trip and it was great to see the farmers on the tour discussing amongst themselves how some of the FAB measures they had seen would benefit their farms, businesses and livelihoods. It was agreed by all that another trip in 2020 would be worthwhile! If you would like to see more photos and commentary of the tour from some of the farmers who attended, search #FABulousFarmers, #FAB and #FABtour on Twitter.