FABFarmers October update
FABulous Farmers is a European project designed to support farmers in the transition to more agro-ecological practices on their farms.
Activity within this programme is gathering pace as we edge into autumn:
A FAB SW Learning network in Gloucestershire met on the 8th July to start looking at how farmers might like to take advantage of the programme. The two areas identified as being of interest by this group were:
Agroforestry
Cover crops
Beetle banks for worm/soil health. Initially benefits were only looked at regarding the insects
This group is due to meet again in November. If you would like to find out more about this learning network and possibly join, please contact Jerry Alford on jalford@soilassociation.org
A FAB East of England Learning Network met in Norfolk on the 3rd October on the topic of cover crops with Dr Kate Smith providing a comprehensive presentation on cover crops for farmers. Her presentation is available on our website. This group is planning to meet again in December on the topic of using livestock to destroy cover crops and a second session in May or June on undersowing grass or clover into maize crops. If you are interested in joining this group (it's open to all) please contact Liz Bowles on lbowles@soilassociation.org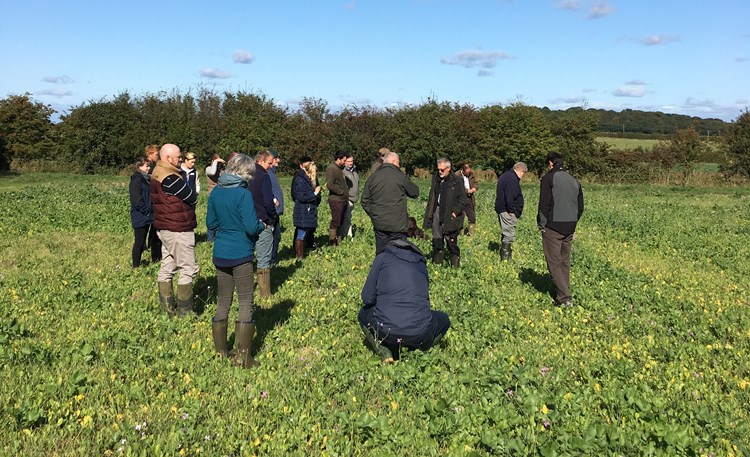 Agroforestry learning network – We are looking to establish a learning network for practitioners in the South West region to meet up with other practitioners to share knowledge and experience. 
If you are interested, please contact Ben Raskin on braskin@soilassociation.org 
Upcoming FAB events:
23rd October – Changing face of weed management at Cirencester RAU. You can still register to attend.
5th/ 6th November – National Trust led farm tour in the East of England. This is a great opportunity to see what the following farmer are doing on their farms:
The Barker Brothers – AHDB Strategic Farm and LEAD demonstration farm aiming for 'high yields and top wildlife conservation'
David White – Co-founder of RTK Farming Ltd. No-till farmer, focusing on the three pillars of conservation agriculture: minimum soil disturbance, residue cover on the soil and rotations
Simon Cowell – Essex arable farmer using homemade compost, rotations and variety trials to reduce artificial fertiliser requirement
George Young – Agro-ecological farmer trialling diversified cropping to add value in rotations
To find out more contact Callum.Weir@nationaltrust.org.uk
13th November – SW Herbal leys network on farm demonstration at Godminster, Somerset. This event will focus on the benefits for livestock and biodiversity. To find out more and register to attend please contact Kate Still on kstill@soilassociation.org
17th March 2020 – a date for your diary - There will be a workshop at Rothamsted North Wyke on herbal leys for livestock.