Comparing organic and non-organic
Although business output is generally similar on both organic and non – organic farms, net farm income is often higher on organic farms. This is mainly explained by environmental support payments, with organic farms having higher average payments per farm and lower costs of production.
Cropping

This data includes both cereal and "general cropping farms" where cropping is the main enterprise, with some livestock. Demand for organic cereals is continuing to grow, with a high and growing reliance on imported crops. The market is expected to grow by at least six percent per year over the next five years.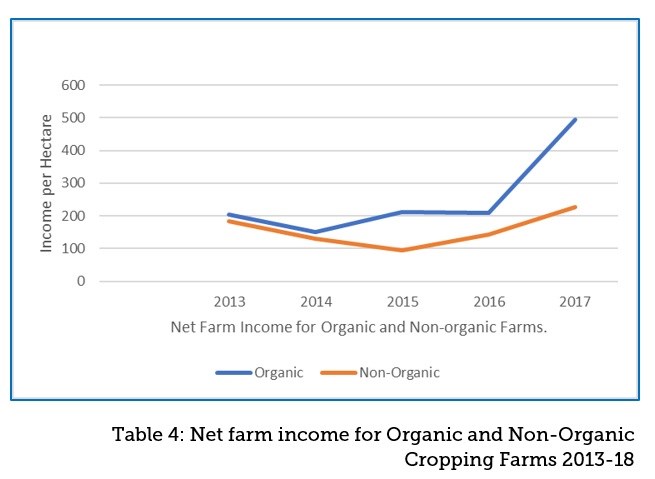 Net farm income has continued to rise for organic farms. Despite output for both farm types being similar.

This was significantly higher in the last two years of comparison as a result of high crop values, this is due to relevant crops meeting the specification for human consumption. As well as higher crop value and fertiliser and crop protection costs being much lower on organic farms. This results in higher overall gross margin. Furthermore, agri-environment schemes accounted for £92/ha on organic farms compared to £29/ha on non-organic farms.
Beef and Sheep
The market has been challenging for all beef and sheep producers both organic and non-organic. However as with Dairy, organic farmers are to some extent insulated from variable cost increases. These costs are much lower on organic farms, £139/ha compared to £335/ha, this represents just 18% of total costs compared to 35% on non – organic farms.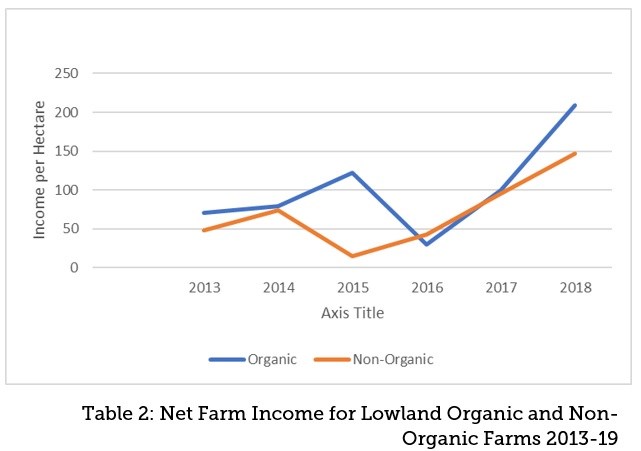 Farm business income and net farm income are not significantly different between the two. Both saw significant increases in 2017/18 of around 45%. Total outputs are similar but for organic farms half of the income is from agri-environment schemes, direct payment support and diversification. On non-organic farms, direct farm income accounts for 65% of the total. 

The profitability of organic LFA grazing farms rose considerably in 2017 and 2018, this was due to increased output, despite increased costs. Only half of the increased output was down to agriculture. Increases in diversification revenues and basic payment scheme payments contributed the rest.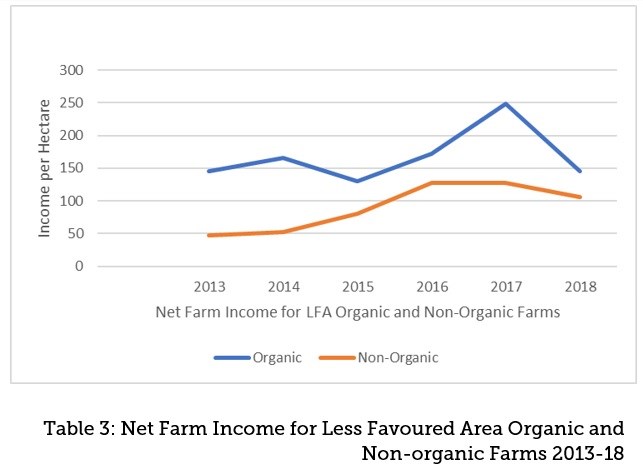 The difference in net farm income for LFA farms is significant. Agri-environment scheme payments were higher for organic farms, but agricultural output was also slightly higher in the final year of comparison, £600/ha as opposed to £523 for non-organic LFA farms. Overall the farm business outputs have been similar over the period of comparison.
Dairy
Dairy farming is the largest sector in the UK organic market, Organic milk production in the UK grew steadily over the 2013 – 18 period.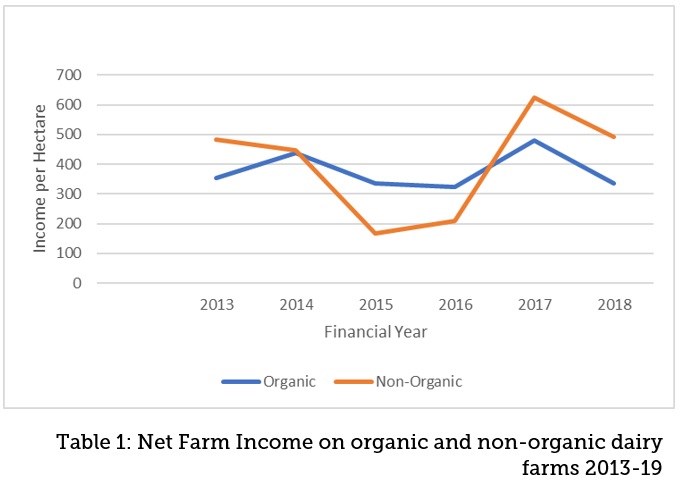 In 2017/18 overall dairy farms saw an increase of 36% in farm business income. Total organic farm business output was £2,743, an increase of 8%. Additional costs limited net farm income to £642/ha on non – organic farms, exceeding that of organic (£481/ha) for the first time since 2013.

Results from the 2018/19 survey show that average income on dairy farms decreased by 33% due to higher feed costs, though this was compensated for by a 7% increase in output from milk. Organic systems are generally more reliant on forage for feed, the organic standard requires 60% forage in the diet. On average, non-organic cows produce less than one third of their milk from forage
Horticulture
The figures available on organic horticulture have not been included in the business comparison report as they represent such diverse business types. The Organic Market Report 2020 showed the on-line and home delivery market has grown by 11% whilst independent retail sales grew by 6%. With total organic sales growing by 8%. Organic horticultural sales are often linked to direct retail sales, providing a significant improvement in margins. Early sales figures show demands for organic fresh produce directly from farm in the wake of Covid19 will have significantly increased these figures in the last couple of months.
Poultry
Poultry has not been included in the farm comparison figures, as there are no figures available from Defra. However, organic poultry increased by 10% between 2017 – 18 and currently 1.8% of the total UK poultry population is organic with plenty of room for growth.
Transitioning towards organic practices on your farm
If you want to chat to a member of the producer support team about how you could transition towards nature friendly farming practices on your farm you can get in touch with the team by emailing: producer.support@soilassociation.org or by calling 0300 330 0100
Interested in organic certification?
Find out more about the certification and conversion process.