OK-Net EcoFeed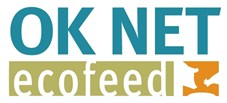 OK-Net EcoFeed is an EU-wide research project to support organic pig and poultry farmers, breeders and the organic feed processing industry in achieving the goal of 100% use of organic and regional feed.
Coordinated by IFOAM-EU, the OK-NET EcoFeed has 19 partners across 11 European countries, started in January 2018 and runs until December 2020. The consortium includes multiple actors, including feed processors and mills, farmers and farmers' organisations, research institutes, universities and advisory agencies.
100% use of organic and regional feed for monogastrics
Funded through the EU Horizon 2020 program, the three-year project will create a European network of innovation groups to facilitate exchange and co-creation of knowledge among farmers, business actors, researchers and advisors. The core objective is to share and present 'best practice' advice and information, communicating relevant research to practitioners, using factsheets, instructional videos and ration-planning tools. 
OK-NET EcoFeed builds on the experiences and success of OK-Net Arable, which is a similar network addressing organic arable cropping. OK-Net EcoFeed is a logical continuation of OK-Net Arable, making the bridge between feed cultivation over feed processing to animal production.

This project has received funding from the European Union's Horizon 2020 research and innovation programme under grant agreement No. 773911. ​​Follow the project on Twitter and Facebook.
Get involved!
The Soil Association is coordinating the UK innovation groups for the project and we're looking for participants. If you'd like to find out more, please contact us at producer.support@soilassociation.org
Your contact details will be stored in compliance with the GDPR (read our privacy policy) and you will only be contacted in relation to this project.