Grass Matters Scotland Conference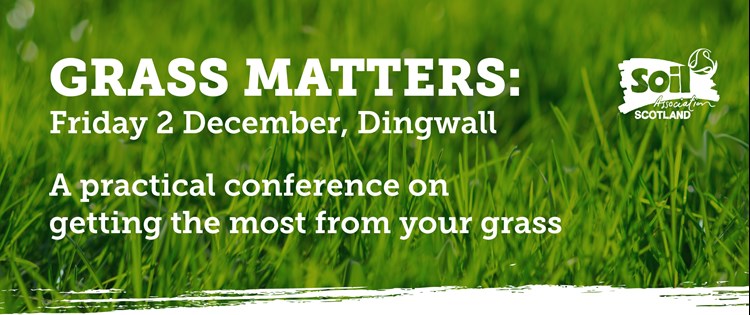 If you're a livestock farmer and you can only get to one event this winter, make sure it's Grass Matters: a practical one-day conference on getting more from your grass. 
Are your leys letting you down?  Time for you to reseed?  Can you improve what you've got? We'll cover this and more across the day, to tackle all your grass-growing objectives. Bring along a divot too and get an expert view of the grass on your farm.
Expert speakers:
Charlie Morgan the 'GrassMaster';
Chris Duller, soil and grassland management specialist; and
Duncan McEwan, farmer, Arnprior Farm, Stirlingshire.
Take a look at the agenda for details.
Book today
If you're a farmer or land manager, book your free place now: it's open to all but we're expecting this session to fill up quickly, and booking is absolutely essential. We'll tell you the exact location in Dingwall when you book.
Book online, call Jane on 0131 666 2474, or email jdingwall@soilassociation.org. Places for those who aren't farmers or landmanagers are charged at £40 + VAT.
We'll be tweeting all the latest about the event from @SoilAssocScot, so if you're on Twitter stay up to date, using the #GrassMatters tag.
-
Funding for this activity is made available through the SRDP Knowledge Transfer and Innovation Fund (which is jointly funded by the Scottish Government and the European Union), with partner funding from Quality Meat Scotland, Forestry Commission Scotland, Innovative Farmers and The Prince of Wales's Charitable Foundation.