New Organic Served Here award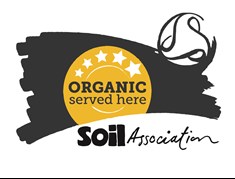 Launching initially in Scotland, Organic Served Here gives chefs and restaurateurs a simple way to promote their commitment to organic food. It also gives customers a reliable way to find places to eat out that use ingredients that are great for the world around us.
You'll know if a restaurant holds the award – they'll display the Organic Served Here logo in their window, on their website and menus.
And you'll know you can trust that they're committed to sourcing organic ingredients too: all award-holders are rigorously audited by Soil Association Certification experts to ensure they buy a set percentage of their food from certified organic farmers, growers and suppliers. The higher the percentage of organic ingredients the award-holders source, the higher the number of Organic Served Here stars they hold.
Restaurants with one Organic Served Here star source 15 - 25% organic; those with two stars source 25 - 50%; those with three stars source 50 - 75%; four-star restaurants source 75 - 95% organic; and five-star restaurants source 95 - 100% of their ingredients from organic suppliers.
Peter Melchett, Policy Director for the Soil Association, said: "Organic Served Here is a fantastic new way for restaurants and cafes to show their customers how much they really care about quality ingredients. Demand for organic is on the increase and it has never been easier to serve organic, thanks to the huge range of top-notch certified produce available, from meat and vegetables to essentials like flour, milk and just about everything else you can imagine. What's more, organic food is produced to exceptionally high standards of care for the environment and animal welfare. So it's good for business, for customers, for animals and for the world around us. "
Find out more
Are you're a chef, restaurant or café manager with a commitment to serving organic food? Find out more about the Organic Served Here award and how to apply.