Soil Association Certification launches fully certified edit with Latest in Beauty
For the first time ever, Soil Association Certification has partnered with beauty box pioneers Latest in Beauty to release an edit of beauty products that are fully certified to our Organic and Natural standards.
"The Certified Edit of Organic and Natural Beauty" is a one-off box of products which consists of 7 items- 6 certified organic, 1 certified Natural- that have a full RRP value of £191.
However, consumers can purchase the box exclusively at LatestinBeauty.com for just £48, offering a more accessible introduction to certified Organic and Natural beauty for audiences who may not currently be familiar with the certification standard.
Along with the products, the box will include information on who the Soil Association and Soil Association Certification are, what the "Organic" and "Natural" standards mean, and why they are so important in a heavily unregulated beauty industry, in which brands are legally able to label their beauty products as "organic" or "natural" even if they contain just 1% of this type of ingredient.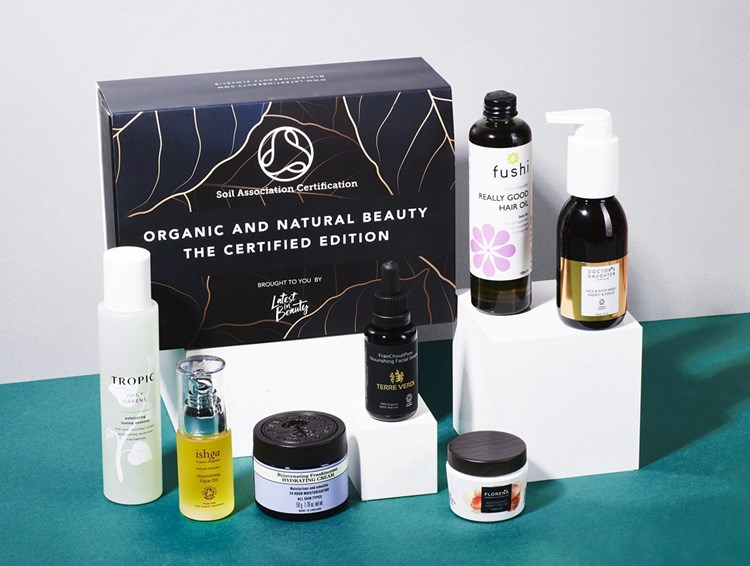 Our Business Development Manager for Non-Food, Sophie Robinson said "We are delighted to be bringing you the certified edition of the Latest in Beauty box, alongside our week long counter take over in celebration of Organic Beauty and Wellbeing Week (12th-18th September). When a product has achieved organic or natural certification through Soil Association Certification, you know that the sourcing and manufacturing procedures have been independently reviewed to a rigorous organic and natural standard, allowing you to purchase in confidence. Our brands work hard to achieve this, creating innovative, effective products which support biodiversity whilst answering your concerns about climate change."
The certified products included in this edit allow consumers to perform a full day and night skincare routine that is completely certified organic or natural, in addition to a haircare product. Included in the edit are the following:
Doctor's Daughter Energy & Focus Wash

Tropic Skincare Juicy Green Exfoliating Toning Essence

Terre Verdi FranChouliPom Nourishing Facial Serum

Neal's Yard Remedies Rejuvenating Frankincense Hydrating Cream

Florena Antioxidant Night Cream

Ishga Nourishing Facial Oil

Fushi Really Good Hair Oil
In addition to this, consumers who are subscribed to Latest in Beauty's monthly subscription box will also be able to choose from 6 separate, certified organic products which will be appearing on the Latest in Beauty Counter.
The box can be purchased now for £48 at the following link: https://www.latestinbeauty.com/collections/soil-association-certified-edit-organic-and-natural-beauty