Our symbol
We believe that finding a certified organic product should be easy and that's why our symbol exists.
With over 250 businesses Soil Association approved you'll find our logo on packaging and product.
More recently as a result of the growing demand for Organic Beauty both UK and internationally, we teamed up with four other European partners (BDIH, Cosmebio, Ecocert and ICEA ) to develop a new Cosmetic Organic Standard known as COSMOS. So when you see the Soil Association symbol you should also see the COSMOS organic or natural symbol below it.
The aim of the COSMOS standard is to harmonise organic standards globally, so whether you're in Spain or Singapore the standards remain the same.
COSMOS offers two levels – Organic and Natural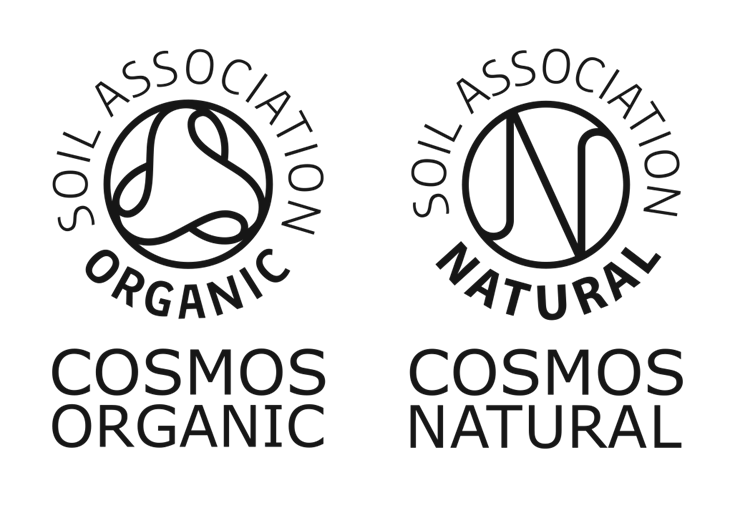 ORGANIC
COSMOS organic products contain ingredients from organic farming. This means that by choosing COSMOS organic products you are supporting more wildlife-friendly and environmentally sustainable farming systems which are free from manufactured herbicides and artificial fertilisers.
If your product is based on oils and extracts then 95% of the ingredients must be organic to obtain COSMOS organic certification
NATURAL
COSMOS Natural products will be made up of naturally sourced products and may or may not contain organic ingredients.
With both Organic and Natural certification all ingredients must meet strict criteria involving green chemistry principles. Facilities, packaging and cleaning materials must also meet the standards. The entire supply chain needs to be verified
Is COSMOS organic better than COSMOS natural?
People have different priorities and preferences when choosing cosmetic products, the COSMOS standards provide clear guidelines for genuine organic and natural cosmetic products helping consumers to make informed choices.
The use of organic as well as natural ingredients is better than the alternative of artificially manufactured ingredients used in many non certified products.
As a campaigning charity which supports organic food and farming, and a leading organic certification body, we want to see more organic and natural products and ingredients being used. Certified cosmetic products offer a guarantee for consumers and represent important steps towards a more sustainable future.
COSMOS organic are the gold standard for certified cosmetics however we recognise that natural products play an important role too.
Organic certification is the gold standard because more ingredients are sourced on organic land meaning; you are supporting more wildlife-friendly and environmentally sustainable farming systems which are not produced with toxic pesticides and artificial fertilisers.