BOOM Award Judges
BOOM Award Judges 
Our judges are comprised of a wide range of industry experts. A mixture of chefs, food experts, Soil Association staff and food journalists. They use their expert knowledge and experience to sample all the amazing products that were entered.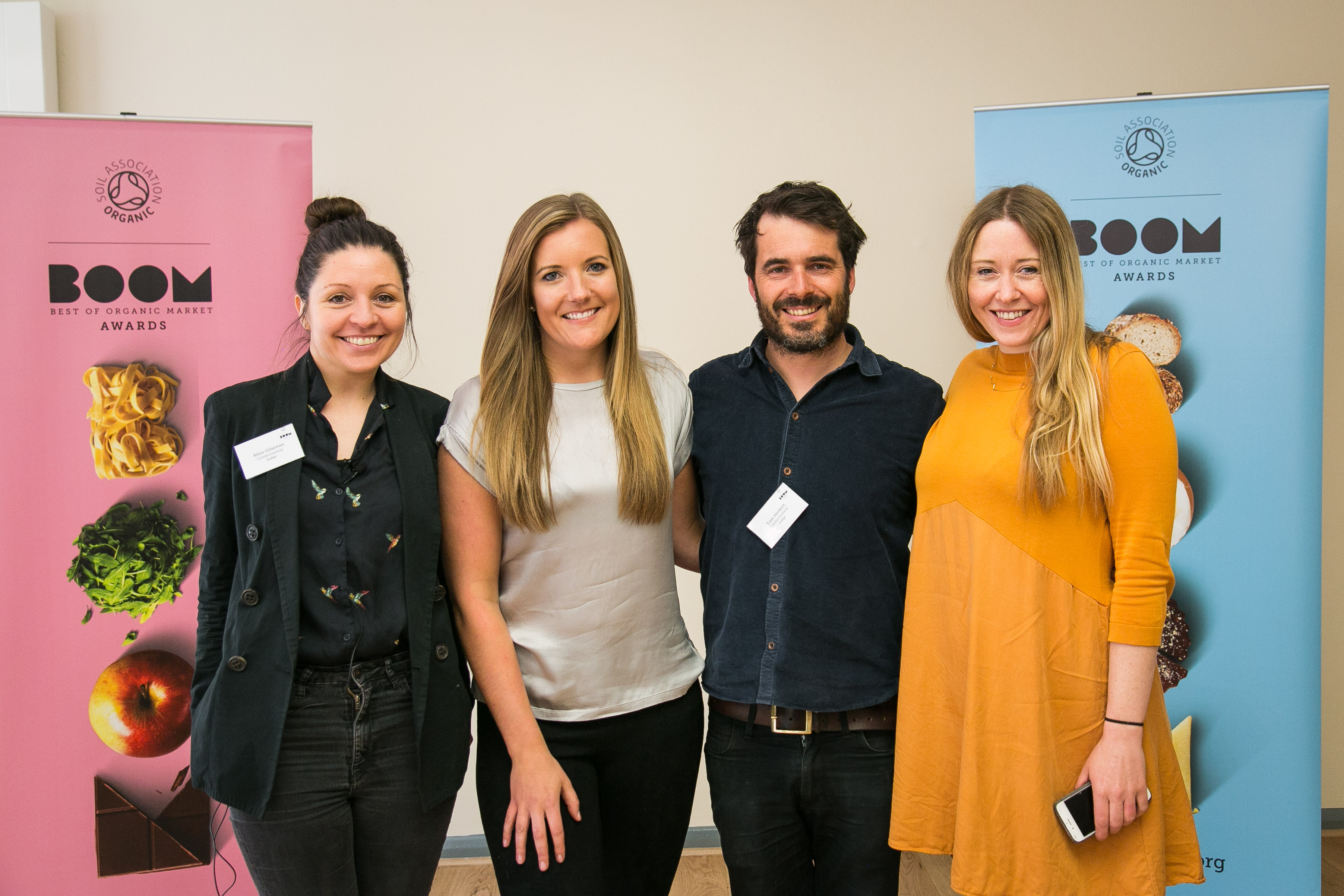 Judges
Alice Gilsenan - Co-Founder & Marketing Director, Tiny Leaf 
Alicia Grimshaw - Deputy Editor, About Time Magazine 
Alison Rhodes -Head of Own Brand, Ocado
Alistair Forrest - Editor, Better Retailing Magazine
Andrew Hunt - Co-Founder & Managing Director, Aduna
Angharad Onions - Orders Manager, HG Walter
Anna Jones - Agri-Journalist and Nuffield Farming Scholar
Anna Jones - Chef and Food Writer
Anna Rosier - Ex-Managing Director, Organix; Organic Trade Board Director
Brandt Maybury - Taste Specialist, Green & Black's 
Catherine Fookes - Campaign Manager, Organic Trade Board
David Balmer - Buying, Development & Technical Director, Abel & Cole
David Lewis - Commercial Director, Community Foods Ltd
Diane Millis - Acting Editor, Natural Products News
Ellie Hurford - Technical Manager, Harrods
Fabiana Giovanetti - Director/Founder, Health Bloggers Community
Georgina Wilson-Powell - Editor/Founder, Pebble Magazine
Gurdeep Loyal - Marketing Manager, Harrods
Hatti Owens - Food Writer, isthisfood
Jason Fisher - Managing Director, Rowcliffe Ltd
Jo Morley - Soil Association
Jonathan Watts - Soil Association
Justin Horne - Director/Head Chef, Tiny Leaf
Kara Rosen - Founder, Plenish
Leah Hyslop - Food Director, Sainsbury's Magazine
Lee Holdstock - Soil Association
Lizzie Rivera - Journalist and Founder of ethical lifestyle website, BICBIM
Lucy Jessop - Acting Cookery Director, Good Housekeeping
Maisie Collin - Early Years & Parenting: Director & Consultant, Maisiepoppins LTD
Martha Collison, Great British Bake Off Quarter-Finalist and Author
Megan Young - Soil Association
Michael Lane - Deputy Editor, Fine Food Digest
Niki Webster - Food Consultant; Founder of Rebel Recipes
Rachel Latham - Soil Association
Rob Wilson - Chief Toaster, Toast Ale
Rosie Birkett, Chef, Food Writer and our BOOMbassador
Sophie Scott - Founding Editor, Balance Magazine
Tom Delaney - Commercial Director, Typhoo Tea Limited
Tom Herbert - Baker, Hobbs House Bakery
Zoe Willox Dunant - Soil Association
Executive Judging Committee
Judges are overseen by the Executive Judging Committee, who have the final say in judging panels, decisions and criteria, and are consulted on any issues that may arise.