Juliet Holt-Wilson- Momouthshire Turkey's

Juliet Holt-Wilson- Momouthshire Turkey's
Doing fewer birds, better. 
We are a small, family run farm in Monmouthshire.  My mother-in-law, Caroline, has raised turkeys for almost thirty years.  My husband Tom and I moved to the farm with our young family five years ago, and have become increasingly involved ever since.  While Tom helps during the busy Christmas period, it's mostly Caroline and myself who do the day to day farming.  A mother and daughter-in-law team is a bit unusual, let alone the fact that we're women farmers, but it works well for us.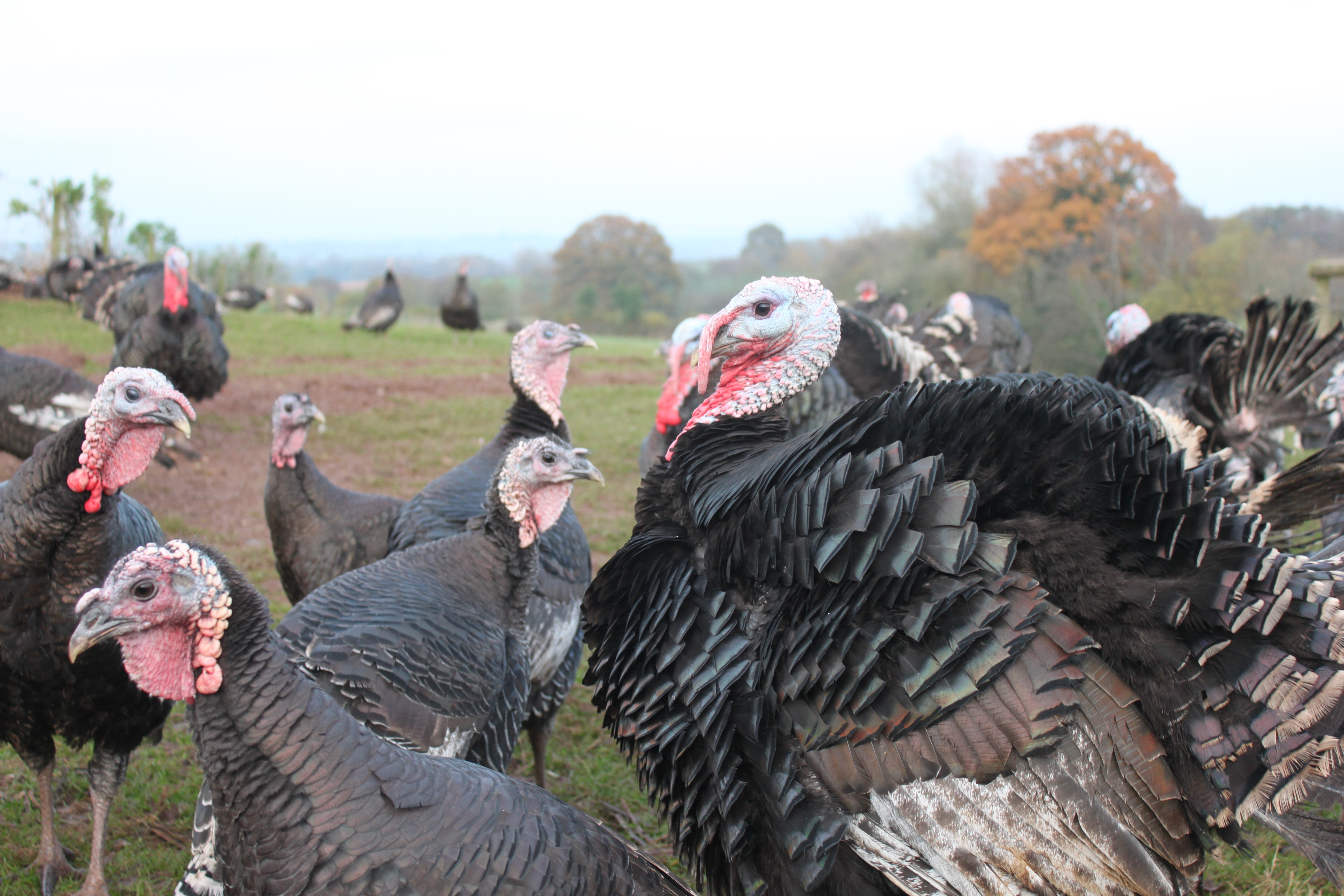 While a couple like-minded outlets, such the Field Fayre the organic store in Ross-on-Wye, take our birds at Christmas, we sell the majority of our 450 turkeys directly to customers.  Some have been coming to the farm for twenty years to pick up their Christmas turkey! 
After barn rearing 5000 white turkeys in 1988, we thought we'd never raise turkeys again.  But we soon found a way of raising the birds that suited the way we wanted to farm and take care of our land.We now do fewer birds, better. 
We only rear bronze turkeys organically.  They arrive as day old chicks and are grown slowly to their full maturity.  During the day, the turkeys are allowed access to fields and hedgerows so they can do what turkeys do, foraging for food and strutting around.  They are brought in at night with the help of Blue, our sheep dog, to sleep in airy barns with plenty of places to roost.  By giving the birds more space inside and the freedom to roam outside, we no longer have to protect the turkeys from each other.  So no more beak trimming or removing their snoods.
We then prepare the birds traditionally.  They are processed on the farm to reduce stress at slaughter.  Because they are slow growing, fully mature and active, their dense meat structure benefits hugely in terms of flavour and texture by hanging or dry ageing, as some call it.  So we dry pluck, which means we can then hang the birds for a minimum of seven days in a cool temperature controlled barn.  It's a very traditional process that is difficult to do on a large scale.
We are certified by the Soil Association, which not only governs how we treat and feed the turkeys, but also confirms our sustainable approach to the whole farm.  The turkeys are fed GM-free organic grain and are not routinely given antibiotics. We have not used chemical fertilisers or pesticides on our fields for over a decade.
The result is turkey that we are proud to raise and put on our table.  And a farm that is teeming with wildlife and wild flowers.
Order your Christmas Turkey
To order our fresh, oven ready turkeys for Christmas find out more at the Organic Collective – www.soilassociation.org/christmas
In this section...
Gift Membership
You can help change the way we farm and eat for good. Gift membership this Christmas is the ultimate present which will keep on giving for the next year.
Find out more