Rosie Yell - Wonnacott Farm
Norfolk Black Turkeys, from Devon 
The run up to Christmas, is Rosie and Paul Yells' busiest time of year, as they prepare to sell their prize turkeys. Hailing from West Devon, the Yells own 177 acres of land in the shadow of Dartmoor. Originally renting the farm from her parents, Rosie and Paul have made a lot of changes over the last 29 years, and now keep a small herd of suckler cows, sheep and a rambunctious flock of turkeys.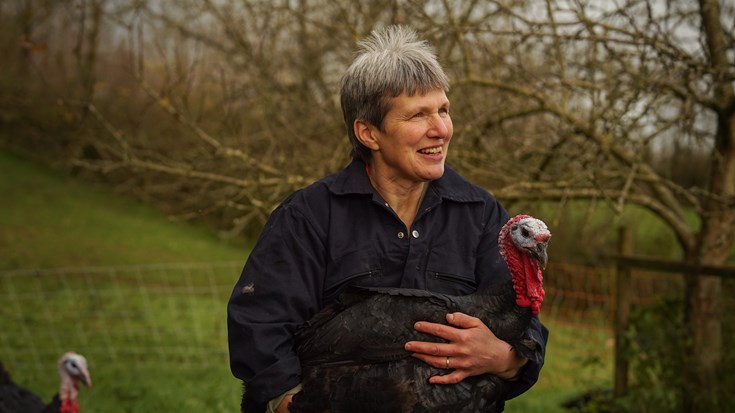 With the start of December upon us, we managed to ask Rosie a few questions about her prized flock.
First up, why turkeys?
By accident really, we wanted one for our own Christmas dinner, we had just gone into organic conversion, and I remember the moment when I had just ordered a turkey for Christmas, and I went 'Hmm, what am I doing this for, I could do my own'. The next year we had five, and it just kept going up and up from there.
Turkeys are fascinating creatures to look after, and most people find that they get a lot of satisfaction from keeping them – they eat all manner of things, from docks to stinging nettles – and it really is a pleasure to see them having a good forage.
How did you find the right variety?
I came across the Norfolk Black turkeys after meeting James Graham. It was his grandfather that saved the breed from disappearing in the 1950s – they're real enthusiasts. Norfolk Blacks are great for natural breeding and they have really good meat. The two things go together really, it's the slow growth and the slightly different conformation that means the taste and the texture is better, alongside their ability to breed naturally.
Generally, a lot of the modern breeding has made the bird faster growing – and that leads to short legs and body. Ours have longer legs and a longer body – the thighs and legs are good because they're outside running around, flying and foraging.
Why do you keep your turkeys under trees?
We have a little apple orchard which we introduce the birds to at the end of the October. We planted the trees about the same as we got the turkeys, and received some funding as part of a stewardship scheme. They (the turkeys) like being under the trees, amongst the apples, and very quickly acquire a taste for them. It's very good for them, other people feed their poultry cider vinegar but I don't need to as I've got the apples instead, especially if they start to ferment a little. Also, when we press the apples to make some juice we get the pulp that is left from the apples that is fed to the turkeys too.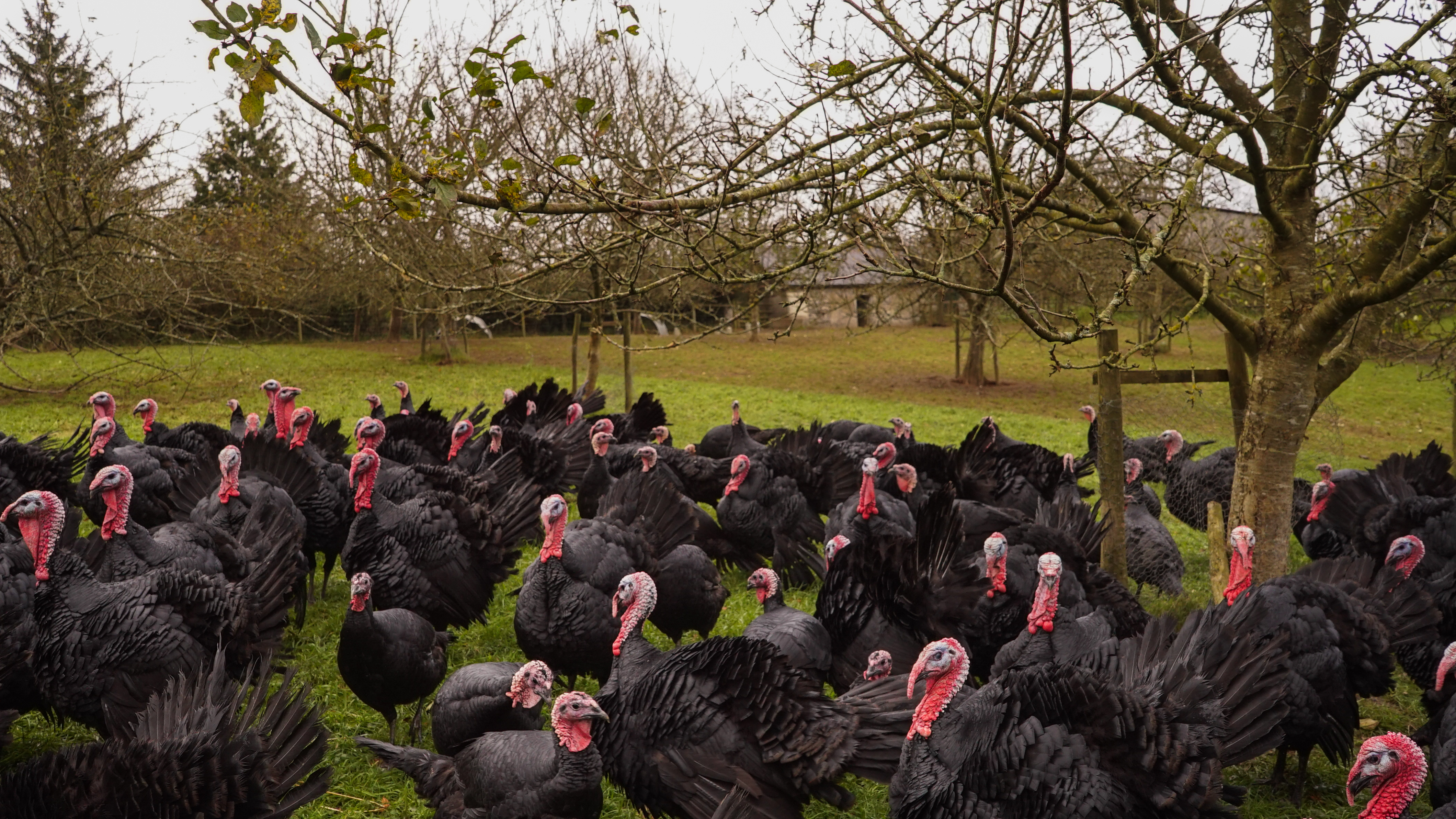 Why did you choose to be organic?
We decided to convert in 1999 as we were really struggling to see the point of applying artificial fertilizer that was manufactured using energy powered by fossil fuels. I can say, without any doubt, that going organic was a good move. Over the years we've made many changes, including an effort to reduce our carbon footprint by installing a biomass boiler, fed by pruned wood from our thick, Devonshire hedgerows. 
What's the run up to Christmas like?
The last Thanksgiving turkeys have now all gone, but our main Christmas push starts on the 8th of December. We usually kill our turkeys over 5 days, and we have a group of friends and neighbours who come over to help with plucking. I do the killing myself, and everyone else does the plucking. We have coffee, cake and sandwiches; and because we do it all by hand it's quiet, it allows people to talk – giving it quite a social aspect really. I think it encourages a good atmosphere, because people like working with other people, and they appreciate the opportunity to talk while they're working, instead of having their voices drowned out by loud machinery.
Where can people go to buy one of your Turkeys?
We have one wholesale order, but most of our sales are direct to individual customers. We have people coming to the farm to collect, we also have drop off points in Exeter, Okehampton, Whiddon Down and Tavistock. In addition, we deliver to customers throughout most of the UK via our courier service.
Finally, why choose turkey?
For me nothing says Christmas like turkey does.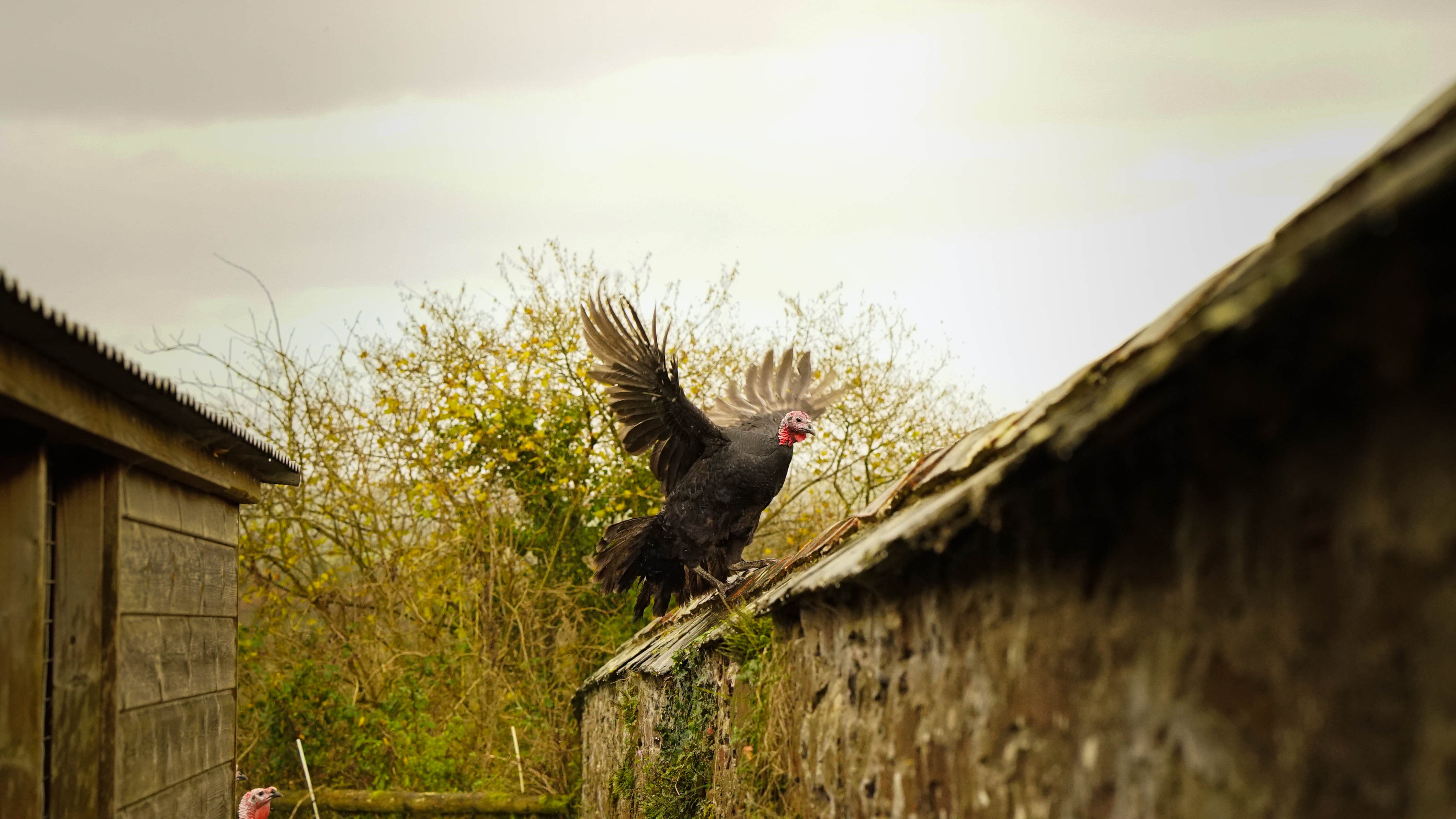 The Yells deliver their turkeys far and wide so please visit Wonnacott Farm for more detail on how to you can get your order in.
And have a look at our Organic Collective for more Christmassy suggestions.
Gift Membership
You can help change the way we farm and eat for good. Gift membership this Christmas is the ultimate present which will keep on giving for the next year.
Find out more