School Head Chef, Glyn Owen

School Head Chef, Glyn Owen: Organic Heroes
As School Head Chef, Glyn Owen, knows good food can do so much more than fuel your day.
There's a deep connection between what we put in our mouths and how we feel. Increased fruit and vegetable consumption has been linked to increased happiness and wellbeing, and Glyn goes above and beyond to get pupils interested in healthy food…
Along with school gardener Kole, Glyn teaches pupils about where food comes from. Together they plant new produce in the school garden, pick weeds and learn about the many different types of herb and vegetable.
The children feel excited when they see some of the food they've helped produce on their plates at lunch time and can feel and smell the fresh herbs used as centrepieces on their tables.
Glyn works so hard at Whitehall Primary School to put healthy and delicious food on the menu and make sure children grow up learning to grow, cook, eat and love good food. Eating good food and learning where it comes from can be transformative for children – and it's not just good for their bodies, having a healthy connection with food could improve their wellbeing too!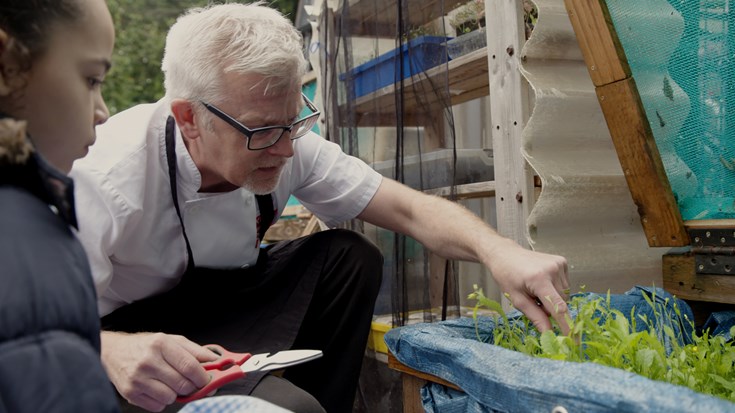 As part of their Organic Heroes campaign, the Soil Association and Pukka Herbs are proud to celebrate heroes like Glyn. Last year, the Soil Association's Food for Life programme and Pukka Herbs provided the school with a veg growing kit to support them to carry on the fantastic work they're doing to connect children with their food.
Pukka Herbs and the Soil Association share a passion for the planet and especially soil. Pukka's sustainable and ethically sourced herbs are 100% organic, grown in over 30 countries across the world and certified by the Soil Association for sale in the UK.  We are working together in support of the herbs that Pukka use to make their organic teas, and in support of the vital work carried out by the Soil Association Charity. The Organic Heroes campaign is one of our projects.
Pukka gives over 1% of its revenue to environmental causes every year, and the Soil Association is one of the beneficiaries of this donation.