Bonnie & Bailey
Dogs Deserve Organic too…
We are Bonnie and Bailey, creators of a range of Organic, Luxury Dog Shampoos & Fragrances who simply, have a great love, care, passion and well-being of all things Dog! And also because they are family members too!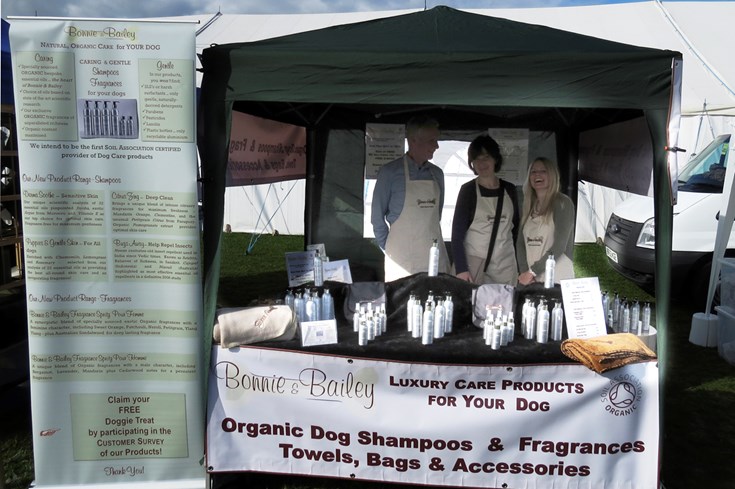 dogs deserve organic too….they are furry family members who deserve the best we can give them… if they could talk they would ask for… Bonnie and Bailey
It all began in 2013 when two 'old' dog-loving school friends, with a huge commitment to healthy foods and lifestyle had a great desire of extending this to include their furry family members. While being able to feed them healthy food and snacks did not like the array of harsh surfactants, chemical and preservatives which presented themselves in ordinary dog grooming care. This is an area which is unregulated and basically anything goes with regard to dog shampoos.
Dogs are highly allergenic and suffer with irritated skins and usually this is attributed to diet and their surroundings.
So it was time to formulate our own! That is when our friends, Dr Nigel with a very convenient PhD in Chemistry and Dr Andy, a Biologist, both retired ex-pharmaceutical veterinary researchers, joined us and we spent two years researching and experimenting with the right blend of organic shampoo base and essential oils to produce a range of natural, gentle dog shampoos that are highly effective and targeted cleaning for different skin types.
We formulated our blend of shampoo base with many, many, many trialled essential oils to get the correct mix of excellent targeted cleansing coupled with a great scent. We especially wanted a healing shampoo for dogs with irritated skins and created a shampoo that would soothe and help heal sore skins. After much testing we settled with the amazing blend of Argan Oil, Vitamin E and Jojoba, for Derma Soothe, which has shown great results for these poor suffering dogs and we even have a vet who actually recommends this as an alternative to harsh alternative shampoos.
We knew we had great natural products but felt it important to take this a step further and have them accredited by a recognized, worthy body. Our only consideration for this was the SA who guided us through the process which was surprisingly straight forward, and we were quickly awarded the confirmation that our products were over and above the minimum but very high standards upheld by the SA.
The SA symbol shows our customers that our products are high in ingredients which have been certified as being as pure as possible and free from contamination with chemicals and pesticides and that our products can be applied safely to dog's delicate skins.
To date, we are very product that we are the first and only dog care products to be certified truly organic by the SA. 
Our products retail in a number of high quality pet shops and used in grooming salons by owners and groomers who have a high commitment to natural, effective, ethical products and we are so proud to be associated with all of them.
Bonnie and Bailey shampoo range includes:
Citrus Zing – a deep cleaning citrus degreasing shampoo;
Puppies & Gentle containing rosemary, lemongrass and rosemary providing a soothing calming wash;
DermaSooth – with Jojoba for damaged and irritated skin, Vitamin E for skin conditioning and Argan Oil for healing and reducing skin inflammation. We are especially delighted with this shampoo due to the results seen by dog's with allergies and irritated skins shown in the case studies we have on file.
We extended the range further to include two fragrance spritz which are effective at providing a freshen up, and can be used on bedding and in the air also!
This range includes:
Pour femme, a feminine character, including Sweet Orange, Patchouli, Neroli, Petitgrain, Ylang Ylang - plus Australian Sandalwood for deep lasting fragrance and
Pour homme, a muskier scent, including Bergamot, Lavender, Mandarin plus Cedarwood notes for a persistent fragrance
Whats next…
We are currently working on two further shampoos to add to the range – a natural Insect Repelling blend of essential oils and a Waterless shampoo which can be applied to the dog's coat and needs no rinsing.
 Our Organic September offer…
For this month, we would love to share our gentle, natural products to all dog lovers.
We will be greatly discounting our shampoos and fragrances by up to 30% as we want to share the love!
This will also be extended to our website; the Roman Market pop-up in East London and also at our two day show at Paws in the Park, Detling, Kent on 17-18 September.
We love our products and hope you do too…
Organic September!
Visit the website www.bonnieandbailey.com where dog Shampoos & Fragrances are up to 30% off for this month only.
Bonnie & Bailey at the Roman Road Pop-Up Market, 10th September - Roman Road Market, Roman Rd, London E3 5ES - 10am - 4pm
Bonnie & Bailey at Paws in the Park, 17-18 September - Detlin, Kent, ME14 3JF