Jo Wright - Organic Blooms

Jo Wright – Organic Blooms
Seasonal, British, Organic Blooms
Organic never looked or smelt so bloomin' marvellous than in the form of British-grown organic flowers: we couldn't resist catching up with Jo Wright, founder and director of Organic Blooms, who, as well as growing and selling British, seasonal, chemical-free flowers, Organic Blooms doubles up as a social enterprise - working with nature to benefit local people with disabilities.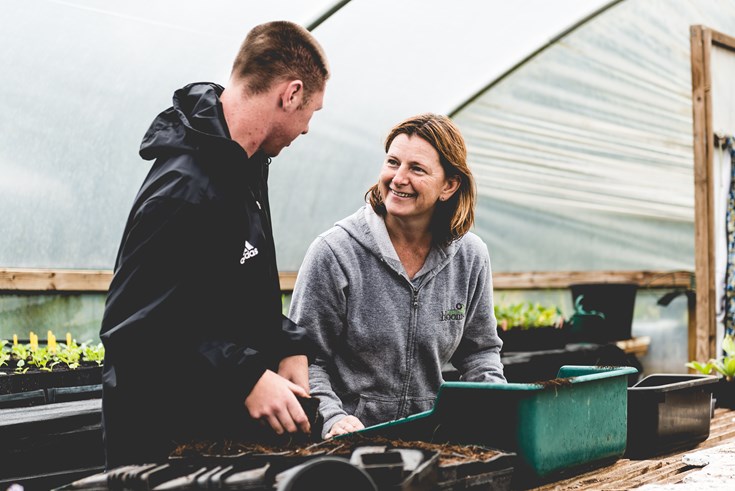 Jo Wright, Founder and Director of Organic Blooms
Can you tell me a bit about how Organic Blooms began?
About ten or twelve years ago, I was at a friend's wedding and noticed that all the flowers on the table were British cut flowers – it was right at the very beginning of the resurgence of British flowers. I suddenly realised that growing flowers was something I could be doing alongside people with support needs because each task involved in growing cut flowers is quite accessible. I've always used horticulture as a medium for training, rehabilitation and therapy for people with disabilities, so Organic Blooms began out of a combination of the re-emergence of the British cut flower industry and my passion for working alongside people who have support needs. Since we started in 2005, we've grown very slowly because we want to bring our trainees along with us all the time. We could grow the business faster, but we want to have organic, holistic growth that involves our trainees in everything we do.
Are all the flowers grown on your farm?
Now, we try to grow everything we use. In the early days we sometimes bought extra flowers in for weddings if we didn't have enough of what the bride wanted, but now we educate our brides about what will be available and steer them towards colour schemes rather than specific flower types. In the past we have occasionally bought in a few Cornish flowers to supplement our own flowers for Mothers Day if it falls too early, but we would never buy-in flowers grown overseas. These days we are managing to meet pretty much all of our own flower demand and since we became Soil Association certified it's even more important to us to remain true to our brand identity: any bouquets that include bought-in flowers can't be sold as organic. We're forecasting that demand for our flowers is likely to outstrip supply in the next few years so we are trying to get ahead of the game; we have a further five acres under organic conversation at the moment.
How many different kinds of flowers are you growing?
Every year we grow between seventy and a hundred varieties, so it's really different from large-scale agriculture. I'm doing a masters degree in organic farming at the moment, partly because I want to learn how our growing can contribute to soil quality and the natural environment, rather than taking from it, but also to learn how to scale up and grow on a more agricultural scale. Planning rotations with 100 different crops can be really tricky! But in spite of the challenges, the very mixed approach also lends itself really well to organic farming, soil husbandry and natural pest control because you have huge diversity straight away.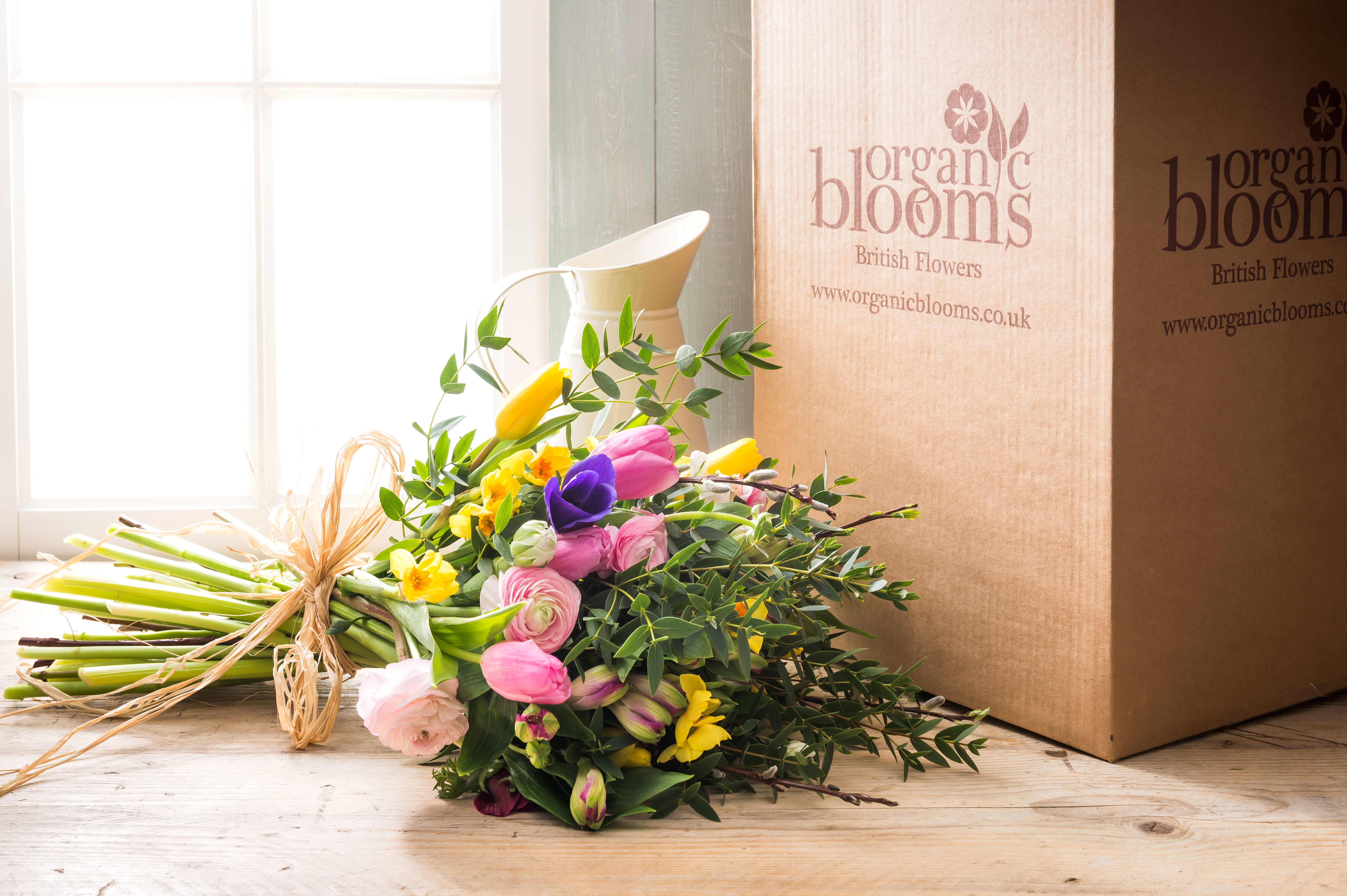 Do your flower fields attract a lot of wildlife?
Absolutely! Lots of flower crops nowadays are bred to be pollen-less. It's horrendous. Imagine glimpsing a beautiful field of summer flowers, then getting closer and realising that it's pollen-less and eerily devoid of insect life – no butterflies, no bees – essentially a dead environment, as far as beneficial insects, small mammals and birds are concerned. Our flowers aren't like that. We don't grow complex cultivars; we go for the natural varieties that will enhance the biodiversity of our area.
Why is organic important to you?
There are so many reasons, but one of the main things is we feel that flowers are a luxury product and I really think they lose their beauty if they are not grown organically. If you look behind the scenes of conventional flower growing, the crop is quite unethical: the fields are intensively irrigated and heavily sprayed, and a high input crop, especially when you take into account the chemical preservatives, air-freighting, refrigerated transportation and cold-storage involved in bringing those crops to market. It's easy to lose your love of flowers when you understand how most are grown, so we want our flowers to have a positive impact on the environment. We don't want to waste resources on something that's a luxury. That's really important for us.
Can you tell me a bit about your work as a social enterprise?
I've always had a passion for working with people with support needs and horticulture is one of the areas that works brilliantly because it's vocational - it's very practical. Organic growing and therapeutic horticulture are joint passions that complement one another. I love working with flowers, I love working outdoors and it's really important to have something to offer people. We're giving people skills and they really feel part of something bigger. Our trainees are learning to manage a wide range of conditions, from learning disabilities such as autism, Aspergers and Downs Syndrome to OCD, depression, psychosis, personality disorders and addiction. We're trying to lead the way for other employers by demonstrating how we can make reasonable adjustments to focus on what each person is capable of and allowing them to use their particular strengths to contribute to the business. We're set up for that, we work round everybody's issues and get the best out of people – it's good for them and we believe it's good business sense, too.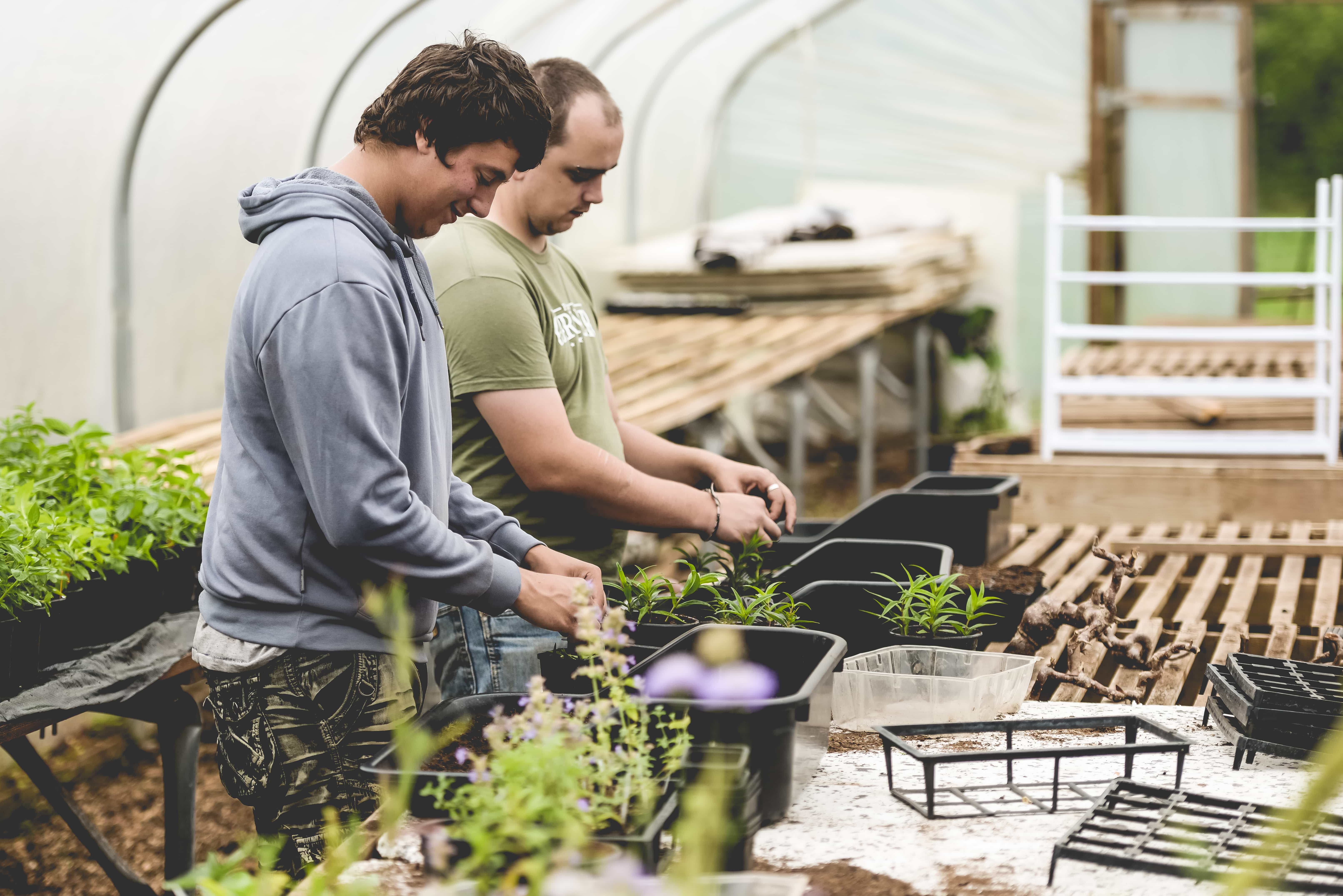 Where can people buy your flowers?
We're quite unusual because we sell all our flowers online. There aren't many other British flower growers who sell online, but we can do it because we have in-house expert floristry. We have a national customer base and deliver anywhere in the UK, including Scotland and Northern Ireland, using a courier that offsets their carbon emissions. For local customers, we also offer a click-and-collect service – they come here to collect their orders, which is great because we love meeting our customers and they get to see what we're up to on-site. 
If you'd like to buy any of Organic Bloom's beautiful flowers or decorations, just visit their website.