Judith and Clive Freane - Brown Cow Organics

Judith and Clive Freane - Brown Cow Organics
Meet Judith and Clive from Brown Cow Organics
How did you get started?
My husband Clive and I were given the fantastic opportunity to take over Perridge farm from my father, some 20 years ago and consists of four farms joined together to make up 480 organic acres on the South of the Mendip Hills in Somerset and is the home of Brown Cow Organics including our own on-site organic yoghurt production, organic butchery facilities and office.
I took over the Guernsey dairy herd originally in the late 90's from my Father; born, raised and grazed on our organic acres our herd, they are all descendants of the herd established in 1957; Guernsey cows are today becoming a rare breed.  
I married Clive who shared my passion for good food; together we have developed our farm into the multi award winning farm and food producer it is today. When my father retired and with the arrival of two daughters, my dairy duties were relinquished to Clive and my interest became the beef side.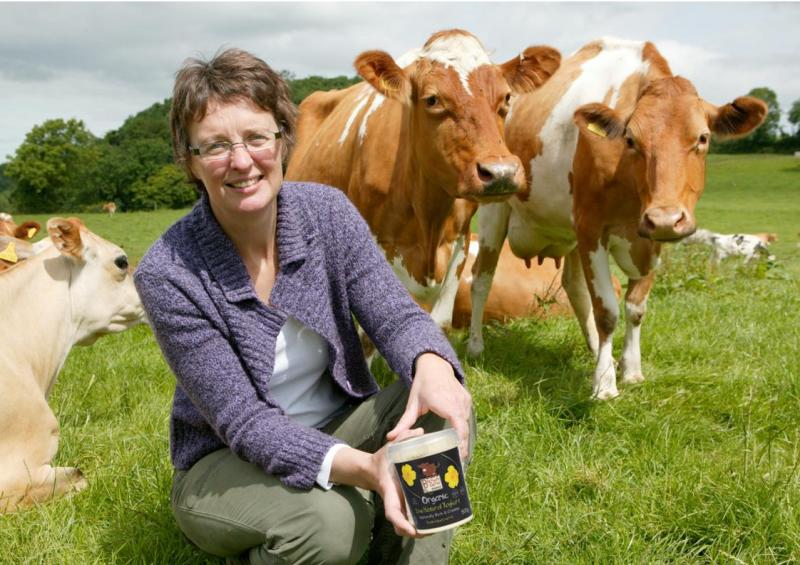 Why Organic?
It was the BSE crisis that really made us think about what was happening in food production, we felt that organic was the only way to produce safe healthy food.  Our growing children and what effects of long term exposure to artificial chemicals and fertilisers would have on their health reinforced this view. So we converted Perridge Farm to organic under the strict UKFROS regulations adhered to by the Soil Association.
We are passionate about the ethics, quality, provenance and sustainability of our organic yoghurt and beef, we firmly believe that our organic produce is a true reflection of the high level of nutrition and animal welfare standards we have adopted on our farm, of which we are very proud.
Our Farm
Perridge Farm has vast range of wildlife habitats; woodland, wildflower meadows and some areas are designated county wildlife sites. There is a wealth of wildlife enjoying our organic land; deer, badgers, rare breeds of bats, butterflies and other innumerable insects, rabbits, hares, foxes and smaller mammals, all living in balanced harmony. Our farm is an ornithologists dream, with heron and woodpeckers, finches, tits and thrushes and buzzards circling, plus the blue spark of an occasional kingfisher along the stream.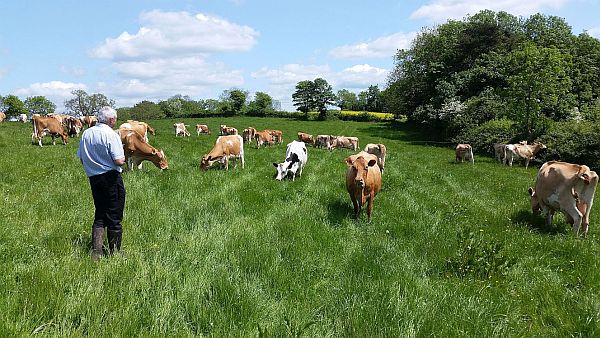 We have 100 Guernsey dairy cows all descendents of the original 1957 herd - Guernsey cows are more commonly known for the rich A2 beta casein protein creamy milk that they produce. Our Guernsey's rich protein whole milk is full of flavour, nutrients and naturally low in sugar. They produce whole milk full of flavour as they are not pushed beyond their natural ability to produce milk. Consequently, and because of their largely grass based diet, they live for many healthy years (the average life of a conventional dairy cow is only 4 years). Each year our cows give birth to a calf that is either reared to enter our dairy herd or reared for our award-winning beef enterprise - we never cull our beef calves. We also grow organic cereal crops in rotation and these are then fed to our animals during the winter months.
Nutrition
The nutrition of our dairy and beef herd is paramount to us, we analyse the soil in every field and each crop grown, constantly monitoring the cows' diet. Believing that nutrition (and consequently human health) starts with the soil; we carried out our own independent analysis proving that our organic yogurt (against other leading yogurt brands) and organic beef (compared to non-organic) is nutritionally outstanding, being rich in Omega 3s and other trace elements (it is very high in Zinc and Selenium).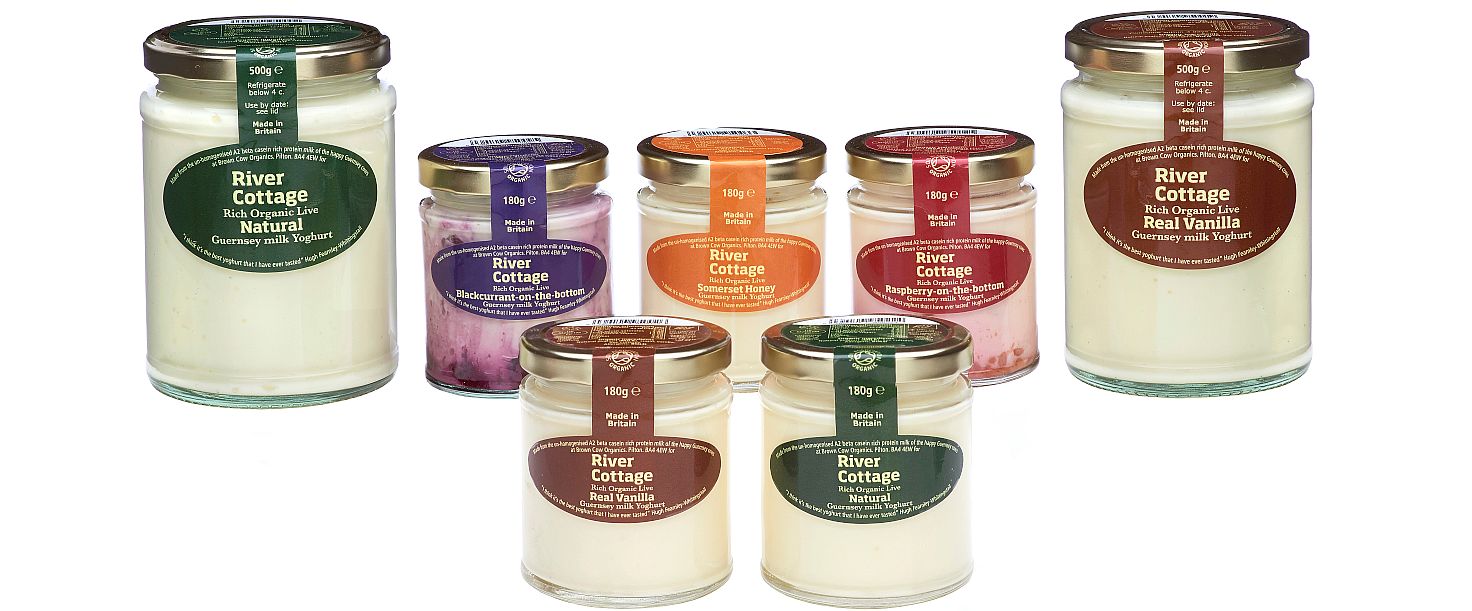 We are passionate about the ethics, quality, provenance and sustainability of our organic yogurt and beef, we firmly believe that our organic produce is a true reflection of the high level of nutrition and animal welfare standards we have adopted on our farm, of which we are very proud. Our ethos can be clearly tasted in the quality of our produce, borne out by the incredible array of awards we've won; achieved through the ever evolving healthy organic balanced diet and organic pastures grazed by our Guernsey herd.
Sustainable Energy and Recycling
We installed solar panels on the roofs of the farm buildings in January 2015, on the South, East and West facing roofs to maximise as much energy from the sun from early morning until sunset. We believe utilising roof space for PV panels is far better than placing them on farm land that can otherwise produce food for the population. After 365 days the panels generated 27900 KW of energy, ALL of the energy has been utilised for our organic yogurt manufacture and chillers in both the dairy unit and butchery unit; the sun has powered all the machines at the farm that make our organic yogurt - it heats the pasteurisers in the morning, chills the fridges during the day and cools the organic yogurt in the evening.
This benefits the environment as we do not rely heavily on importing electricity for the production of our produce. We also compost our used paper and cardboard, where after 6 months or so it provides valuable nutrients for our farm land.
Our Organic Beef
Brown Cow Organics was conceived in 2001; initially we produced organic beef from the Guernsey cross males born from the herd. We had a pure bred Guernsey male ready to be sold for meat, offered a paltry sum we had it for our own use instead, giving some to friends too - the response was that we had produced very tasty beef indeed.
So we entered our cross bred organic beef (Guernsey dairy cow mother and a beef bull father) into the Organic Food Awards in 2001 and won! David Lidgate of Lidgate Butcher's, London, called and said he considered our beef some of the finest that he had ever tasted; we started supplying Lidgate from then and our relationship continues to this day.
Now we sell our organic beef direct to consumers via our website too and at Somerset Farmers' Markets we attend.
Our Organic Yogurt
In 2005 we started production of our own artisan organic yogurts under the Brown Cow Organics brand and River Cottage branding for Hugh Fearnley Whittingstall; both were stocked on top London store shelves within weeks of its initial production and are still sold today exclusively through independent retailers.
Then in 2010 we introduced our hospitality range, specifically produced for the service industry supplying hotels, B&B's, cafes, clubs and catering buckets for restaurants and other food outlets.
Our small team of dedicated local people hand-make our artisan organic yogurt on our organic farm, produced using only our own organic A2 beta casein protein rich whole milk from our Guernsey herd. This artisan process produces naturally thick rich yogurt without using emulsifiers, stabilisers or thickeners.  
Only natural and organic ingredients without artificial colours, additives or preservatives (plus GMO and gluten free) go into the making of our yogurt. The fat and calorific content is surprising low for such a decadent tasting whole milk organic yogurt, plus it has lower sugar than some low fat brands. Our yogurt is never homogenised or pumped as this would destroy its molecular makeup and natural creaminess.
Our BOOM Award-Winning Pannacotta
Introduced in the summer season of 2015 and also produced on our farm, our Pannacotta is made from our own organic whole milk yogurt plus cream, real vanilla and for our 2016 BOOM Award-winning Strawberry and Vanilla Pannacotta - organic strawberry puree. This decadent, luscious dessert is a seasonal favourite.
Our Awards
We've won a staggering 42 awards for our farm and produce since 2001; our Strawberry and Vanilla Pannacotta in May 2016 won the Soil Association BOOM Award dairy category, taking us to 43!
How to Buy Our Products
You can purchase our organic beef and organic yogurts for delivery (UK mainland) from our website to your door or order online and collect your order from Somerset markets we attend. Our yogurts are stocked nationally at independent retail stores, farm shops and delicatessens. Details of markets we attend can be viewed at our events website page.
At Christmas we have a full range of Organic Beef and also Organic Turkey, Organic Goose, Organic Gammon, Organic Tongue, Organic Salt beef, plus a selection of trimmings including Gluten Free varieties.
Contact Us/Follow Us