Luke Hasell - The Story Farm

Luke Hassel - The Story Farm
The Story Farm
Luke Hasell is a farmer at The Story Farm, and founder of the Valley Fest. Luke admits loving to throw a good party, so when he inherited the farm he grew up on, he wanted to make sure he used it to its best advantage, by encouraging people onto his land to know where their food comes from. The farm is in a beautiful location in the Chew Valley and they have a beef herd. Since 2007 Luke has used 100% organic farming practices with meat that you can trace from field to fork.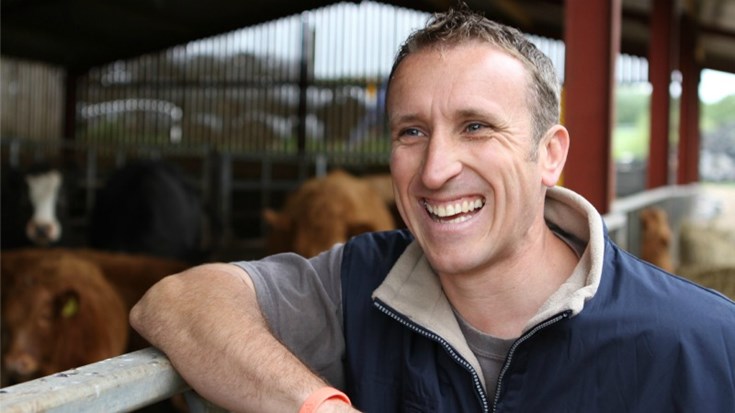 Minimizing the chemicals and hormones you give to livestock and use on the land just made sense to me. I just want to make the future a little bit brighter for the next generation and for my kids to eat healthier as well to farm in a more sustainable way. I want to help everyone, not just my family and I. To live long, healthy lives and one of the best ways for us to achieve that is to be considerate about the food we put into our bodies Luke Hasell
How did The Story Farm and Valley Fest get started?
I partnered with Jim Twine to create The Story Farm and we deliver organic meat boxes around the region. We've had a farm shop for years now and we recently opened a local butchers too and we supply loads of local restaurants and cafes. We've also worked with the other farm nearby to create The Community Farm, which specialises in veg boxes and is owned by 500 local people as a co-operative. 
We came up with the idea of a festival as a way to raise money for the charities I believe in. This year we're giving charitable donations to Above and Beyond, Send a Cow, the Good Will Cause and Children's Hospice South West. Valley Fest is designed for people who like wild times under the strobe lights and disco ball but fancy a festival with a more laid-back atmosphere where you can bring your family too. 
This year Yeo Valley have got involved to help us with the event so the food events are going to be great with a Midnight Feast and huge communcal picnic. We've got headline bands including the Stereo MC's, The Blockheads and BBC 6 Music DJ Craig Charles' Funk and Soul Club feat Hannah Williams headlining Sunday. We also just announced Doreen Doreen on Friday night! There are 3 music stages, a spa area, a brilliant kid's area called Run Wild and plenty of theatre and activities all over the farm.
Why Organic?
As a farmer and producer, organic means working with nature, not against it. For me the future of food and farming is all about sustainable ways in which we can look after the planet and produce wholesome food for our next generations.   
On our farm we have two mantra's. "Get on my land!", because we want to reconnect with people and share the principals of what an organic farm means, and secondly with respect to our animals our mantra is "Better for them, better for us!" Being on an organic farm really allows us to spread the word about organic farming and what that means.
What role does Soil Association play for you?
The Soil association are very important charity and certification for us to produce our food and be able to promote it.  They also do a huge amount of work behind the scenes campaigning on important issues that we all face across the world but more importantly helping promote healthy living, educating the next generation about nutrition and with their Food for Life project getting more organic food into schools and hospitals across the country.
What's next for you?
Valley Fest 2017 is 4th-6th August so fast approaching and looking like its going to be a huge party. Check it out on social media! In the longer term we want to increase the awareness of our meat boxes to people across the region and bring Valley Fest back as an annual event!
I want tickets to Valley Fest!
Buy now
Related