Paul Ward, Mole End Organics

Paul Ward, Mole End Organics
Award winning apples! 
Mole End Organics have won two First Prizes and two Second Prizes in The National Fruit Show with organic apples grown to Soil Association standards competing against conventionally grown fruit. The finest accolade in the show however, is the award for  'tastiest apple' in show and for the first time in the shows history the prize this year went to an organically grown Apple from Mole End Organics! The apple, named Reubinstep but sold in the UK under the name Blaze, was in competition with 136 conventionally grown apples and so this is a wonderful achievement for an organic grower. Mole End Organics is the sole commercial provider of this variety of apple in the UK  and has grown over 100 tonnes this year.

The fruit selected for the show was nurtured and selected by the farm manager, Ms Nicoleta Ionita  who is supported by her assistants, Tomasz Blawut and Kristyna Nekolova who themselves won prizes in the novice grower category at the show.
How did you get started? 
Mole End Organics began when after growing conventionally for a couple of years I became increasingly concerned about the use of broad spectrum pesticides.
We grow over 60 hectares of totally organic top fruit which is supplied to a wide range of customers throughout the UK.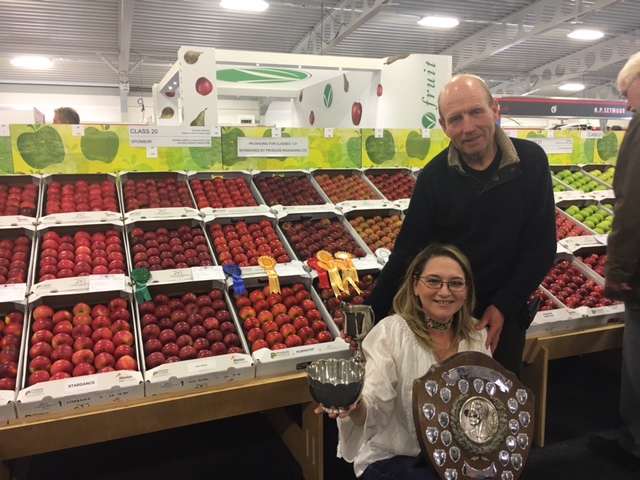 What role does the Soil Association play for you?
The Soil Association played a major role in the development of Mole End Organics. Initially providing guidance and advice on conversion and subsequently promoting the organic brand. The Soil Association was part of a link project which identified varieties suitable for organic production and which provided the farm with the bud wood that produced the award-winning apple.
What's next for you?
Mole End Organics will pursue more efficient practices, trial new and exciting varieties and by competing in the National Fruit Show and winning further prizes in years to come, continue to be an ambassador for the organic brand.
Find out more: www.moleendfarms.com