Café St Honoré
Meet Neil Forbes - 
Café St Honoré
Café St Honoré was taken over 10 years ago by two 
people
 

passionate of sustainable and organic food. 
Today, it is
 

an award winning restaurant.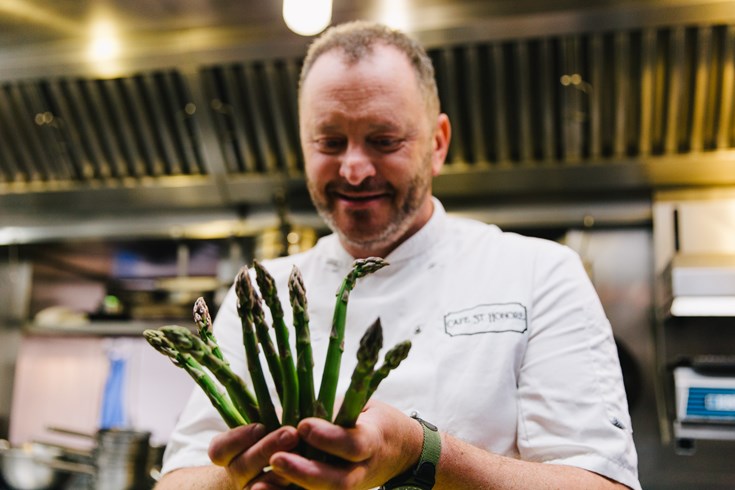 Tell us about you – who are you, what's your mission and how did you get started? 
I'm Neil Forbes and I'm the Chef Director of Cafe St Honoré in Edinburgh's New Town. My business partner and I took over Cafe from its previous owners 10 years ago, and since then we have gone from strength to strength. As soon as we opened, we had a job to do to be more sustainable. We wanted to become a place where everyone could come to and eat well from a menu of dishes made with seasonal, local and organic ingredients. We took over at the start of a major recession, so it was always going to be tricky to retain the existing clients and to gain more, but we did it by promoting our ethical credentials, and by being a bit different.
Why is organic so important to you and why did you want to be certified by the Soil Association?
Being organic is hugely important to me. I want to pass on to the next generation of chefs, cooks and restaurateurs the importance of eating better and buying better. We have always followed guidance from the Soil Association, and with a real push recently, we walked away with the 'best organic place to eat' award at the 2017 BOOM Awards. Bringing that trophy home was the proudest day in my cooking career.
Being organic is hugely important to me. I want to pass on to the next generation of chefs, cooks and restaurateurs the importance of eating better and buying better.
What is your biggest achievement to date as a business?
Being able to increase our turnover through a tough recession whilst implementing a truly sustainable ethos. There are so many other smaller achievements. In terms of awards, we have also won two 'chef of the year' awards, a sustainable restaurant of the year and a restaurant of the year award. All great accolades but I feel being known as a great place to eat, where everything is made from scratch is rather unique. We're really successful also with staff retention as we encourage staff to be involved, and I believe we are an interesting place to work as we are always sharing news ideas and information. Everything we do is geared towards a more sustainable, environmentally-friendly outcome.
What are you working on at the moment and what are your ambitions for the future?
We're working hard to feed the Edinburgh Festivals crowds at the moment! It's such a great time of year to be submerged in the biggest arts festival in the world. Edinburgh doubles in size and fills with people from all walks of life - comedians, jugglers, actors, opera singers and so on. And it's so entertaining to see many of them come through our doors.
What do you think are the biggest issues facing our food systems?
Trying to encourage more folks to buy better. We cannot deny that choosing organic is a little pricier, so I think we should be more honest about it. For instance, we can say "Ok, it is expensive, but you may live longer". Hard-hitting and punchy, but it could work!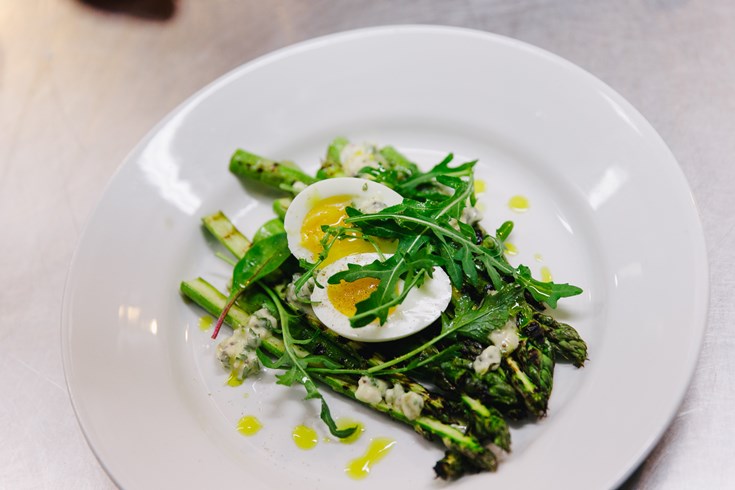 What's next for you and your business?
We're spending time focussing on the run up to Christmas, and next year. The winter months in Scotland can be hard, so we work closely with our PR company to promote all that we do. I also work hard away from the kitchen cooking at festivals, writing a monthly recipe column for the Scotsman Paper and co-presenting a weekly show on BBC Radio Scotland – all great avenues to promote what I believe in.
If you could only switch to one organic item, what would it be and why?
This is a tough one, but for me it would be salad. I love the organic salad I buy from Phantassie Organics in East Lothian. It makes a dish. The taste is astonishing.
I'm inspired by a huge amount of folk, but I adore Monty Don for his on-screen presence and his ability to calm a room of people. And Hugh Fearnley-Whittingstall is a great ambassador of all things organic and sustainable. Our paths have crossed a few times so we really should hook up one day for a chat! I also admire and respect every chef in the UK that gets up every day and goes the extra mile to promote organic produce and say, "hey, it takes longer to prep and to scrub but, it's better for us all".
Best advice you've ever been given?
I've been given some great, and not so great, advice over the years. A few words of wisdom I've been given that have been invaluable are "be yourself", "tell the truth" and "cook from the heart".
Find out more about Award-winning Café St Honoré here: cafesthonore.com
Why do you #ChooseOrganic?

There are so many reasons to #ChooseOrganic - we want to know what yours are. Find out more about what organic means and what makes it different here.

Get Involved
In this section...
Inspired To Do More?
You can help change the way we farm and eat for good. For just £3.50 a month you can become a member of the Soil Association.
Join Today