Cacao, Granola + Banana soft serve
Plenish's breakfast granola
From Plenish's resident chef Josephine O'hare, a delicious breakfast to prepare you for a busy day!
This granola offers something a little bit different in the mornings, it's a bowlful of get-up-and-go, that's for sure! It has a darker colour and slightly more bitter flavour than other granolas, great for those who don't have too much of a sweet tooth. Perfect with ice-cold almond milk and blueberries, but if you've got time to try it as a dessert with my banana & almond soft-serve ice cream - it's incredible! The bitter notes of the cacao & coffee contrasts with the natural sweetness of the banana ice cream like a dream.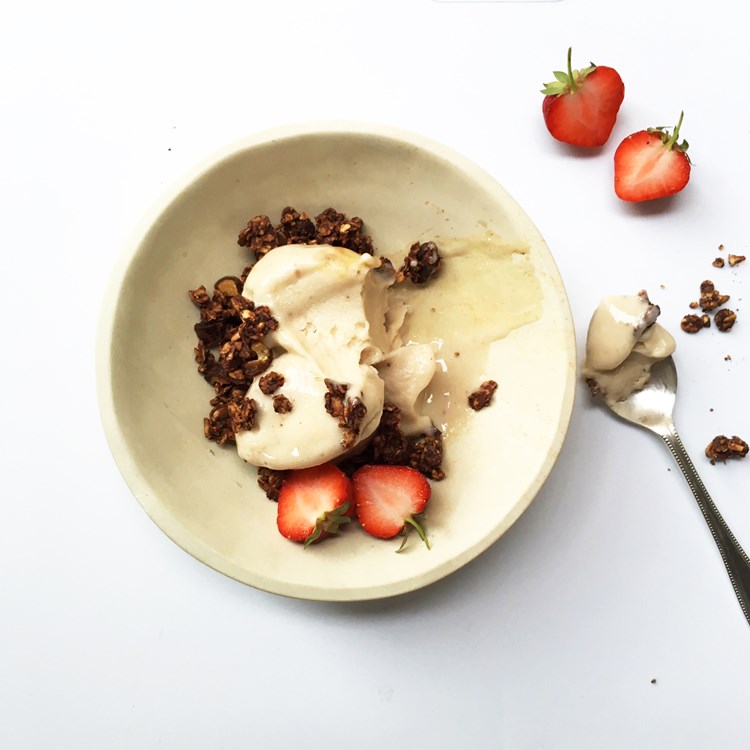 Cacao & Coffee Granola:
This recipe will make enough to fill 1l kilner jar or more, store in a dry cool place and it will last up to 3 weeks!
1 ½ cups (or 170g) jumbo whole oats
½ cup (or 60g) chopped hazelnuts
1/3 cup (or 50g) seeds of your choice (I used chia)
3 tablespoons of cacao powder
2 tablespoons coconut oil
3 tablespoons date or maple syrup
Vanilla extract
Pinch of sea salt
½ tablespoon of finely ground coffee
2 eggs whites (or 60g)
1/3 cups dried dates (not medjool)
Method:
Preheat the oven to 110 degrees.
In a large mixing bowl combine the oats, nuts, seeds and cacao powder.
In a small saucepan gently melt the coconut oil, along with the date or maple syrup, the vanilla extract, the salt, and the ground coffee, until liquefied and well combined. Tip this onto the dry ingredients and mix well.
In a separate mixing bowl whisk the egg whites until they form soft peaks then fold the egg whites into the mixed granola base.
Line a baking tray, or two, with parchment paper, and spread out the granola evenly.
It's key to bake it low and slow so that it dries out rather than burning because of the darker colour and naturally bitter flavour of this granola.
Bake in the preheated oven for 30 minutes, meanwhile chopping up the dates.
Ovens tend to cook more quickly at the edges, so after 30 minutes mix the granola around very gently so as to not break up clusters, then add the chopped dates.
Continue baking for a further 20 minutes. It should be dry and crunchy by now, but if it feels like it needs a little longer, don't be tempted to turn up the heat, keep it baking at 110 degrees, checking every 5 minutes or so.
Allow it to cool entirely, before storing. It will stay crunchy for up to 3 weeks.
Banana Ice Cream:
This recipe makes 2 big bowls.
2 formerly ripe, chopped, frozen bananas
½ cup Plenish almond milk
A few drops of vanilla extract
1 tablespoon maple syrup (optional, depending on your sweet tooth!)
Method:
This ice cream is best made in a high power blender, using the smaller jug, and one with a muddle stick. A food processor will also work, but try doubling the recipe so that there's enough bulk in the processing jug for the blades to do their work. If you don't have access to a high power blender, but a regular one, use 1 cup of milk; this will be easier on the blender, and yield a looser, but equally delicious, ice cream. Making the consistency similar to an extra thick milkshake.
The night before, chop and freeze the bananas (I always keep a stash in the freezer for ice cream and smoothies).
Blend the frozen banana with the almond milk, vanilla extract and maple syrup until a thick, creamy ice cream is formed. Remember to start the mortar slowly!
Enjoy straight away as a 'soft serve' ice cream, or pop back in the freezer for up to 2 hours, during which time it will firm up and become scoop-able!
Scatter the cacao and coffee granola over the top + viola!
The original, and other amazing recipes can be found on this link: https://www.plenishcleanse.com/mag/