If there's one scent that wraps itself around the whole of December and gives it a warm, comforting squeeze, it's gingerbread. So we've bottled those beautiful festive fragrances of warming spices into a deliciously versatile syrup, which turns an everyday latte into something really special. And which tastes as amazing as it smells.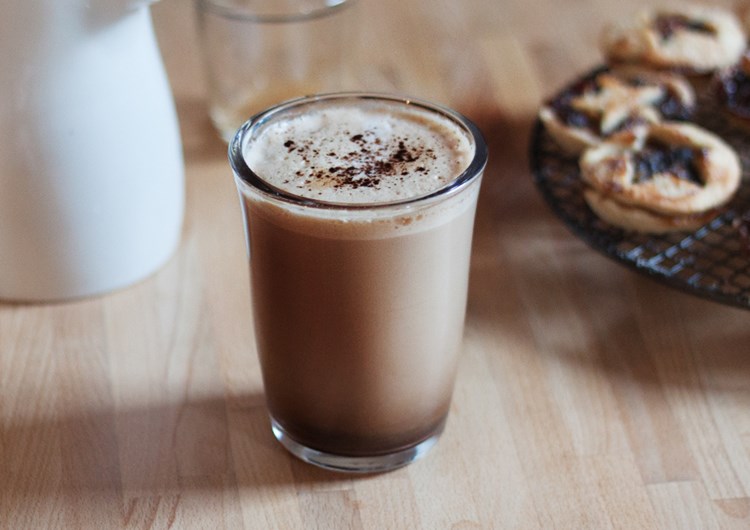 Ingredients
5-inch piece of fresh ginger
250g golden caster sugar
250g soft brown sugar
400ml water
1 vanilla pod (split in half and seeds removed)
1 teaspoon of ground cinnamon
½ teaspoon of ground allspice
Pinch of grated nutmeg
1 strip of orange zest
Method
Makes approximately 500ml of syrup
Place all the ingredients into a saucepan and place over a medium heat.
Bring to the boil and then reduce the heat, allowing the syrup to simmer gently for 10-15 minutes, stirring occasionally.
Remove from the heat and cool the syrup in the pan.
Pour the syrup through a strainer into a clean jug. Decant into sterile, resealable bottles and the syrup could keep fresh for up to 12 months. If you don't sterilise the bottles, keep the syrup in the fridge and use within several weeks.
Add approximately 20mls of the syrup to your latte (or more if you would like a stronger, sweeter flavour).
Place the syrup in the base of your mug, then pour in your CRU Indian Coorg Estate Espresso and steamed milk. If you're feeling very festive, drizzle extra syrup on top of your coffee. Divine!
This beautiful syrup also works brilliantly poured over vanilla ice cream, quickly followed by a CRU Indian Coorg Estate Espresso and a crumbled ginger biscuit over the top. There you have it – the perfect impromptu festive dessert.
Join the merrymaking…
Remember to share the love by posting your festive images on social media with #CRUMOMENTS and tag us @crukafe. Whether it's a photo of one of your CRU merry makes, decorating the Christmas tree, drinking New Year's Eve CRU cocktails or simply sharing a jolly moment with a friend over the holidays, we can't wait to see them. Need inspiration? Check out our Merry Christmas Hub to see some of the amazing #CRUMOMENTS already posted by other CRU fans.
Send us as many festive images as you like by midnight on 31st December and each time you do, we'll enter you in our competition to win free CRU coffee for a whole year*. Good luck!
You'll also find all 12 of our delicious Christmas-inspired recipes on our Merry Christmas Hub - which one will you try next? Time to get creative…
*See the competition rules at crukafe.com/tandc